Young Kids Blamed And Extorted For Money After Helping An Old Woman Who Fell Down
The students helped the women without second thoughts, but got blamed and extorted instead.
Sometimes, being kind and helpful may also get you in trouble since there are exploitative scammers who would take advantage of other people's generosity and kindness.
Case in point, three students who helped someone in need are now in for the most heartbreaking scenario after helping an old woman who fell down.
The students, who were from Shangrao City in Jiangxi Province, said that they saw an old woman fell to the ground when they were walking on the street.
With care and compassion in mind, the three children rushed to the aid of an old lady, assuming she needs their help.
Little do they know that helping the woman would cost them a hefty sum of money.
Unfortunately, the elderly woman tried to extort money from them. She said that the three students had caused her fall and asked them to buy her medicines. When the three students rejected, she demanded they pay her 50 yuan ($7.56).
The woman later demanded more compensation.
She wanted 100,000 yuan ($15,127). Fortunately, a CCTV footage caught the incident and it proved that the students were innocent. However, the old woman doesn't want to let go of the students until police officers intervened.
The encounter's footage was shared on social media with many commenting on how the old lady extorted the kids. Many netizens said that the elderly woman should be reprimanded for her wrong deed. Another said that if ever an old man or woman falls down, he would be afraid to help because of incidents such as this in the area.

One netizen summed it up best by saying:
"It's people like this who make it hard for us to be kind and helpful. Next time if you see such a situation, you will think twice before helping them."
Watch the CCTV footage here:
Like
on Facebook
Jealous Husband C***s Off Wife's Hands After Thinking She Was Cheating On Him
He wouldn't believe her even if she had agreed to a lie detector test.
Jealousy is an emotion that can drive someone mad that they can destroy other people's lives. That's how it was for 26-year-old Dmitry Grachyov of Russia, who had to chop off both of his wife's hands just because he thought she was having an affair.
Margarita almost lost two of her hands when her husband took her to the forest where she was tortured into confessing something she didn't do. The crime was committed on Dec. 11 near Panikovo village. Russian doctors were appalled to have encountered such a case, especially since they can never save one of Margarita's hands.
Dmitry and Margarita have been married for five years.
They have two kids together.
...
14 Offensive Teacups You Can Use To Insult Your Guests With Class
I badly need these for some people I know!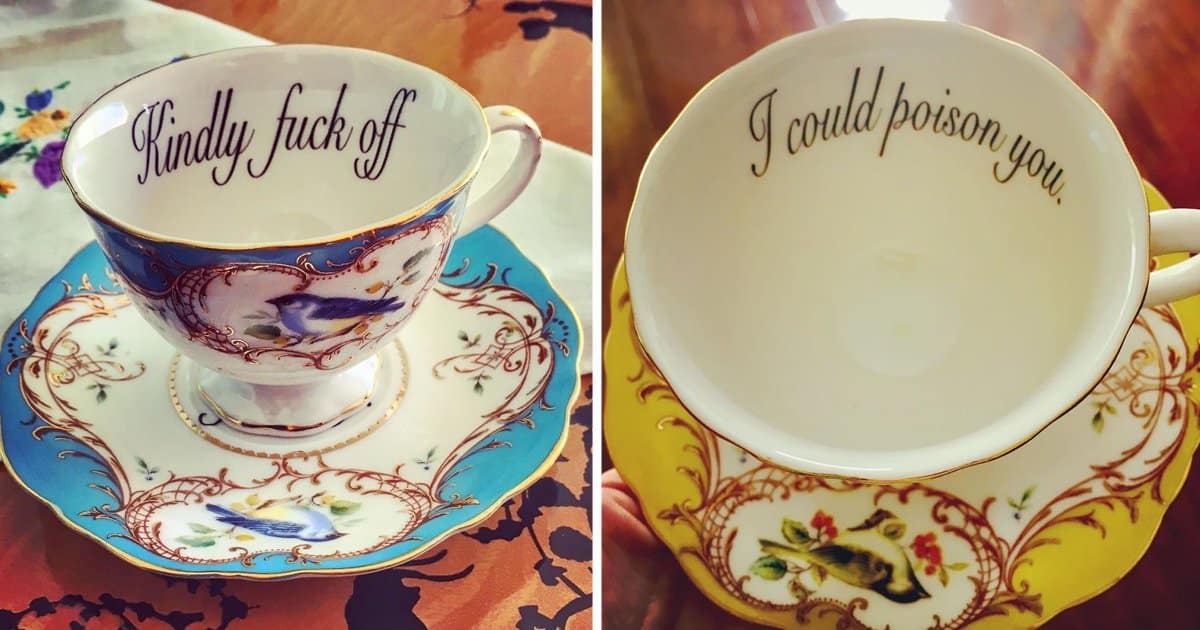 They look delicate and classy and yet it's actually a big insult when someone decides to use them to serve your beverage. These teacups are definitely not your grandmother's old-fashioned ones – and they are not recommended for the faint of heart.
Created by Miss Havisham, these unique teacups are "for the lady who speaks her mind." The tableware collection is indeed absolutely funny as they are vulgar – with phrases such as "Kindly f**k off," "I could poison you," and many others.
Melissa Johnson, the brains behind Miss Havisham, shared:
"A wise woman once told me, 'If you got hate in your heart, you gotta let it out....
Prolonged Use Of Headphones Can Cause Blackheads In The Ear, Doctor Warns
You might limit your headphone use after watching this.
We've seen too many videos of blackhead popping all over the internet lately. Now, a doctor is warning that wearing headphones for prolonged periods may actually lead to the formation of blackheads in the ears.
While hormones and genetics are always blamed as culprits in the formation of blackheads and acne, everyday habits that could irritate the skin may play a huge role, too. Well, one habit that may take a toll on your skin is excessive use of gadgets, such as headphones.
Some people wear their headphones everywhere they go - the gym, at school, work, subway and during long drives.
Though listening to music helps you release the stress, which is good for the health, it might irritate the skin inside your ears. ...