Guy Learns To Break A Glass Using Only His Voice
Can the high C of a trained soprano really quiver glass into dissolution?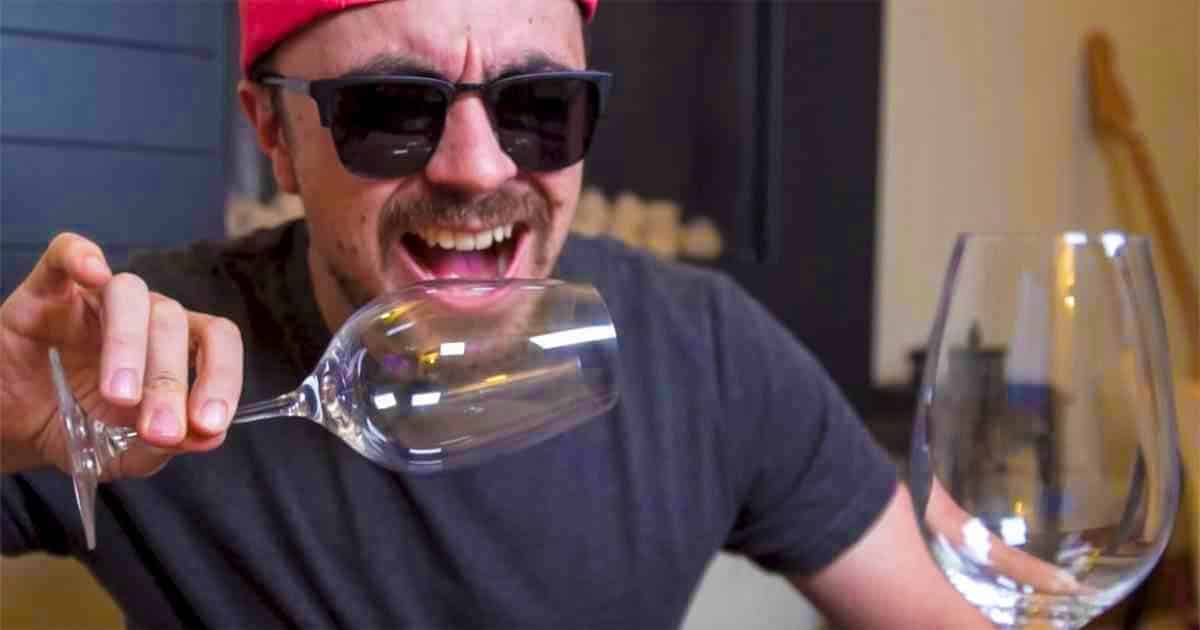 You've probably seen something like this before in movies and TV shows. A particular scene where a character sings up to the point where they hit a note so high and intense that it breaks all the glass in the vicinity, even the windows.
Another particular thing that you've probably seen many times, a woman in an orchestra releasing an earthshaking high note that shatters Champagne flutes. Monocles crack and the chandelier explodes as the power of her voice wreaks havoc on the concert hall. This scene is too common in countless cartoons and comedies, but is this parody based on reality?
Can an opera singer really shatter glass?
To most people, this may just seem like a cartoonish exaggeration. But, believe it or not, with enough practice to attain the right pitch and volume, this is actually possible.
Physics suggests that a voice should be able to break glass. And that's what exactly what Scottish YouTuber Mike Boyd wants to accomplish in the latest video of his Learn Quick series. Mike challenged himself to learn how to break glass using only his voice.

It took him 4 hours, 29 minutes of practice over the course of 14 days before he gained the ability to shatter a crystal wine glass with the power of his voice.
Watch the video here:
Like
on Facebook
So how is this scientifically possible?
Well to begin with, sound is also a form of energy, just like electricity. It travels through various substances in waves. When a sound wave comes in contact with a certain object, it excites the particles present in that object, causing its particles to vibrate against themselves.
Glass wine goblets are especially resonant because of their hollow tubular shape, which is why they make a pleasant ringing sound when clinked. An empty glass is also easier to shatter than a glass filled with wine or water. Furthermore, minor defects in the structure of the glass can also help to shatter it more easily, as these defects provide ideal weak spots.
So if a person sings the same tone as that ringing sound when glass clinked — a high C according to legend but in reality the matching pitch could be any note — the sound of your voice will vibrate the air molecules around the glass at its resonant frequency, causing the glass to start vibrating as well. And if you sings loudly enough, the glass will vibrate itself to smithereens.
If you've ever doubted your ability to accomplish new things, Mike Boyd's YouTube channel is the inspiration you've been seeking.
Tibetan Girl's Unconventional Beauty Shakes the Modeling World
Her look is so different, "out of this world" is a more fitting description for her.
Right now, when you say "supermodel," you immediately think of Kendall Jenner or the Hadid sisters, Gigi and Bella. They may differ when it comes to looks, but they are still considered conventional by modeling standards. Now a new model comes in and her look is so different, and some say "out of this world" is a more fitting description for her.
Tsunaina, who hails from Tibet and is currently living in the UK, has beautiful slanted eyes, gorgeous pouty lips, chiseled jawline, and lots of beauty marks scattered all over her lower face.
...
American Mom Raises Her Three Boys In The Philippines As True Filipinos
The kids talk, behave, and eat like Filipinos!
She grew up in California and lived for a few years in Seattle. Now, Amber Folkman is raising her kids in another part of the globe - in Manila, a heavy populated city in the Philippines.
High temperatures, sweet mangoes, and crazy modes of transportation are what greeted them when they moved to the country back in 2009. The Philippines is where these little kids learned priceless life lessons that can serve as a compass throughout their lives.
...
Kat Von D Sparks Controversy After Saying She'll Raise Her Child Vegan – And Without Vaccinations!
"This is my body. This is our child. And this is our pregnancy journey."
Known to many as a tattoo artist, a reality TV star and a cosmetics entrepreneur, Kat Von D has recently announced her pregnancy and then proceeded to share how she plans to raise her unborn child. Apparently, she's looking forward to raising a vegan – and she doesn't want any vaccinations for her baby.
Netizens have since been divided about the subject but one mommy blogger stood out from the rest as she shared her own tragic experience. According to her, her son had a really tough battle with mumps.
...