Undersea Volcanic Eruption Creates New Island That Can Survive Up to 30 Years
Similar volcanic islands usually disappear within months.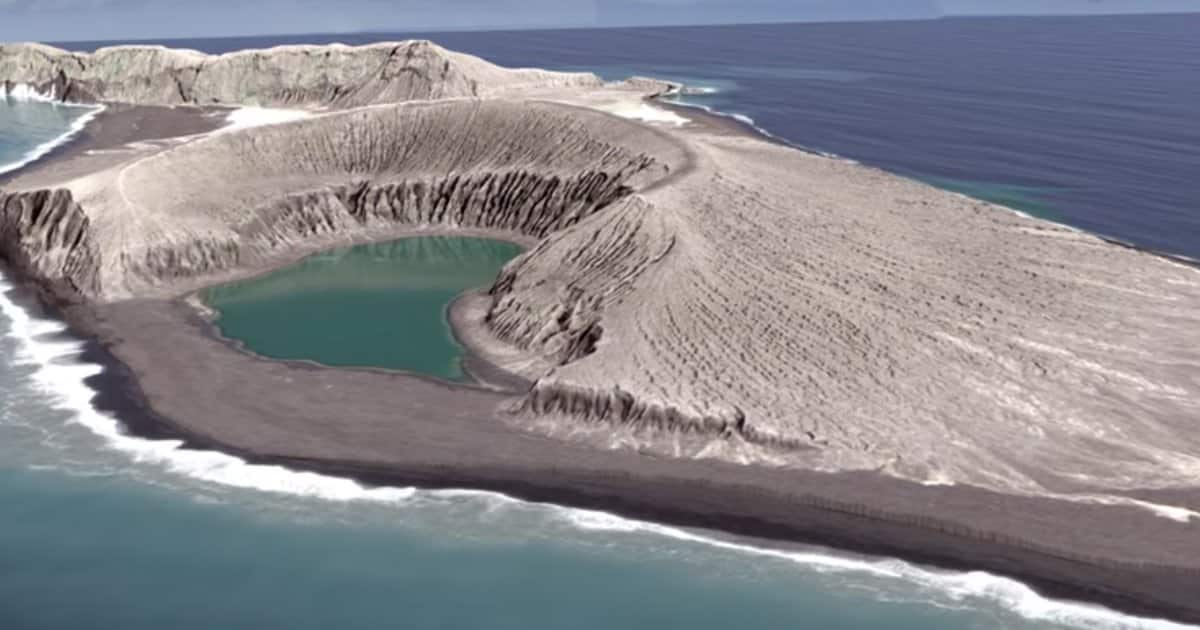 NASA scientists are fascinated with a new island created by a massive underwater volcanic eruption in December 2014. The Pacific kingdom of Tonga was rocked when an undersea volcano erupted and produced enough ash and rock to create a whole new island with cliffs that reached up to 400-feet tall.
The young island, unofficially named Hunga Tonga-Hunga Ha'apai, is located about 400 miles southeast of Fiji in the Pacific. It's about a mile long, and it was expected to erode and wash away after a few months. Three years later, it's still here and might actually stay much longer than expected.
The formation of the Hunga Tonga-Hunga Ha'apai during this modern time allowed experts to observe and document, from the very beginning, an island forming.
The island has been photographed regularly by satellites since January 2015. Over the years, satellite images have been able to capture the changes the volcanic island has undergone, like the formation of a sandbar as well as a land bridge that is now more than a quarter mile wide.
NASA scientists estimate that the island can survive up to 30 years.
Usually, similar islands vanish in just a few months. The team of NASA scientists studying the island recently unveiled their findings at the American Geophysical Union's fall meeting in New Orleans.
At first, after seeing the island rapidly lose mass in the first six months of its existence, the team predicted Hunga Tonga-Hunga Ha'apai would last only six years.
But the rate of mass loss decreased, which meant the island was stabilizing.
Dan Slayback, a remote-sensing specialist at NASA's Goddard Space Flight Center, was quoted by National Geographic as saying:
"If we fit all of our data to date, we get a 26- to 30-year lifetime."
The NASA team is working with other scientists to further study the fascinating volcanic island.
They hope to find out more about the new island and what's happening underneath the water's surface.
Like & Share This Post
The Villages: World's Largest Retirement Community Perfect for Testing Self-Driving Taxis
An American startup company has chosen the area to pilot its services.
Autonomous vehicle technology has yet to be perfected, but one company is looking to take one step ahead of the others as it tests its services in the ideal area: The Villages retirement community in Florida. The sprawling community stretches out to 40 square miles and features 750 miles of road, three separate downtowns, plus a population of 125,000 senior citizens.
The American car startup Voyage chose The Villages to test its door-to-door self-driving taxi service. With this, the residents can call for cars using an app. The cars will then operate at Level 4 autonomy (meaning full autonomy for all safety-critical driving functions) but still include a safety driver. The company has also partnered with CARMERA, a street-level intelligence provider for autonomous vehicles. CARMERA will map out The Villages' roadways and feed the cars real-time mapping updates.
...
Scientists Discover Huge Sheets of Ice Buried Beneath the Surface of Mars
This discovery is a big 'game-changer,' according to experts.
A major discovery has just been made by scientists and many are labeling it as a huge 'game-changer'. According to a new study published in the Science journal, Mars may have a source of accessible drinkable water.
As can be seen in the images taken by NASA's Mars Reconnaissance Orbiter (which has been orbiting the red planet since 2006), scientists have discovered thick ice sheets under the Martain surface.
...
Scientifically Proven Reasons Redheads Are Superior in Bed
It has to do with their genes.
It's not just their wild locks that make them appealing in the bedroom. Redheads' MC1R genes, the ones responsible for their red hair, can also be credited for other physical characteristics that make them great in bed.
Redheads are quite special indeed. In 2000, when researchers pinpointed the exact gene responsible for red hair, the mutated MC1R protein, they found that it may only manifest in as little as 1 to 2 percent of the population. But what exactly makes redheads superstars in the bedroom? Read on to find out.
...