Undersea Volcanic Eruption Creates New Island That Can Survive Up to 30 Years
Similar volcanic islands usually disappear within months.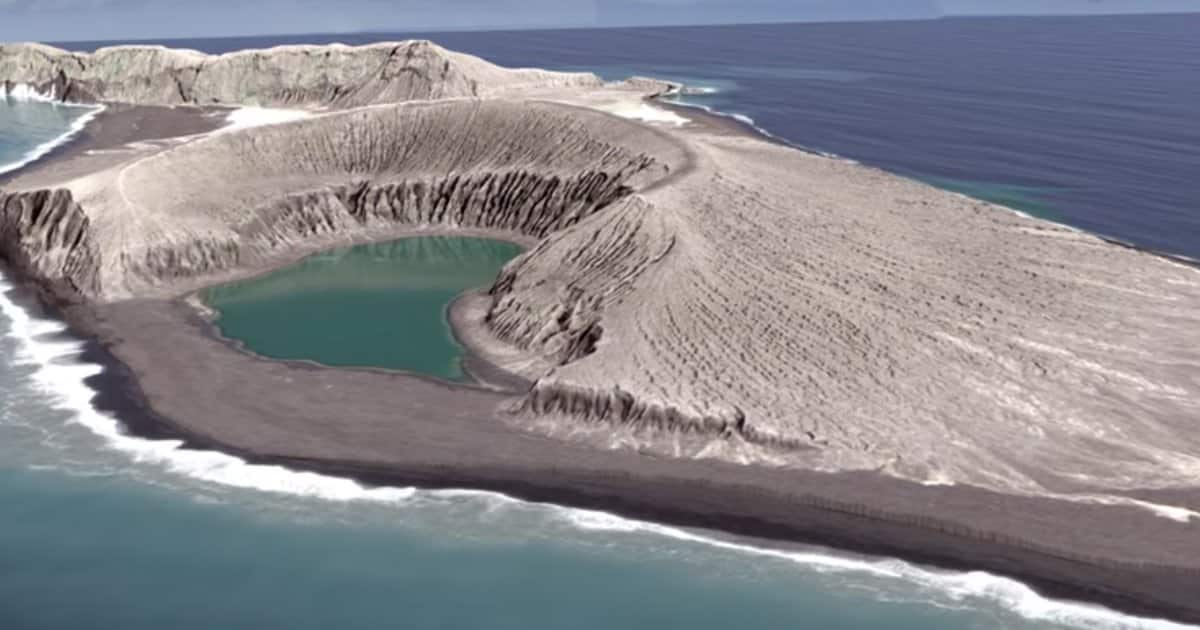 NASA scientists are fascinated with a new island created by a massive underwater volcanic eruption in December 2014. The Pacific kingdom of Tonga was rocked when an undersea volcano erupted and produced enough ash and rock to create a whole new island with cliffs that reached up to 400-feet tall.
The young island, unofficially named Hunga Tonga-Hunga Ha'apai, is located about 400 miles southeast of Fiji in the Pacific. It's about a mile long, and it was expected to erode and wash away after a few months. Three years later, it's still here and might actually stay much longer than expected.
The formation of the Hunga Tonga-Hunga Ha'apai during this modern time allowed experts to observe and document, from the very beginning, an island forming.
The island has been photographed regularly by satellites since January 2015. Over the years, satellite images have been able to capture the changes the volcanic island has undergone, like the formation of a sandbar as well as a land bridge that is now more than a quarter mile wide.
NASA scientists estimate that the island can survive up to 30 years.
Usually, similar islands vanish in just a few months. The team of NASA scientists studying the island recently unveiled their findings at the American Geophysical Union's fall meeting in New Orleans.
At first, after seeing the island rapidly lose mass in the first six months of its existence, the team predicted Hunga Tonga-Hunga Ha'apai would last only six years.
But the rate of mass loss decreased, which meant the island was stabilizing.
Dan Slayback, a remote-sensing specialist at NASA's Goddard Space Flight Center, was quoted by National Geographic as saying:
"If we fit all of our data to date, we get a 26- to 30-year lifetime."
The NASA team is working with other scientists to further study the fascinating volcanic island.
They hope to find out more about the new island and what's happening underneath the water's surface.
Bitcoin Will Certainly Become 'The World's Single Currency In 10 Years,' Twitter CEO Says
In 10 years or less, Bitcoin could be the only currency used for global payments, Jack Dorsey believes.
With all the rage about cryptocurrency, particularly Bitcoin, it is no wonder that more and more people believe in its potential. And for Twitter CEO Jack Dorsey, Bitcoin could soon become the only currency the world will ever use.
During his interview with The Times on Wednesday, Dorsey said he believes the cryptocurrency will become the primary currency used globally for payments. He envisions this to happen in 10 years but he believes the transition could happen sooner than that.
...
The 7 Best Dash Cams to Buy for Your Car in 2018
Are you in the market for dash cams? This list should help you out!
Unlike in the past, it now makes total sense to install a dash cam in your car. With all the acts of stupidity – some are even unbelievable, so to speak – on the road, keeping a visual record is only practical and necessary. As the name suggests, this device serves as video evidence of traffic accidents and can really help you big time especially in court.
With the ever-increasing popularity of dash cams, keeping track of what is best seems difficult. But worry no more – Elite Readers has compiled a list of best dash cameras in 2018. Not only will you learn the best ones, you will also know which are affordable and of good value.
...
Futuristic Tire Concepts Designed to Revolutionize the Future of Mobility
These visionary tire concepts are designed to make mobility safer and more efficient.
Whether you are into cars or not, you know so well the importance of tires. Not only do they help you keep safe on the road, they guarantee you a smooth transportation. With technology's never-ending advancement, it is no surprise that tires are now more capable than ever.
A video featuring different kinds of concept tires is making rounds on the internet. And judging by their looks, they could really change the future of mobility. With how cool and innovative they are, there is no reason for motorists to never desire them.
...