Undersea Volcanic Eruption Creates New Island That Can Survive Up to 30 Years
Similar volcanic islands usually disappear within months.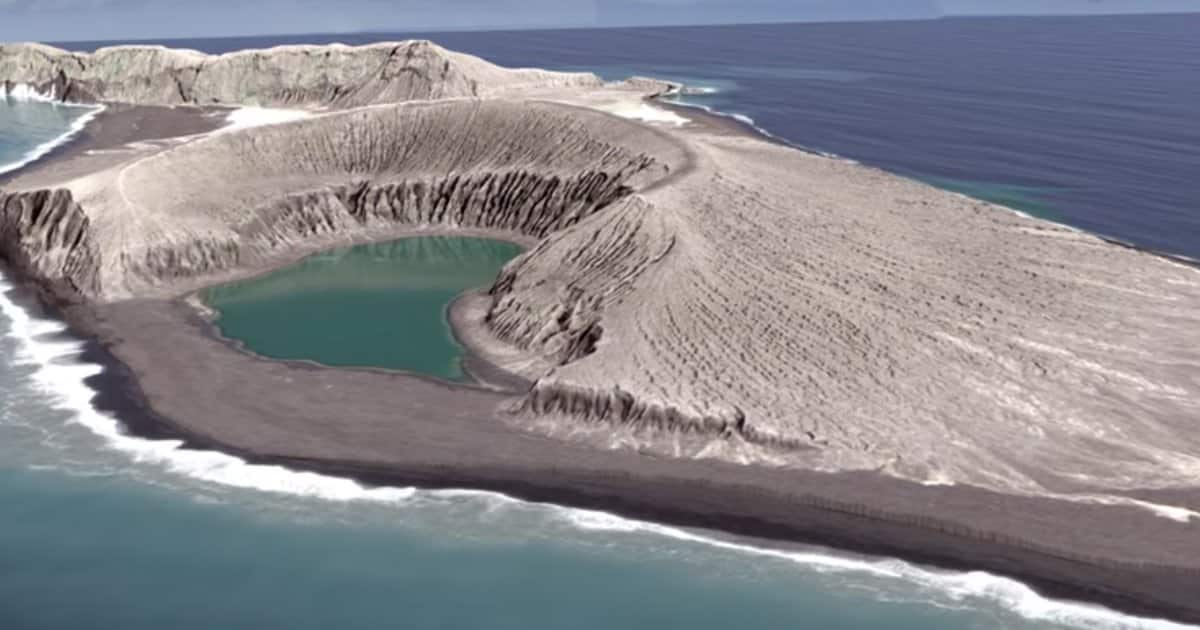 NASA scientists are fascinated with a new island created by a massive underwater volcanic eruption in December 2014. The Pacific kingdom of Tonga was rocked when an undersea volcano erupted and produced enough ash and rock to create a whole new island with cliffs that reached up to 400-feet tall.
The young island, unofficially named Hunga Tonga-Hunga Ha'apai, is located about 400 miles southeast of Fiji in the Pacific. It's about a mile long, and it was expected to erode and wash away after a few months. Three years later, it's still here and might actually stay much longer than expected.
The formation of the Hunga Tonga-Hunga Ha'apai during this modern time allowed experts to observe and document, from the very beginning, an island forming.
The island has been photographed regularly by satellites since January 2015. Over the years, satellite images have been able to capture the changes the volcanic island has undergone, like the formation of a sandbar as well as a land bridge that is now more than a quarter mile wide.
NASA scientists estimate that the island can survive up to 30 years.
Usually, similar islands vanish in just a few months. The team of NASA scientists studying the island recently unveiled their findings at the American Geophysical Union's fall meeting in New Orleans.
At first, after seeing the island rapidly lose mass in the first six months of its existence, the team predicted Hunga Tonga-Hunga Ha'apai would last only six years.
But the rate of mass loss decreased, which meant the island was stabilizing.
Dan Slayback, a remote-sensing specialist at NASA's Goddard Space Flight Center, was quoted by National Geographic as saying:
"If we fit all of our data to date, we get a 26- to 30-year lifetime."
The NASA team is working with other scientists to further study the fascinating volcanic island.
They hope to find out more about the new island and what's happening underneath the water's surface.
Ancient 99-Million-Year-Old Frogs Look Just Like Modern-Day Toads
Frogs will always be frogs, whether they were born today or in the Cretaceous Period.
The world is filled with exciting new discoveries from ancient times. Scientists have just uncovered evidence that frogs roamed the Earth during the Cretaceous Period about 100 million years ago. Interestingly, these ancient toads seem to look just like their modern-day descendants.
A new report confirms that scientists have found four frog fossils in northern Myanmar. The tiny bodies were encased in amber and offer a clear glimpse at what tropical rainforests looked like in the Cretaceous Period. In any case, the discovery is groundbreaking since frogs rarely become fossils.
...
Elon Musk's Flamethrowers Get Misused On Social Media Despite Strict Terms & Conditions
What better way to start a particularly hot summer?
There is little doubt that Elon Musk's flamethrowers are the hottest new commodity right now. After all, the fiery device produced by The Boring Company have just been sold out. However, it looks like consumers have already started misusing the dangerous product despite its lengthy terms and conditions.
The Boring Company finally rolled out Not A Flamethrower at a celebrated pick up event held at the company's headquarters. People who had pre-ordered the gadgets were given a chance to sample the power of the flamethrower on unfortunate marshmallows. Although safety was reinforced during the event, things took a dangerous turn once everyone got home.
...
NASA's Curiosity Rover Finds Ancient Organics On Mars, Possible Life On Planet In The Past
The new discovery might confirm life thrived on the Red Planet billions of years ago.
Curiosity has made an exciting discovery on the surface of Mars. The rover has just found possible evidence of life on the planet billions of years ago. NASA might not quite ready to confirm that creatures once roamed the Red Planet. Nevertheless, the agency believes that the findings could mean positive things for future missions.
The NASA rover has found organic molecules in sedimentary rocks near the planet's surface. These molecules may contain hydroxen, carbon, oxygen, and nitrogen and are usually associated with life. However, their presence in the billion-year-old rocks does not confirm life on Mars just yet.
...