10 Unmistakable Signs That You're In Love With The Right Person
You're definitely in love if you're feeling these 10 things!
"Love" may be a short, four-letter word but it takes many definitions. According to Virgil, "love conquers all." Meanwhile, The Beatles tells us that "All You Need is Love." On the other hand, there's St. Thomas Aquinas who described love as "to will the good of another".
Furthermore, biologist Jeremy Griffith defines it as "unconditional selflessness". And then who could forget popular singer Frank Sinatra, who sang that love "is a many splendored thing" It is, he adds, "the April rose that only grows in the early Spring."
These definitions may initially seem cheesy but if you've felt the feeling, then you know that love is indeed a strong, mysterious emotion that makes you happy and inspires you to be a better person.
Now the question is often asked: How does an individual know if he or she has fallen in love with the right person? Well there are 10 unmistakable signs that will answer that for you.
1. You always worry about your significant other.
Believe it or not, it's actually normal to feel anxious when your partner is away or perhaps while he or she is doing something important. It's not about being paranoid or about a lack of trust – it's more about being concerned about his or her safety and well-being.
2. You won't hesitate to show affection.
You may not be the touchy type but if it's true love you're feeling, you will not feel awkward about publicly holding hands and hugging – or maybe even occasionally kissing. You do not feel embarrassed about expressing your affection because you love the person.
3. Your partner's presence makes you feel at ease.
Having a bad day? That would immediately change once your loved one is with you. His or her mere presence sends you to a good mood.
4. You're also in pain whenever he or she is hurt.
You are affected when your partner is in pain, whether it be a physical or emotional hurt. Naturally, you'll do your best to make him or her feel better.
5. You become protective.

His or her safety is always your priority. In short, you won't hesitate to defend your sweetheart to anyone who tries to badmouth or attack them.
6. You're comfortable about being gross.
Burping, picking your nose, and, yes, even farting is not an issue between the two of you anymore. You're both okay with it – along with each other's imperfections.
7. You strive to be better.
One of the surest signs that it's genuine love indeed is when you are inspired to be better. You want your loved one to be proud of you and so you always do your best to improve in different aspects of your life.

8. You want to spend your future with that person.

Obviously, you are looking forward to a future with your significant other. You have goals and dreams – such as having kids, establishing a business, or even growing old together – and you are both working and preparing to turn those things into reality.
9. You're proud of your partner.
Sure, everyone has weaknesses and no relationship is perfect but deep down inside, you know you'll always be proud of your lover. You see his or her strengths and believe in their potential. You also rejoice in each other's achievements and not feel any insecurity at all.
10. You are bestfriends!
Believe us when we say that friendship is a very important factor in any successful relationship. You love spending time together and enjoy each other's companies, even if you have different interests. You two are inseperable!
Woman Offers Homeless Family A Christmas Present They Never Imagined Was Real
A kind-hearted woman gives the best Christmas that saved the lives of homeless family.
It is hard to believe how a developed country still breeds homeless families. But in the United States, there are still people who struggle so hard to fend for themselves. And amidst all the crimes we hear on the news, we now have this woman who will make us see that there's still hope in humanity.
The generosity of a genuinely kind person can go a long way while helping a family in desperate need. Virginia Finch might not be the richest resident in town, but she did such a selfless act that might be hard for anyone to believe. Putting her thoughts into action, she changed the lives of five people with the early Christmas present she just delivered to them.
A homeless family gets by the day living in a wrecked bus parked in Colorado.
45-Year-Old Woman Shares Beautiful Story of Falling In Love With A Younger Man
She was 45, he was 29 and they shared a love that's pure and deep.
Love can be shown in numerous ways, and letting go of the person you love happens to be one of them. It may be human nature to not give up on someone close to your heart because you don't want to feel miserable. But sometimes, there comes a point that a big sacrifice needs to be done to let the other person find the happiness he or she deserves.
Aryana Rose was 45 years old when she met an exceptional young man named Jean-Michel. He was 29 at the time when their paths crossed. Their love story is one of a kind - beautiful, magical, pure and also, heartbreaking. Rose took to the stage, in front of an audience, to share the love story that should leave you in tears.
Aryana fell in love and was in a relationship with a man more than a decade younger than her.
Heartwarming Moment Three Young Boys Help Their Dad Propose To His Girlfriend
The boys are clearly more excited than their dad!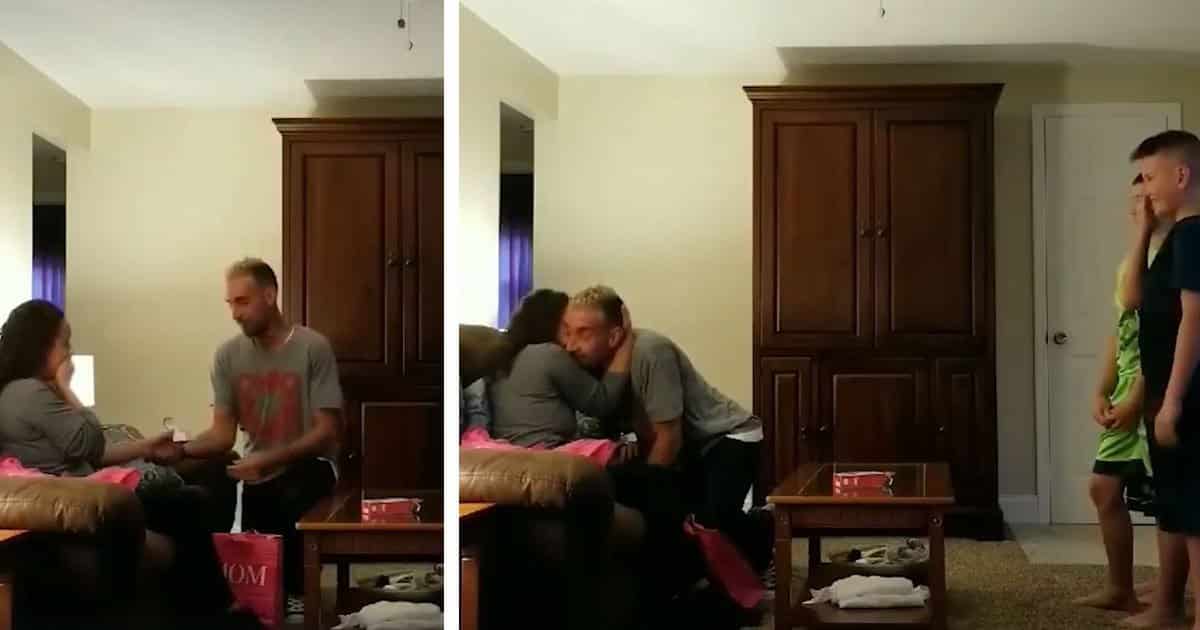 Wedding proposals should always be special and sweet. Over the years, we've seen a lot of wonderful ones on the internet – from that epic underwater proposal to the geeky Monopoly-themed one and to many others.
Needless to say, we all know an effective proposal requires a lot of thought and preparation. It is, however, a big mistake to think that you have to spend a fortune just to make it a memorable moment.
Just take it from this dad who managed to make his proposal simple yet extremely heartwarming.