7 Facts You Should Know About Human Papilloma Virus (HPV) Infection
HPV is more common than you think.
Today, sexually transmitted diseases (STDs) are fairly common. However, not everyone is well adept with these infections, how they are transmitted and if they're curable.
The most common STD across the globe is the Human Papillomavirus (HPV) infection. HPV affects about 79 million people in the United States alone.
It is the known culprit in the development of one of the deadliest cancers in women, cervical cancer. Learning more about this illness will help many women and even men, to prevent the infection and protect themselves against the disease causing-pathogen.
1. HPV infection is fairly common.
As mentioned earlier, 79 million people in the United States are living with HPV infection, the Centers for Disease Control and Prevention (CDC) reports.
According to the World Health Organization (WHO), the HPV cases causes cervical cancer and this type of cancer is the second most common cancer in women across the globe. In 2008 alone, there were 529,000 new cases of cervical cancer and 274,000 deaths.
2. HPV can be transmitted sexually and even without intercourse.
Since it's a sexually transmitted disease or STD, the primary mode of transmission is through sexual intercourse. The HPV infection shows in the form of a genital wart. This can be found anywhere in the genital area including the upper thigh and the butt.
However, the virus can be transmitted through intimate skin to skin contact. Though the use of a condom is recommended to reduce the risk of transmission, the area not covered with the condom could contain the virus. It can also cause HPV infection in the mouth, which could be contracted through kissing.
3. Some Doctors May Not Test HPV Infection
HPV infection may not have any symptom in women. However, this type of STD is seldom tested. They usually wait until the person shows signs of an infection. Also, they would only do testing if the Pap smear comes back abnormal. Pap smear is important to detect the illness early.
4. HPV is the cause of cervical cancer
The group of HPV has more than 100 various viruses. There are just two strains that are linked to cervical cancer – types 16 and 18. This means that seldom the other strains are harmful.
5. There is no cure but a vaccine is available.
The types of HPV strains that cause genital warts and cervical cancer can be managed but there is no cure for the infection. HPV vaccines are important to prevent the spread of the illness.
6. There isn't a real test for men
The tests for women and men are different. Currently, however, there is still no real recommended HPV test for men. For women, on the other hand, they need to visit the doctor for HPV testing and Pap smear.
7. You can get HPV through kissing
Simple skin to skin contact like kissing can lead to the transfer of the virus.
HPV infection is a life-long battle. It may lead to cervical cancer. Still, prevention is better than cure. Have yourselves vaccinated against the infection.
Like & Share This Post
Man Finds Himself In The Background Of His Fiancee's Childhood Photo
Could it be pure coincidence or destiny?
Love, an old popular song tells us, moves in mysterious ways and it sure has been a mystery for Verona Koliqi and Mirand Buzaku. The two has recently been engaged and soon thereafter, they found out about one strange coincidence – they were in the same beach (and were just a few feet away from each other) about 10 years ago.
Call it coincidence, fate, or whatever you will! But yes, that's exactly what happened to these lovers and they were indeed delighted with the discovery.
Coincidence or fate? You decide!
In an interview with Yahoo Lifestyle, Verona shared:
"My cousin found this photo on her computer, and she sent it over to me on my phone to laugh about how we looked when we were younger."
The said picture shows a group of children posing at a Montenegro beach. Later, Verona thought she'd show it to her fiancé. Much to their surprise, Mirand looked closely and found himself in the photo, too!
Added Verona:
"He said, 'Hold up, I think that's me!'

"We both looked at each other and said, 'No way, that can't be true.'"
Mirand recognized the float and the shirt, claiming he had those same ones when he was a kid. Mirand's family eventually confirmed this saying they had gone to the same beach at the time.

What makes this incident special, however, was the fact that Verona was visiting from London while Mirand was visiting from Kosovo.
She also said:
"I never knew something like this could happen, even though I've heard a saying: 'You will have passed your soul mate at least once way before you actually meet up.'"
The two formally met in Kosovo in 2016 and they eventually fell in love.
She reflected:
"We exchanged looks every day we saw each other but did nothing."
After a year, he proposed to her while they were in Turkey.
Verona told:
"I had no clue he was going to propose to me, because in our country's tradition, engagements are planned and have to be agreed by both beforehand."
The photos later went viral when Verona shared them via Instagram.
Well congratulations to this adorable couple! May they have more happy memories together in the years ahead.
Woman Undergoes 30 Surgeries To Look Like A Porn Star For Her Boyfriend
Her boyfriend criticized her and compared her to other girls.
When you love someone, you would sometimes go overboard just to please him or her. This way, you can show your love and affection. However, a 22-year-old woman loved her boyfriend so much; she underwent 30 plastic surgery procedures just to look like a porn star.
Berry Ng, a YouTube star from Hong Kong, underwent several procedures over the last five years, just to impress her (now ex-) boyfriend. She's now regretting her decision.
Berry said that she started resorting to plastic surgery when her ex-partner compared her to supermodels, particularly porn stars.
As a result, she spent more than $3,000 to have her eyes, cheeks, forehead, nose, breasts, and chin fixed.
Her surgeries started when she was just 17 years old. She found a beauty center that offers student packages.
She got addicted and couldn't stop undergoing beauty procedures.
In the hopes to impress her boyfriend, who always complained about her overall appearance, she underwent all the cosmetic procedures, which were completed when she was just 21 years old.
Sadly, despite all her efforts to change her appearance, they were still unable to impress her then-boyfriend.
He still criticized her appearance and compared her to other girls. This pushed her to go under the knife more just to gain his approval.

Berry
said
:
"At that moment, if he had stopped me and told me that I was beautiful enough, I would have stopped, but he didn't."
Her ex-boyfriend even insisted that her breasts were too small.
Berry underwent a breast augmentation surgery. The guy, however, said that he did not ask her to do the operation.
Berry got fed up and broke up with her boyfriend.
Now, she has recovered from her addiction to plastic surgery.
On her YouTube site, she regularly posts videos warning other girls against going overboard with plastic surgery and the ill effects of being addicted to cosmetic enhancements.
Berry learned one thing from her experience, that is to love yourself no matter what others say.
Guy Learns To Break A Glass Using Only His Voice
Can the high C of a trained soprano really quiver glass into dissolution?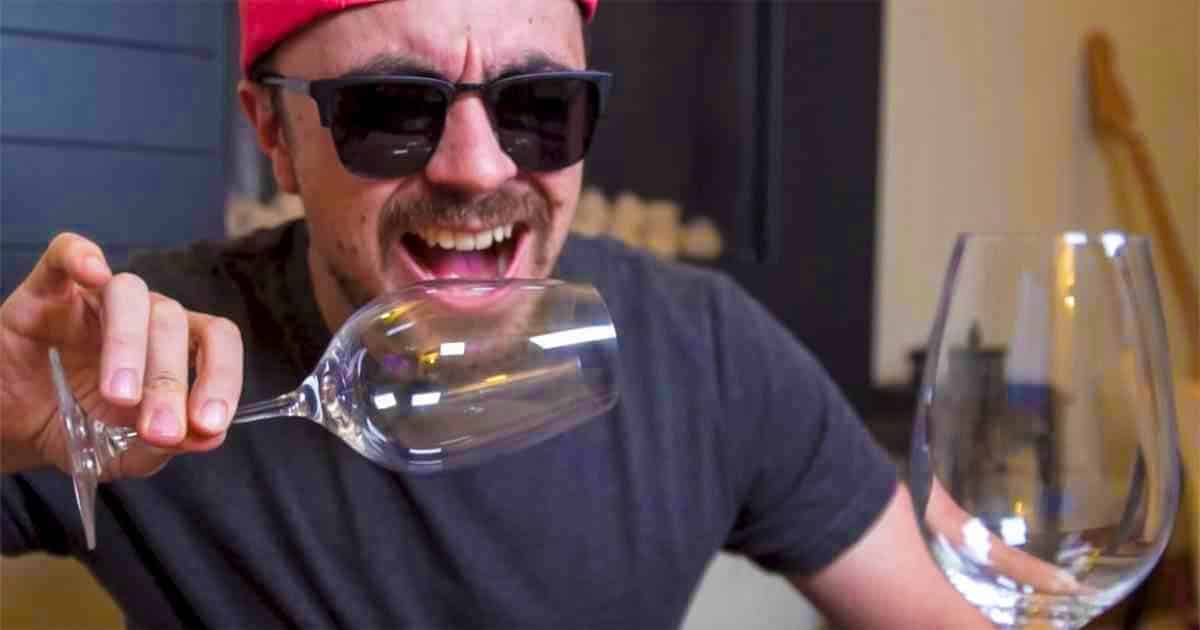 You've probably seen something like this before in movies and TV shows. A particular scene where a character sings up to the point where they hit a note so high and intense that it breaks all the glass in the vicinity, even the windows.
Another particular thing that you've probably seen many times, a woman in an orchestra releasing an earthshaking high note that shatters Champagne flutes. Monocles crack and the chandelier explodes as the power of her voice wreaks havoc on the concert hall. This scene is too common in countless cartoons and comedies, but is this parody based on reality?
Can an opera singer really shatter glass?
To most people, this may just seem like a cartoonish exaggeration. But, believe it or not, with enough practice to attain the right pitch and volume, this is actually possible.
Physics suggests that a voice should be able to break glass. And that's what exactly what Scottish YouTuber Mike Boyd wants to accomplish in the latest video of his Learn Quick series. Mike challenged himself to learn how to break glass using only his voice.

It took him 4 hours, 29 minutes of practice over the course of 14 days before he gained the ability to shatter a crystal wine glass with the power of his voice.
Watch the video here:
Like
on Facebook
So how is this scientifically possible?
Well to begin with, sound is also a form of energy, just like electricity. It travels through various substances in waves. When a sound wave comes in contact with a certain object, it excites the particles present in that object, causing its particles to vibrate against themselves.
Glass wine goblets are especially resonant because of their hollow tubular shape, which is why they make a pleasant ringing sound when clinked. An empty glass is also easier to shatter than a glass filled with wine or water. Furthermore, minor defects in the structure of the glass can also help to shatter it more easily, as these defects provide ideal weak spots.
So if a person sings the same tone as that ringing sound when glass clinked — a high C according to legend but in reality the matching pitch could be any note — the sound of your voice will vibrate the air molecules around the glass at its resonant frequency, causing the glass to start vibrating as well. And if you sings loudly enough, the glass will vibrate itself to smithereens.
If you've ever doubted your ability to accomplish new things, Mike Boyd's YouTube channel is the inspiration you've been seeking.