Cool Theme Park in Dubai Has Rides Inspired by The Hunger Games, and Then Some
Would you volunteer as tribute?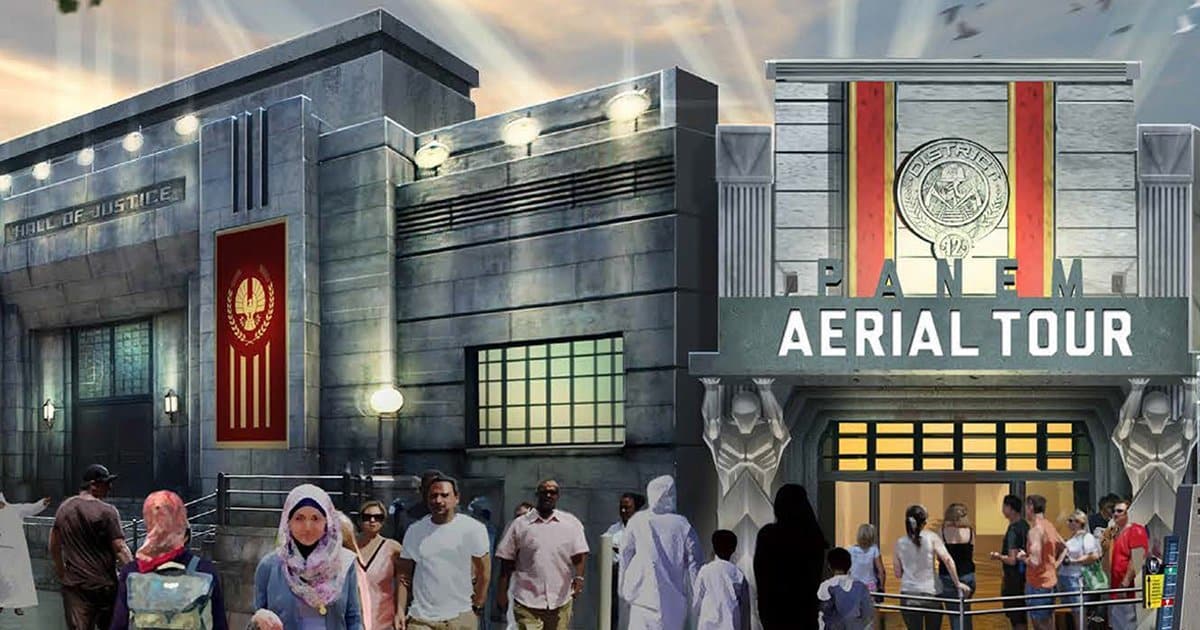 Theme parks will always be a hit attraction, especially when they come up with unique and exhilarating rides. One theme park in Dubai is wowing visitors for its Hunger Games-inspired rides in one of its zones. If you haven't heard of it, it's called The World of Hunger Games in the Hollywood-inspired theme park Motiongate Dubai.
The World of The Hunger Games features never-before-seen footage from the films, interactive character experiences via the Coal Miner's Clash percussion show, food and drinks from Peeta's Bakery, and souvenirs from Panem Supply Co. Cool, huh?
The rides are sure to excite, too.
There's the Capitol Bullet Train, a half-pipe roller coaster that visitors can ride for a thrilling journey from District 12 to the Capitol.
A Panem Aerial Tour is also available.
It's a 4D hovercraft simulator that delivers an immersive tour of the different districts.
Reports say a similar theme park will open in South Korea in 2019.
It will be called Lionsgate Movie World and will also include The Hunger Games-inspired rides in its different movie zones. Other movies to be featured are The Twilight Saga, Now You See Me, and the highly anticipated 2018 Robinhood.
The World of Hunger Games is the theme park's newest zone to open, but there are different zones inspired by other famous films.
Among them are Madagascar, Kung Fu Panda, Smurfs, Shrek, How to Train Your Dragon, Hotel Transylvania, Cloudy With a Chance of Meatballs, Step Up: All In, Underworld, The Green Hornet, Ghostbusters, and Zombieland.

The attractions are also classified by type.
You can choose from their family rides, kids rides, motion simulators, play areas, water rides, roller coasters, and live entertainment shows.
What do you think of Motiongate Dubai and its attractions?
Are you including Motiongate Dubai in your travel goals? Let us know in the comment section below!
35 Breathtaking Places To See Before You Die
Now is the perfect time to save up!
We sometimes think that those unbelievably beautiful locations and/or places only exist in fairy tales. But believe it or not, the real world has them, too. You just need to visit them personally to really appreciate their beauty.
For now, though, you can opt to see them via pictures. Below are images of the most picturesque places we have gathered from the different corners of our planet. Perhaps they will encourage you to travel someday. Check them out!
#35. Dark Hedges, UK
Swiss Village Willing To Pay Thousands Of Dollars To Each Family That Agrees To Move In
A village in Albinen, Switzerland is willing to pay a huge sum of money to any family who would agree to migrate and live in the zone.
For a place to be called a community, it naturally needs a number of people and some establishments to support its economy. Without people working for the profit of a community, the place is likely to die, forcing the remaining population to seek a greener pasture from a stronger district.
While overpopulation is a problem in some regions of the world, some areas are ironically finding it hard to attract people to live in their zones just like the mountainside village in Switzerland that's running empty of residents. Despite the scenic views from the village, its being rural is probably a big factor why migrants keep on rejecting its offer of residency.
This remote village in Switzerland has a pretty majestic scenery but it is t the risk of being shut down.
The World's Most Dangerous Countries To Visit Revealed
Before you pack your bags and book for travel packages, check these maps and find out which spots you should avoid.
Do you love to travel around the world too? A lot of people are hardwired for the excitement of travel and adventure. But the way you've been looking at the world may not be the way everybody else does. In fact, once you find out how risky your dream destinations really are, you might end up changing your plans and course of travel.
We are all self-described travel nuts. For some, travel is a sweet plan for retirement on a boat, a house bus, with a backpack or by train. But we always yearn for greater travel adventures like flying far away from our hometowns for a month in Africa or a year in America. The world is indeed full of sweet and wonderful spots to see. Greece, France, Italy, Iceland, Maldives, Japan, Egypt, South Korea, New Zealand, almost every corner of every continent has something to boast about.
Traveling to places is a dream come true for most of us, but you might want to check on how safe your preferred destination is before packing your bag and setting off.