Cool Theme Park in Dubai Has Rides Inspired by The Hunger Games, and Then Some
Would you volunteer as tribute?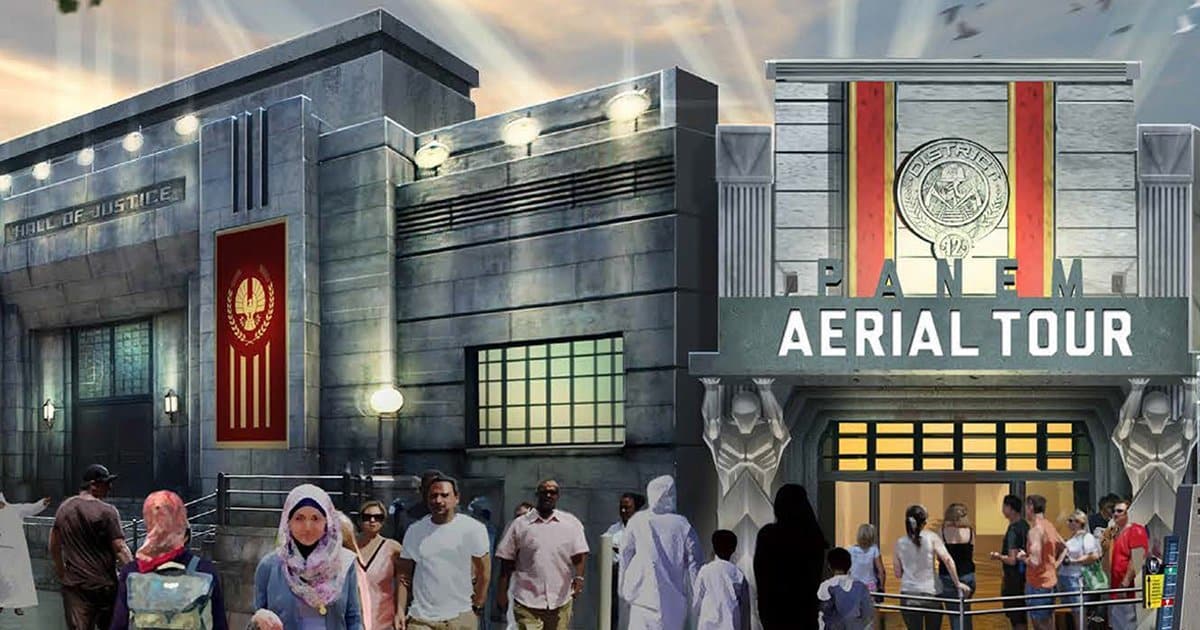 Theme parks will always be a hit attraction, especially when they come up with unique and exhilarating rides. One theme park in Dubai is wowing visitors for its Hunger Games-inspired rides in one of its zones. If you haven't heard of it, it's called The World of Hunger Games in the Hollywood-inspired theme park Motiongate Dubai.
The World of The Hunger Games features never-before-seen footage from the films, interactive character experiences via the Coal Miner's Clash percussion show, food and drinks from Peeta's Bakery, and souvenirs from Panem Supply Co. Cool, huh?
The rides are sure to excite, too.
There's the Capitol Bullet Train, a half-pipe roller coaster that visitors can ride for a thrilling journey from District 12 to the Capitol.
A Panem Aerial Tour is also available.
It's a 4D hovercraft simulator that delivers an immersive tour of the different districts.
Reports say a similar theme park will open in South Korea in 2019.
It will be called Lionsgate Movie World and will also include The Hunger Games-inspired rides in its different movie zones. Other movies to be featured are The Twilight Saga, Now You See Me, and the highly anticipated 2018 Robinhood.
The World of Hunger Games is the theme park's newest zone to open, but there are different zones inspired by other famous films.
Among them are Madagascar, Kung Fu Panda, Smurfs, Shrek, How to Train Your Dragon, Hotel Transylvania, Cloudy With a Chance of Meatballs, Step Up: All In, Underworld, The Green Hornet, Ghostbusters, and Zombieland.

The attractions are also classified by type.
You can choose from their family rides, kids rides, motion simulators, play areas, water rides, roller coasters, and live entertainment shows.
What do you think of Motiongate Dubai and its attractions?
Are you including Motiongate Dubai in your travel goals? Let us know in the comment section below!
Like & Share This Post
40 Illegal Photos of North Korea That Kim Jong-un Doesn't Want the World to See
There is a reason why the Supreme Leader wants to isolate the country.
A photographer by the name of Eric Lafforgue had the chance to experience what it is like to live in North Korea. Being able to visit the country six times already, he managed to capture images that were actually forbidden to take and/or were asked to be deleted. These are simply the kind of photos that the Supreme Leader Kim Jong-un does not want the world to see.
At first, Lafforgue was interested in being a casual tourist in the communist country. But as the time went on, he began to reveal its only façade. And he wanted to go beyond what common people think of the nation, from catching a domestic glimpse of the land to how the regime completely reigns. Eric admitted that, like any other tourist, he was not allowed to take pictures of the police and the army, among others.
Thanks to his 300mm zoom lens and a comfortable sitting position at the back of his bus, he was able to take as many shots as he can. "As soon as they were opening a new area to visit, I tried to go and see it," he said.
Well, without further ado, here the photos captured by Eric. Enjoy!
...
10 Travel Scams and Rip-Offs to Watch Out For When You Travel Abroad
There are effective ways to counter scammers – specifically by understanding how these crooks work!
In a recent statistics, there were around 1.235 billion international tourists across the globe. That goes to show that human beings love to travel and explore the world. In terms of the popular countries among tourists, the list includes the USA, France, Italy, China, Spain, and the United Kingdom.
But with the increase of tourists, deceivers have also doubled in numbers. These scumbags continue to trick travelers in hopes to scam them. Apparently though, some tourists are also to be blamed. They simply rely too much on locals and fail to recognize scammers.
There are, however, plenty of ways to counter these deceivers - and one of them is by understanding how these thieves work. Below are some of them.
...
Game of Thrones Ice Hotel Now Open in Finland And It's Truly Amazing!
Fancy living like a Night King?
If you're a living and breathing Game of Thrones fan, you already know that winter is here and that you can't wait to see what happens after the Night King destroyed the Wall with the help of ice-spewing Viserion. Unfortunately, the show won't be back until 2019, which is way TOO LONG for any GOT fan.
While waiting for the show to resume, you can pony up the big bucks and live your winter fantasies in Finland, where an incredible Game of Thrones-inspired hotel stands.
...