Cool Theme Park in Dubai Has Rides Inspired by The Hunger Games, and Then Some
Would you volunteer as tribute?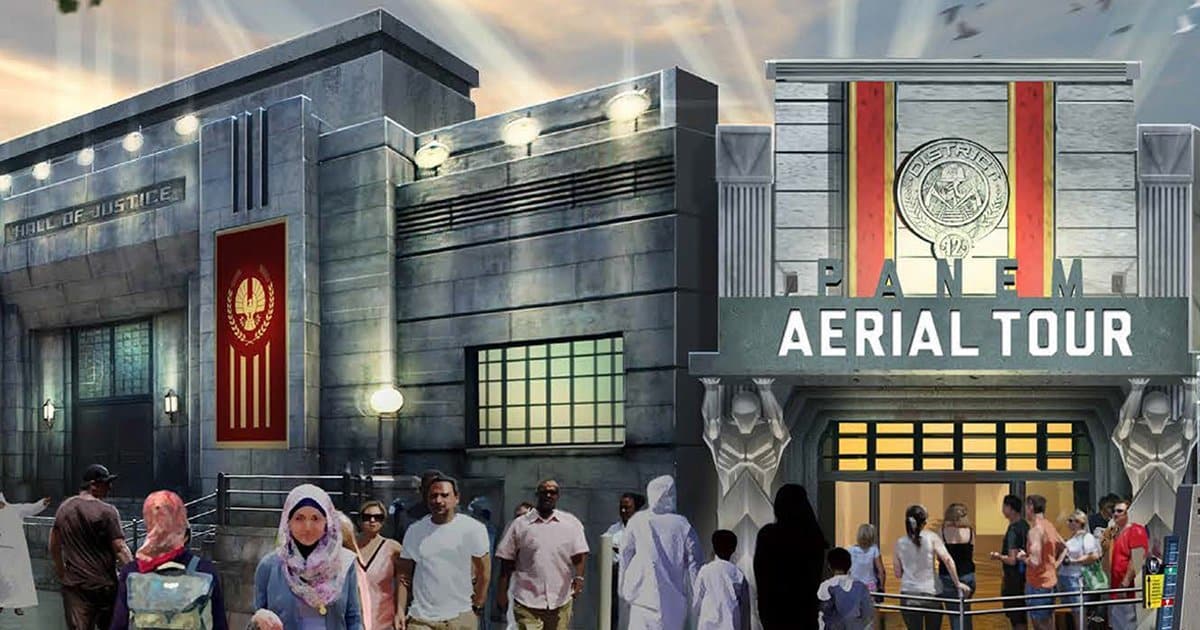 Theme parks will always be a hit attraction, especially when they come up with unique and exhilarating rides. One theme park in Dubai is wowing visitors for its Hunger Games-inspired rides in one of its zones. If you haven't heard of it, it's called The World of Hunger Games in the Hollywood-inspired theme park Motiongate Dubai.
The World of The Hunger Games features never-before-seen footage from the films, interactive character experiences via the Coal Miner's Clash percussion show, food and drinks from Peeta's Bakery, and souvenirs from Panem Supply Co. Cool, huh?
The rides are sure to excite, too.
There's the Capitol Bullet Train, a half-pipe roller coaster that visitors can ride for a thrilling journey from District 12 to the Capitol.
A Panem Aerial Tour is also available.
It's a 4D hovercraft simulator that delivers an immersive tour of the different districts.
Reports say a similar theme park will open in South Korea in 2019.
It will be called Lionsgate Movie World and will also include The Hunger Games-inspired rides in its different movie zones. Other movies to be featured are The Twilight Saga, Now You See Me, and the highly anticipated 2018 Robinhood.
The World of Hunger Games is the theme park's newest zone to open, but there are different zones inspired by other famous films.
Among them are Madagascar, Kung Fu Panda, Smurfs, Shrek, How to Train Your Dragon, Hotel Transylvania, Cloudy With a Chance of Meatballs, Step Up: All In, Underworld, The Green Hornet, Ghostbusters, and Zombieland.

The attractions are also classified by type.
You can choose from their family rides, kids rides, motion simulators, play areas, water rides, roller coasters, and live entertainment shows.
What do you think of Motiongate Dubai and its attractions?
Are you including Motiongate Dubai in your travel goals? Let us know in the comment section below!
The Wonder of Santa Margarida: A Chapel Right Inside A Volcano
..And it has been sitting there for more than 600 years.
Amidst the vast land of Garrotxa, a comarca of Catalonia, Spain, lies a surrounding volcanic terrain in the Natural Park of La Garrotxa Volcanic Zone.
At the Natural Park of La Garrotxa, there are several walking routes that will lead tourists to an interesting awe-inspiring wonder.
...
Western Australia's 'Most Haunted' Building Rebrands Itself To Attract More Tourists
The place wants to prove that it has more to offer other than tales of horror.
While Oakabella Homestead has successfully marketed itself as the most haunted building in Western Australia - thanks to the tales of lost souls and malevolent spirits that once intrigued its guests - its new owners believe that its high time for its image to be changed.
The Oakabella Homestead was built in 1851, or 10 years earlier than its neighboring town, Northampton 460km from Perth, in the picturesque Chapman Valley. With the site's eerie history, which includes multiple deaths including that of a 3-year old child and a worker who shot himself, it is easy to understand why its previous owners made money from ghost tours and scary stories.
...
Now You Can Rent And Stay In A Harry Potter-Themed Apartment
This is perfect for Wizards and Muggles alike!
Every Harry Potter fan dreams of getting into Hogwarts, the fictional school of witchcraft and wizardry popularized by J.K. Rowling's books. But now, they do have a chance of staying for a night or two on a Harry Potter-themed apartment.
Super fan Yue Gao opened the Canongate Luxury Apartment in Scottish Capital - the birthplace of the Rowling. The place overlooks Edinburgh's Royal Mile and is available for rent all year-round.
...