Cool Theme Park in Dubai Has Rides Inspired by The Hunger Games, and Then Some
Would you volunteer as tribute?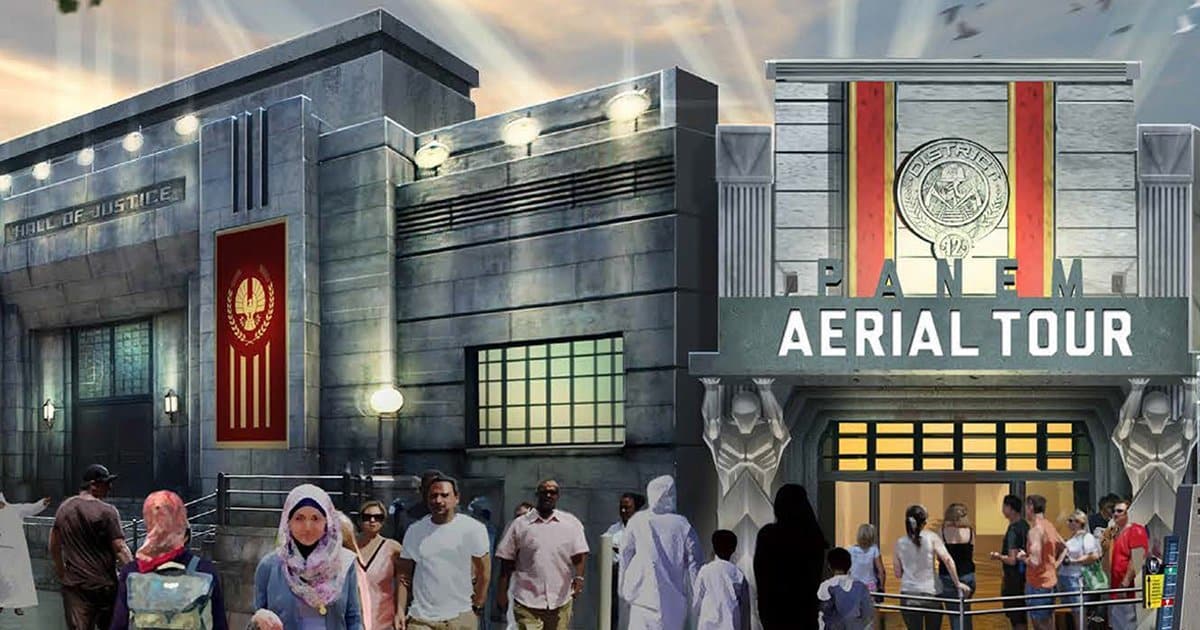 Theme parks will always be a hit attraction, especially when they come up with unique and exhilarating rides. One theme park in Dubai is wowing visitors for its Hunger Games-inspired rides in one of its zones. If you haven't heard of it, it's called The World of Hunger Games in the Hollywood-inspired theme park Motiongate Dubai.
The World of The Hunger Games features never-before-seen footage from the films, interactive character experiences via the Coal Miner's Clash percussion show, food and drinks from Peeta's Bakery, and souvenirs from Panem Supply Co. Cool, huh?
The rides are sure to excite, too.
There's the Capitol Bullet Train, a half-pipe roller coaster that visitors can ride for a thrilling journey from District 12 to the Capitol.
A Panem Aerial Tour is also available.
It's a 4D hovercraft simulator that delivers an immersive tour of the different districts.
Reports say a similar theme park will open in South Korea in 2019.
It will be called Lionsgate Movie World and will also include The Hunger Games-inspired rides in its different movie zones. Other movies to be featured are The Twilight Saga, Now You See Me, and the highly anticipated 2018 Robinhood.
The World of Hunger Games is the theme park's newest zone to open, but there are different zones inspired by other famous films.
Among them are Madagascar, Kung Fu Panda, Smurfs, Shrek, How to Train Your Dragon, Hotel Transylvania, Cloudy With a Chance of Meatballs, Step Up: All In, Underworld, The Green Hornet, Ghostbusters, and Zombieland.

The attractions are also classified by type.
You can choose from their family rides, kids rides, motion simulators, play areas, water rides, roller coasters, and live entertainment shows.
What do you think of Motiongate Dubai and its attractions?
Are you including Motiongate Dubai in your travel goals? Let us know in the comment section below!
8 Barefoot-Friendly Beaches in the Philippines You Need to Visit
If you are into barefoot walking, then these beaches are perfect for you!
Most of us go to the beach to enjoy the waters, though some love to skinny dip. Apparently, there are those who would rather enjoy walking barefoot and feeling the sand on their toes. It just gives them this unexplainable, soothing sensation.
If you love the idea of it – or you want to try it – know that the Philippines has some of the best barefoot-friendly beaches. Go ahead and include them in your travel plans. You can thank us later!
...
10 Favorite Vacation Spots of Billionaires
Dream destinations indeed!
There are indulgent vacations many of us can only dream about, like a sojourn to a hidden island paradise or 24/7 pampering at a luxurious getaway. For billionaires, however, these indulgent treats are well within their reach.
See, the richest don't just vacation anywhere. They have their favorite spots for some R&R. Below, we list 10 of them.
...
Mysterious Abandoned Boeing 737 Turns Into a Tourist Attraction In Bali
No one really knows how the plane got there.
An abandoned Boeing 737 found in the middle of a valley in Bali, Indonesia has become a popular tourist destination. What's fascinating is that no one really knows how the plane ended up on the site.
Not only that, the Boeing jet is enclosed and it had no branding that could help in its identification. The plane found in South Kuta is surrounded by trees and freight containers. Though it is locked and under regular surveillance, tourists remain captivated by its mystery that they'd visit the site to take photos with it.
...