Rich Man Forgives Fishmonger Who Bumped His Sports Car Even If He Offered To Pay For It
A heartwarming story for everyone this season of giving.
Today, a lot of issues regarding inequality bombard our daily lives. The clear line between the rich and the poor has taken a toll on the harmonious relationships of human beings.
In some cases, however, touching stories show that love, compassion, and care between the rich and the poor are still there. These events prove that money isn't everything.
A poor couple accidentally bumped and scratched a Lamborghini driven by a millionaire in Thailand's Nonthaburi Province.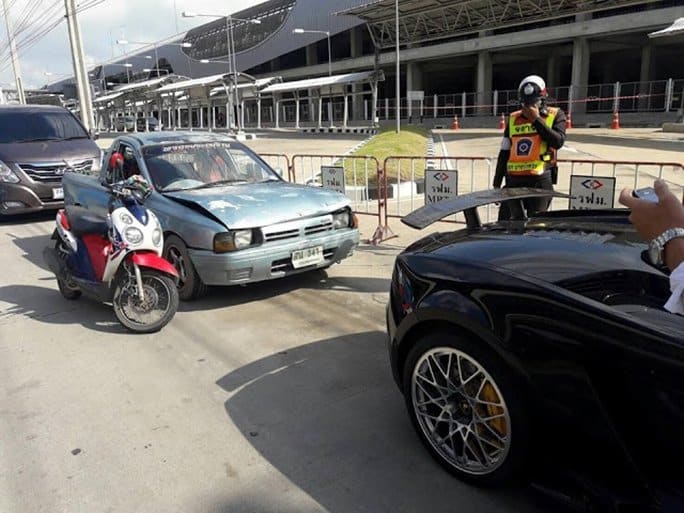 A Fishmonger couple's old car got involved in a vehicular accident, as they accidentally "kissed" the front part of the expensive sports car.
The couple nearly fainted upon knowing how much the damage would cost them.
They would have to work hard to repair the damage their car incurred and worse, the Lamborghini's damage would cost them years of hard work.
However, the millionaire's heart is no stone.
While the fishmonger apologized and asked to pay the damage in installments, the rich man waived the payment.
Upon learning that the couple did not buy any insurance for their car, he did not want any more trouble and told them not to pay him for the damages caused by the accident.

The rich man asked the couple to just donate 3,000 Thai Baht ($92.25) to a temple in the area.
The couple promised to donate to the temple in the rich man's name.
Many netizens were touched by the rich man's generosity and kindness. These kind of stories are worth reading and sharing, as it exemplifies that genuine kindness can be found anywhere, even in simple acts and incidents.
What can you say about the inspiring story?
Truly, we are still blessed that despite the heartbreaking stories we hear about rich people looking down on less fortunate ones, there are still some who have a kind heart and genuine concerns for others.
Mom Reacts After Maid Gets Baby Scalded With Boiling Water
If your maid spilled boiling water on your baby, would you react like this mom?
Parents are naturally protective of their children. Moms and dads go the extra mile just to keep their kids from getting into dangerous situations. That's why when their little ones are in peril or, worse, hurt because of the carelessness of others, it's understandable for them to become furious.
But a couple's example is inspiring other parents to think twice about their words and actions when dealing with difficult situations concerning their children. Mom Jinghan Naan and dad Aizat from Singapore recently had to handle an emergency when their baby Masha got scalded by hot water.
Jinghan posted on Facebook about their recent experience.
...
10 Unmistakable Signs That You're In Love With The Right Person
You're definitely in love if you're feeling these 10 things!
"Love" may be a short, four-letter word but it takes many definitions. According to Virgil, "love conquers all." Meanwhile, The Beatles tells us that "All You Need is Love." On the other hand, there's St. Thomas Aquinas who described love as "to will the good of another".
Furthermore, biologist Jeremy Griffith defines it as "unconditional selflessness". And then who could forget popular singer Frank Sinatra, who sang that love "is a many splendored thing" It is, he adds, "the April rose that only grows in the early Spring."
These definitions may initially seem cheesy but if you've felt the feeling, then you know that love is indeed a strong, mysterious emotion that makes you happy and inspires you to be a better person....
Woman Offers Homeless Family A Christmas Present They Never Imagined Was Real
A kind-hearted woman gives the best Christmas that saved the lives of homeless family.
It is hard to believe how a developed country still breeds homeless families. But in the United States, there are still people who struggle so hard to fend for themselves. And amidst all the crimes we hear on the news, we now have this woman who will make us see that there's still hope in humanity.
The generosity of a genuinely kind person can go a long way while helping a family in desperate need. Virginia Finch might not be the richest resident in town, but she did such a selfless act that might be hard for anyone to believe. Putting her thoughts into action, she changed the lives of five people with the early Christmas present she just delivered to them.
A homeless family gets by the day living in a wrecked bus parked in Colorado.
...