Meet Joyce Tadeo, Manila's Hottest Uber Driver
She's Uber gorgeous indeed!
Traffic is usually a bad thing but if you're stuck with a gorgeous driver, I'm not sure if that would still be a problem. In Manila, Philippines, one Uber driver is gaining more attention compared with others because of her sheer good looks and charming personality.
Meet Joyce Tadeo, a lady Uber driver making the rounds in the area to make a living. In a recent feature by FHM Philippines, we learn that Joyce (or JT as her close friends call her), is "a BS Psychology graduate who used to work as a medical representative in a pharmaceutical company."
Joyce later decided to quit her job and look for another way of earning – which led her to Uber.
Apparently, one of her male friends was an Uber driver and he encouraged her to try it out. So she did.
As Joyce shared with FHM:
"I'm a risk taker. I'm always up for something unusual. And when I saw his earnings, that's what motivated me the most."
She started driving for Uber in October 2016 and says she's actually having fun.
In fact, she almost always gets compliments from her passengers. According to her:
"Most of my passengers are really surprised whenever they book me as their driver. I often get compliments and I really appreciate them. Others even ask for selfies and post my Uber details on social media. Since then, I've gotten used to it. I enjoy the feeling of being liked."
She enjoys having conversations with her passengers, too.
"Everybody knows that traffic is terrible. Some light conversation is always a good time killer."
However, Joyce says she is very much aware about the importance of safety.
Joyce says as a female driver, she always carries a "rosary and pepper spray for protection" just in case she encounters a crazy passenger.
A nature lover, the Filipina Uber sensation loves going to the beach whenever her schedule allows it.
"I love nature tripping because it helps me feel disconnected from the chaos happening in the city."
She's also currently attending dress making classes, hoping to start her own clothing business soon.
Maybe she should consider working as a model, too? I mean she certainly has the looks! And with her recently-found popularity, we really wouldn't be surprised if offers start knocking on her doors.
Previously, some of you may remember we've also previously featured Ikuta Kana, a pretty Japanese girl who works as a gravure model and a taxi driver.
What's up with all these lovely Asian ladies working as drivers? Makes me wanna hop over there and catch a cab – or an Uber!
Like & Share This Post
Woman Undergoes 30 Surgeries To Look Like A Porn Star For Her Boyfriend
Her boyfriend criticized her and compared her to other girls.
When you love someone, you would sometimes go overboard just to please him or her. This way, you can show your love and affection. However, a 22-year-old woman loved her boyfriend so much; she underwent 30 plastic surgery procedures just to look like a porn star.
Berry Ng, a YouTube star from Hong Kong, underwent several procedures over the last five years, just to impress her (now ex-) boyfriend. She's now regretting her decision.
Berry said that she started resorting to plastic surgery when her ex-partner compared her to supermodels, particularly porn stars.
As a result, she spent more than $3,000 to have her eyes, cheeks, forehead, nose, breasts, and chin fixed.
Her surgeries started when she was just 17 years old. She found a beauty center that offers student packages.
She got addicted and couldn't stop undergoing beauty procedures.
In the hopes to impress her boyfriend, who always complained about her overall appearance, she underwent all the cosmetic procedures, which were completed when she was just 21 years old.
Sadly, despite all her efforts to change her appearance, they were still unable to impress her then-boyfriend.
He still criticized her appearance and compared her to other girls. This pushed her to go under the knife more just to gain his approval.

Berry
said
:
"At that moment, if he had stopped me and told me that I was beautiful enough, I would have stopped, but he didn't."
Her ex-boyfriend even insisted that her breasts were too small.
Berry underwent a breast augmentation surgery. The guy, however, said that he did not ask her to do the operation.
Berry got fed up and broke up with her boyfriend.
Now, she has recovered from her addiction to plastic surgery.
On her YouTube site, she regularly posts videos warning other girls against going overboard with plastic surgery and the ill effects of being addicted to cosmetic enhancements.
Berry learned one thing from her experience, that is to love yourself no matter what others say.
Guy Learns To Break A Glass Using Only His Voice
Can the high C of a trained soprano really quiver glass into dissolution?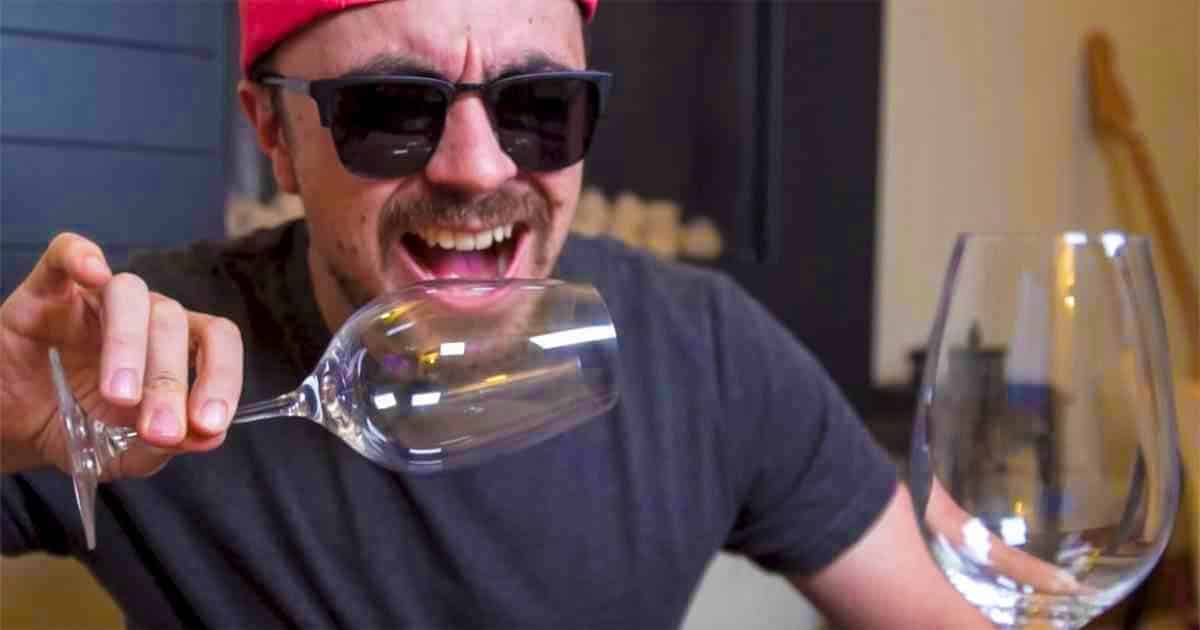 You've probably seen something like this before in movies and TV shows. A particular scene where a character sings up to the point where they hit a note so high and intense that it breaks all the glass in the vicinity, even the windows.
Another particular thing that you've probably seen many times, a woman in an orchestra releasing an earthshaking high note that shatters Champagne flutes. Monocles crack and the chandelier explodes as the power of her voice wreaks havoc on the concert hall. This scene is too common in countless cartoons and comedies, but is this parody based on reality?
Can an opera singer really shatter glass?
To most people, this may just seem like a cartoonish exaggeration. But, believe it or not, with enough practice to attain the right pitch and volume, this is actually possible.
Physics suggests that a voice should be able to break glass. And that's what exactly what Scottish YouTuber Mike Boyd wants to accomplish in the latest video of his Learn Quick series. Mike challenged himself to learn how to break glass using only his voice.

It took him 4 hours, 29 minutes of practice over the course of 14 days before he gained the ability to shatter a crystal wine glass with the power of his voice.
Watch the video here:
Like
on Facebook
So how is this scientifically possible?
Well to begin with, sound is also a form of energy, just like electricity. It travels through various substances in waves. When a sound wave comes in contact with a certain object, it excites the particles present in that object, causing its particles to vibrate against themselves.
Glass wine goblets are especially resonant because of their hollow tubular shape, which is why they make a pleasant ringing sound when clinked. An empty glass is also easier to shatter than a glass filled with wine or water. Furthermore, minor defects in the structure of the glass can also help to shatter it more easily, as these defects provide ideal weak spots.
So if a person sings the same tone as that ringing sound when glass clinked — a high C according to legend but in reality the matching pitch could be any note — the sound of your voice will vibrate the air molecules around the glass at its resonant frequency, causing the glass to start vibrating as well. And if you sings loudly enough, the glass will vibrate itself to smithereens.
If you've ever doubted your ability to accomplish new things, Mike Boyd's YouTube channel is the inspiration you've been seeking.
Meet the Makeup Artist Who Can Easily Transform Into Any Celebrity
Nope, they are not Photoshopped.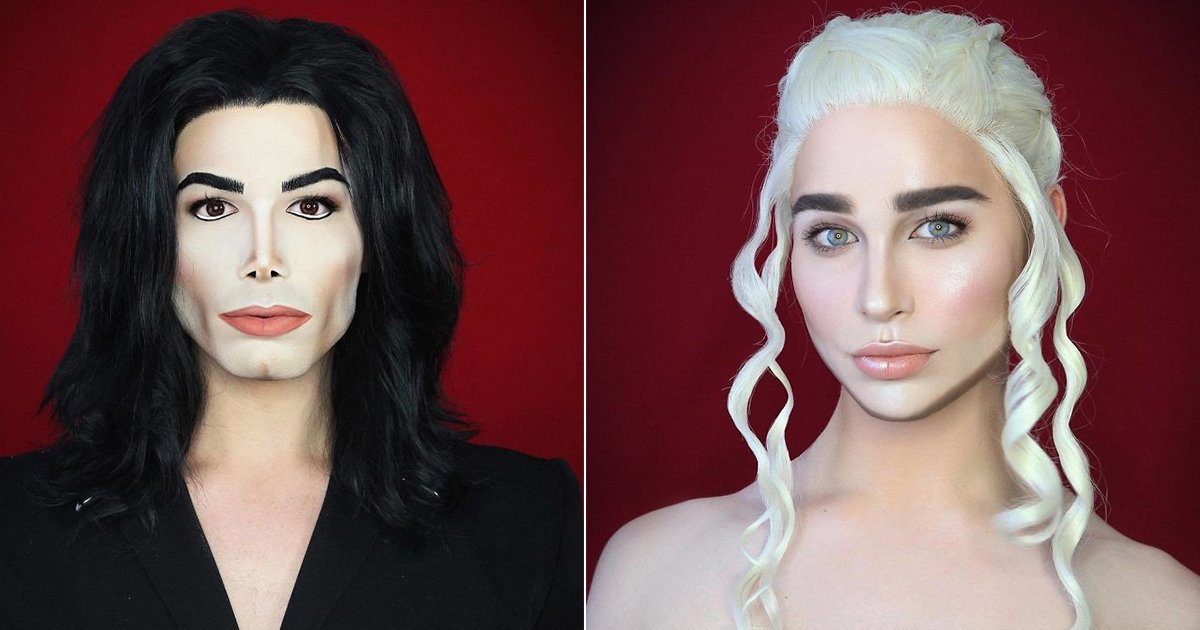 We all have seen the power of Photoshop and other digital imagery tricks out there. You know, the kind that requires a few clicks to conjure incredible photos. This time around though, we will discuss makeup and how powerful it actually is. Think about it: A simple touch of makeup shenanigans and you can look exactly like someone else.
This is exactly what Elliot Joseph Rentz – also known as Alexis Stone – did. The British drag queen and superb makeup artist can change his looks and turn himself into a celebrity. And yes, this is all thanks to makeup. Born in Brighton, England, Alexis is capable of turning himself into any Hollywood star. In fact, he does it so well that you would think it is Photoshopped.
Meet Alexis, the guy who can look exactly like your favorite actor/actress.
Alexis' hobby started when he found a way to strategically use contour. Just by adding a bit of highlighting and stuff, he can easily transform himself into the likes of Michael Jackson and Queen Elizabeth. His works are so incredible that he immediately gained a huge following on Instagram.
If you want to see how magical his works are, scroll down below. Be ready to be amazed!
#1. Cher
#2. Jennifer Lawrence
#3. Queen Elizabeth II
#4. Ellen
#5. Dita Von Teese
#6. Dolly Parton
#7. Leonardo Dicaprio
#8. Donatella Versace
#9. Jeremy Meeks
#10. Madonna
#11. Johnny Depp
#12. Marilyn Manson
#13. Charlize Theron
#14. Goldie Hawn
#15. Tilda Swinton
#16. Anna Wintour
#17. Kat Von D
#18. Daenerys Targaryen (Emilia Clarke)
#19. Kylie Jenner
#20. Justin Bieber
#21. Kesha
#22. Michael Jackson
#23. Nikkietutorials
#24. Glenn Close
#25. Paris Hilton
#26. Ariana Grande
#27. Kim Kardashian
#28. Lady Gaga
#29. Cate Blanchett
#30. Pete Burns
#31. Meryl Streep
#32. Jocelyn Wildenstein
#33. Cardi B
#34. Jeffree Star
#35. Aileen Wuornos (Charlize Theron)
So, what do you think about Alexis' makeup prowess? He is one of a kind, is he not? Let us know what you think about his makeup transformations in the comments below!