45-Year-Old Woman Shares Beautiful Story of Falling In Love With A Younger Man
She was 45, he was 29 and they shared a love that's pure and deep.
Love can be shown in numerous ways, and letting go of the person you love happens to be one of them. It may be human nature to not give up on someone close to your heart because you don't want to feel miserable. But sometimes, there comes a point that a big sacrifice needs to be done to let the other person find the happiness he or she deserves.
Aryana Rose was 45 years old when she met an exceptional young man named Jean-Michel. He was 29 at the time when their paths crossed. Their love story is one of a kind – beautiful, magical, pure and also, heartbreaking. Rose took to the stage, in front of an audience, to share the love story that should leave you in tears.
Aryana fell in love and was in a relationship with a man more than a decade younger than her.
Visibly nervous, she took to the stage to share her love story.
It's easy to see that Aryana spoke about her ex-lover with great passion. She couldn't emphasize more just how magnificent and wonderful Jean-Michel was. She couldn't believe that a young man with such talent and has everything going well for him would be romantically interested in someone as old as her. But he was – he loved her as well and their love for each other was just deep.
One day, Aryana noticed how there's so much joy in Jean-Michel's eyes whenever he sees or he's around with kids. That's when Aryana realized that her man loves kids and that he would want to have children of his own someday – something that Aryana knew she couldn't give.
Aryana knew that it was the end of her and Jean-Michel.
Being over a decade older than her boyfriend, Aryana already had kids and they're all grown up. That said, she's also done with the responsibilities of being a parent that she enjoyed her freedom so much. She wasn't certain she wants to give up that freedom. At the same time, she also doesn't want to deny Jean-Michel such a precious gift.
Aryana cried all night upon coming to such realization.
She then decided to leave her man.
Even having ended things between them, Aryana and Jean-Michel never really let go of each other. They did try for three years. At the same time, each has thought about making great sacrifices, like Aryana agreeing to have children and Jean-Michel giving up on his dreams and forgetting about building a family. But both knew in their hearts they shouldn't be making such sacrifices just to keep each other.
Aryana tried her best to encourage Jean-Michel to date other women. But each time, she failed. He only had his eyes and heart set for her – until one day. Aryana saw the most beautiful thing that she had laid her eyes on and thought to herself, she is perfect. She introduced her to Jean-Michel and it was magic. She knew she just found the one person that would make Jean-Michel happy.
Aryana's story is painfully beautiful. But nothing can be more exceptional than hearing it from Aryana herself. You can hear every pause and her deep breaths each time she recalls her love story. You can see and feel the raw emotions of joy and hurt as she delivers it to the audience.
Watch the video below to hear Aryana's love story and prepare for the twist that'll surely leave you bawling your eyes out.

Like
on Facebook
What do you think about this story? Share this with your friends and family.
Heartwarming Moment Three Young Boys Help Their Dad Propose To His Girlfriend
The boys are clearly more excited than their dad!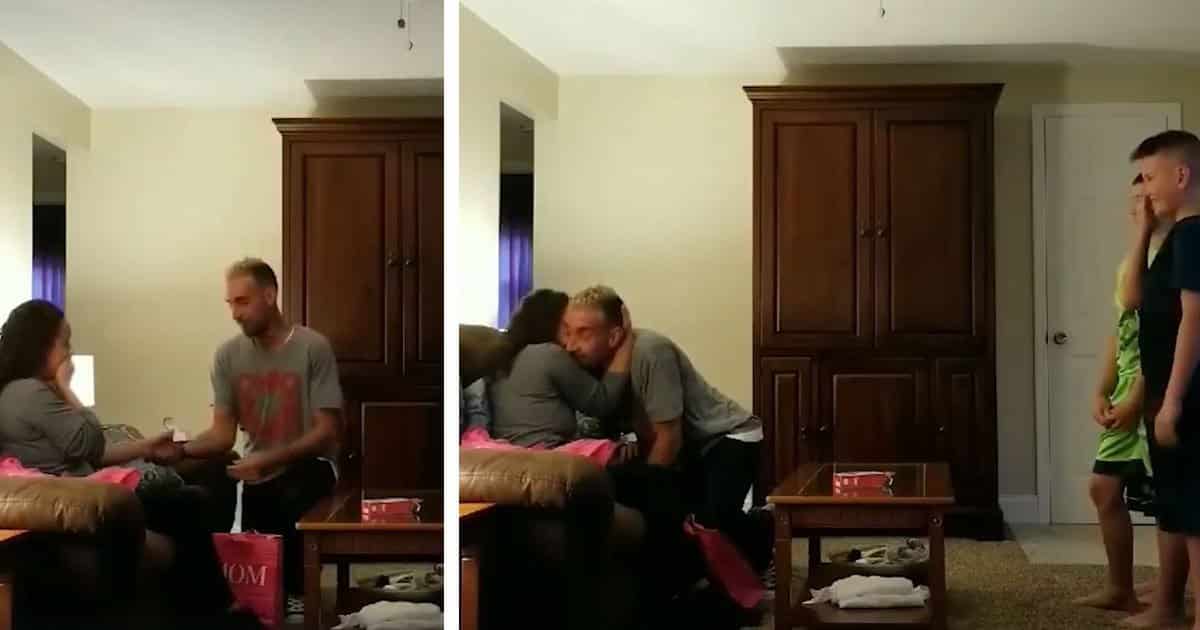 Wedding proposals should always be special and sweet. Over the years, we've seen a lot of wonderful ones on the internet – from that epic underwater proposal to the geeky Monopoly-themed one and to many others.
Needless to say, we all know an effective proposal requires a lot of thought and preparation. It is, however, a big mistake to think that you have to spend a fortune just to make it a memorable moment.
Just take it from this dad who managed to make his proposal simple yet extremely heartwarming.
Heartwarming Moment Dad Receives Unexpected Gift From 11-Year-Old Son
The. Best. Son. Ever.
As parents, it is our obligation to look after our children and make sure that they are happy. We buy them clothes, send them to the best schools, and, yes, give them stuff for their birthdays. But as time goes by, our children think of ways to reciprocate the love we give to them.
This is exactly what an 11-year-old did to his father. The lovely moment was caught on tape in which the father can be seen receiving a present from his son. And boy, he sure is excited to see what his kid bought him.
He is one happy father indeed.
Baby Born Twice Now Growing Healthy
This baby is a medical miracle!
Thanks to the advancement of medicine, the baby who was born twice is now growing healthy after a year. Baby Lynlee Hope's case is one for the books after she was born two times last year because of a rare congenital condition.
Surgeons removed Lynlee Hope from her mother's womb at 23 weeks and received a crucial operation after a sonogram showed that she has a massive tumor at the base of her spine. The tumor was as big as her head and doctors revealed that the baby may not make it in full term if the tumor is not removed.
Baby Lynlee Hope is now growing healthy after she was born twice last year.