Woman Finds Bro She Last Saw 6 Decades Ago, Discovers He's Among The World's Richest Men
Two siblings were separated for decades, later got a reunion where sister finds out shocking accomplishment of brother.
They say the family isn't whose blood you carry, but it's who you love and loves you back. This kind of deep relation was molded between one Scottish woman and her adopted Hindu brother who now happens to be one of the world's richest men.
Ida Wilde has been reunited with her long-lost brother, Asgar Patel, after 60 years of being separated. The last memory they had of each other was the tearful goodbye they had to tell on a Glasgow railway platform as Asgar had to go back to his real family in India.
A Scottish woman finally found her adopted brother whom she last saw 60 years ago.
Back in 1947, Asgar was one of the two Hindu refugees that Ida's family adopted. On August 15 of that year, the British rule in India ended where the territory was then separated into two new countries – India and Pakistan.
The Partition of Indian troubles resulted to millions of people having to leave their homes to move to another state. The largest mass migration in human history then collected the Hindus moving to India while the Muslims fled to Pakistan. The split was however never peaceful as it caused religious riots where a million lives were lost.
Ida said she had longed for her brother and is glad that Asgar found a way to reach her.
Asgar had a wealthy father who ran businesses in Bombay and Karachi. But with the loss of peace in their land, Asgar's parents sought to find refuge for him and his three other siblings, Ramzan, Atabr and Kulsom. It was during that moment that the four children ended up knocking at the boarding house of Ida's great aunt, then located at Willowbank Street, Woodlands, Glasgow.
Ida's aunt was then contacted by her two former lodgers to see if she can accommodate the four kids. However, the landlady decided not to take them in only to see them frightened and shivering on her front step after a few weeks.
Businessman Asgar Patel lived with Ida's family during the Indian Partition.
Ida's mom took in Asgar, who was then only six years old, and her older sister Kulsom, 12. Their two older brothers then went with Ida's aunt. Ida recalled that time saying:
"When they came at first we thought, 'how can any mum and dad send four kids like this to Scotland?
But you could see it a bit more when you saw all the horrible things that were happening in India and Pakistan.
Kulsom got homesick and wanted to go home, but Asgar would have lived here forever. He quickly became part of the family.
We had a little dog called Sparkie and he loved playing with him. We also went on trips to the seaside and he loved seeing new places.
It was great having them to stay and they were happy kids."
Asgar and Kulsom stayed with Ida's family in Glasgow for five years. The two were even sent Hillhead High School. Ida said it wasn't long until Asgar forgot his life in India and grew to love his new home. He got well-adjusted to his new environment that he even started to call Ida's parents his mom and dad.
But as soon as he learned to love the new life he had in Glasgow, he had to go back to India to be with his real family.
The day came though were Asgar's mom came to visit them. The lad surely loved his birth parents, but he wanted to keep his new life and stay with Ida's family. This made the decision pretty difficult for both Asgar and Ida's family, but they knew that they had to send him back to India to be with his family. Ida remembered the sad day saying:
"It wasn't an easy decision, but we knew he had to leave to be with his own family.
We were heartbroken when he left. For five years we had been brought up as brother and sister and it was sad to lose him.
We kept in touch for a while but we moved around and so did his family. Soon the cards stopped but I often wondered where he ended up."
Asgar turned out to be a successful businessman and was even featured on Forbes earlier this year.
Apparently, Asgar became successful on his own business venture. He built one of the largest logistics companies in India which made him one of the world's richest men. Earlier this year, Forbes named Asgar as the 45th among the top 100 Indian business owners of 2017.
Finding each other after decades of being separated was probably meant to happen and that is all thanks to social media. According to the now 83-year-old woman, Asgar left him a message on Facebook after he saw her photo at a family wedding. The 78-year-old tycoon didn't waste any opportunity and reportedly asked her if she was Ida Moreland.
The duo talked to each other online and shared stories like they never parted. Ida shares the magical feeling of finally finding her brother saying:
"It was great to hear from him and I was surprised by how much he remembered.
He asked if I remembered us all going to Ayr on holiday and away to Tighnabruaich. It was like we'd never been apart.
It wasn't strange or awkward and we chatted away like two old pals. He was so happy to finally find his Scottish family again.
Asgar thought he would never find me until the photo went online. It's amazing he made the connection and I'm so glad he got in touch."
Just lately, the siblings were able to see each other again and will be having another reunion next year.
The businessman, who's now based in Dubai, flew all the way to Irvine last August to see her. The two met in an emotional reunion with Ida leaving a testimony:
"I just couldn't believe it. He's done so well for himself and he's still such a genuine and lovely person.
We chatted away for ages and he told me all about his family. He wants to fly me to Dubai to meet them and he's coming back to visit again next year.
We keep it touch now and it's just wonderful to have Asgar back in my life after so many years apart."
Like & Share This Post
Woman Undergoes 30 Surgeries To Look Like A Porn Star For Her Boyfriend
Her boyfriend criticized her and compared her to other girls.
When you love someone, you would sometimes go overboard just to please him or her. This way, you can show your love and affection. However, a 22-year-old woman loved her boyfriend so much; she underwent 30 plastic surgery procedures just to look like a porn star.
Berry Ng, a YouTube star from Hong Kong, underwent several procedures over the last five years, just to impress her (now ex-) boyfriend. She's now regretting her decision.
Berry said that she started resorting to plastic surgery when her ex-partner compared her to supermodels, particularly porn stars.
As a result, she spent more than $3,000 to have her eyes, cheeks, forehead, nose, breasts, and chin fixed.
Her surgeries started when she was just 17 years old. She found a beauty center that offers student packages.
She got addicted and couldn't stop undergoing beauty procedures.
In the hopes to impress her boyfriend, who always complained about her overall appearance, she underwent all the cosmetic procedures, which were completed when she was just 21 years old.
Sadly, despite all her efforts to change her appearance, they were still unable to impress her then-boyfriend.
He still criticized her appearance and compared her to other girls. This pushed her to go under the knife more just to gain his approval.

Berry
said
:
"At that moment, if he had stopped me and told me that I was beautiful enough, I would have stopped, but he didn't."
Her ex-boyfriend even insisted that her breasts were too small.
Berry underwent a breast augmentation surgery. The guy, however, said that he did not ask her to do the operation.
Berry got fed up and broke up with her boyfriend.
Now, she has recovered from her addiction to plastic surgery.
On her YouTube site, she regularly posts videos warning other girls against going overboard with plastic surgery and the ill effects of being addicted to cosmetic enhancements.
Berry learned one thing from her experience, that is to love yourself no matter what others say.
Guy Learns To Break A Glass Using Only His Voice
Can the high C of a trained soprano really quiver glass into dissolution?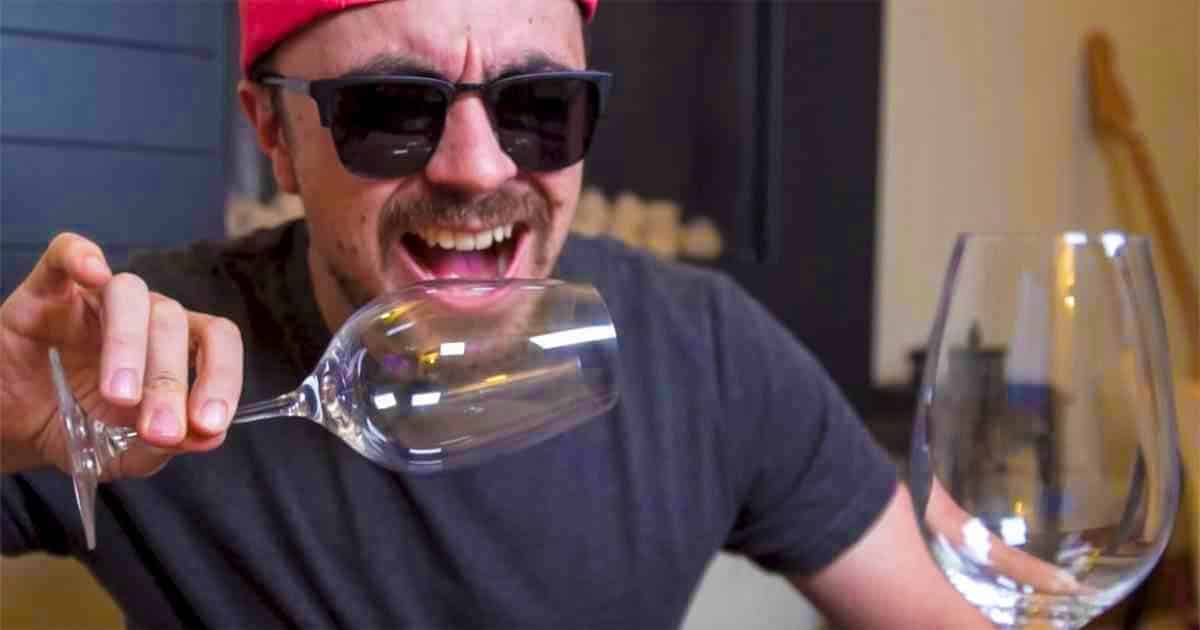 You've probably seen something like this before in movies and TV shows. A particular scene where a character sings up to the point where they hit a note so high and intense that it breaks all the glass in the vicinity, even the windows.
Another particular thing that you've probably seen many times, a woman in an orchestra releasing an earthshaking high note that shatters Champagne flutes. Monocles crack and the chandelier explodes as the power of her voice wreaks havoc on the concert hall. This scene is too common in countless cartoons and comedies, but is this parody based on reality?
Can an opera singer really shatter glass?
To most people, this may just seem like a cartoonish exaggeration. But, believe it or not, with enough practice to attain the right pitch and volume, this is actually possible.
Physics suggests that a voice should be able to break glass. And that's what exactly what Scottish YouTuber Mike Boyd wants to accomplish in the latest video of his Learn Quick series. Mike challenged himself to learn how to break glass using only his voice.

It took him 4 hours, 29 minutes of practice over the course of 14 days before he gained the ability to shatter a crystal wine glass with the power of his voice.
Watch the video here:
Like
on Facebook
So how is this scientifically possible?
Well to begin with, sound is also a form of energy, just like electricity. It travels through various substances in waves. When a sound wave comes in contact with a certain object, it excites the particles present in that object, causing its particles to vibrate against themselves.
Glass wine goblets are especially resonant because of their hollow tubular shape, which is why they make a pleasant ringing sound when clinked. An empty glass is also easier to shatter than a glass filled with wine or water. Furthermore, minor defects in the structure of the glass can also help to shatter it more easily, as these defects provide ideal weak spots.
So if a person sings the same tone as that ringing sound when glass clinked — a high C according to legend but in reality the matching pitch could be any note — the sound of your voice will vibrate the air molecules around the glass at its resonant frequency, causing the glass to start vibrating as well. And if you sings loudly enough, the glass will vibrate itself to smithereens.
If you've ever doubted your ability to accomplish new things, Mike Boyd's YouTube channel is the inspiration you've been seeking.
Meet the Makeup Artist Who Can Easily Transform Into Any Celebrity
Nope, they are not Photoshopped.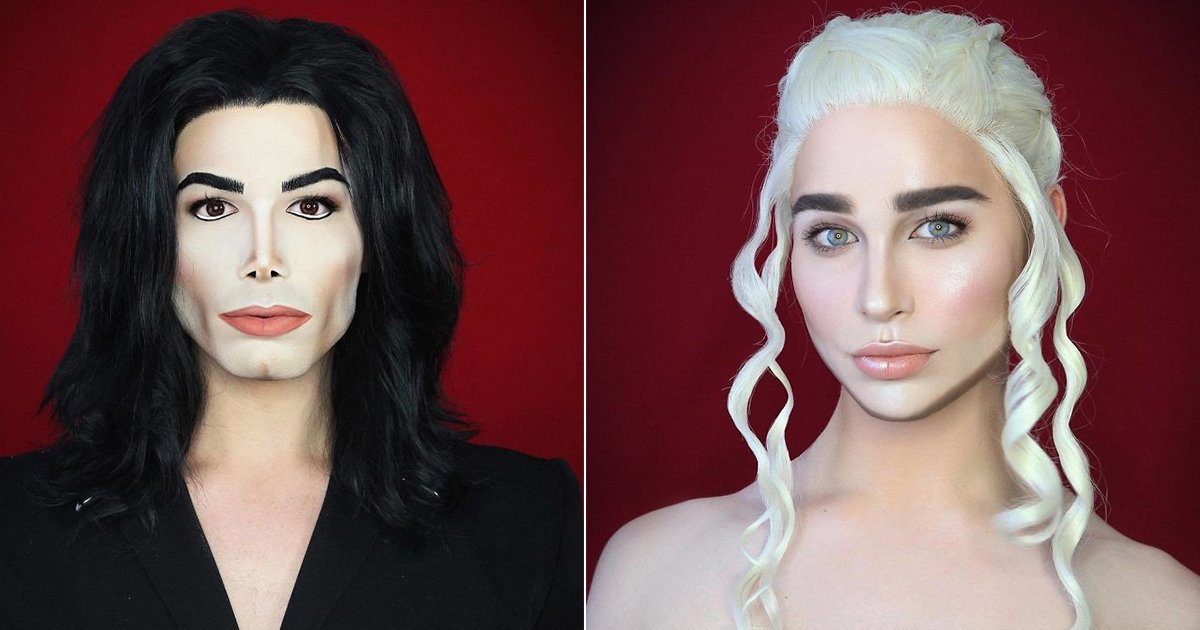 We all have seen the power of Photoshop and other digital imagery tricks out there. You know, the kind that requires a few clicks to conjure incredible photos. This time around though, we will discuss makeup and how powerful it actually is. Think about it: A simple touch of makeup shenanigans and you can look exactly like someone else.
This is exactly what Elliot Joseph Rentz – also known as Alexis Stone – did. The British drag queen and superb makeup artist can change his looks and turn himself into a celebrity. And yes, this is all thanks to makeup. Born in Brighton, England, Alexis is capable of turning himself into any Hollywood star. In fact, he does it so well that you would think it is Photoshopped.
Meet Alexis, the guy who can look exactly like your favorite actor/actress.
Alexis' hobby started when he found a way to strategically use contour. Just by adding a bit of highlighting and stuff, he can easily transform himself into the likes of Michael Jackson and Queen Elizabeth. His works are so incredible that he immediately gained a huge following on Instagram.
If you want to see how magical his works are, scroll down below. Be ready to be amazed!
#1. Cher
#2. Jennifer Lawrence
#3. Queen Elizabeth II
#4. Ellen
#5. Dita Von Teese
#6. Dolly Parton
#7. Leonardo Dicaprio
#8. Donatella Versace
#9. Jeremy Meeks
#10. Madonna
#11. Johnny Depp
#12. Marilyn Manson
#13. Charlize Theron
#14. Goldie Hawn
#15. Tilda Swinton
#16. Anna Wintour
#17. Kat Von D
#18. Daenerys Targaryen (Emilia Clarke)
#19. Kylie Jenner
#20. Justin Bieber
#21. Kesha
#22. Michael Jackson
#23. Nikkietutorials
#24. Glenn Close
#25. Paris Hilton
#26. Ariana Grande
#27. Kim Kardashian
#28. Lady Gaga
#29. Cate Blanchett
#30. Pete Burns
#31. Meryl Streep
#32. Jocelyn Wildenstein
#33. Cardi B
#34. Jeffree Star
#35. Aileen Wuornos (Charlize Theron)
So, what do you think about Alexis' makeup prowess? He is one of a kind, is he not? Let us know what you think about his makeup transformations in the comments below!