Widow Meets Man Who Now Has Her Dead Husband's Face
Lilly Ross feared that seeing her husband again would bring back painful memories.
Andy Sandness, 26, tried to kill himself by putting a rifle under his chin in 2006. His attempt was unsuccessful and it resulted in his distorted face. For almost 10 years, Sandness withdrew himself because he feared of what people might think of his face. But in 2016, he received something that would change his life – a new face.
Sandness' new face coincidentally came from someone who also committed suicide. In the middle of 2016, Calen "Rudy" Ross shot himself to death, leaving behind his wife, Lilly, and their then-unborn child. Lilly decided to donate some of Calen's organs, as well as his face. And just last month, she met Sandness, the man who is now wearing her late high school sweetheart's face.
Lilly met Andy, the recipient of a face transplant, just last month.
Andy underwent the surgery, receiving the face from Lily's dead husband.
Sandness started considering getting a face transplant in 2012 and was fortunately placed on the waiting list in 2016. Lilly, on the other hand, was eight months pregnant with her baby when husband Calen committed suicide.
Facial transplants were first performed in 2005 by a team of French surgeons but Sandness' operation was performed by Mayo Clinic – a first time for the group. It took over 60 medical professionals to work on Sandness and the operation lasted for about 56 hours. Sandness and Calen's blood type, skin color, facial structure and age closely matched that surgeon Dr. Sarmi Mardini could have sworn they were related.
At first, Lilly worried about seeing what the result was.
Lilly thought she couldn't bring herself to meet Andy, thinking that she might see her husband in him and bring back painful memories. But Lilly was relieved to see something different – a man that her husband helped. She told the Associated Press:
"It made me proud. The way Rudy saw himself…he didn't see himself like that."
Lilly shows off pictures of her ex-husband.
There was even an emotional encounter between Sandness and Lilly's son, who never met his father.
Adjusting to life with a new face will be work for Sandness. He is currently taking anti-rejection medications and working hard in retraining his nerves so it will be in sync with his face.
Watch Lilly and Andy's emotional encounter in the video below.
Like
on Facebook
Like & Share This Post
Heartwarming Moment Three Young Boys Help Their Dad Propose To His Girlfriend
The boys are clearly more excited than their dad!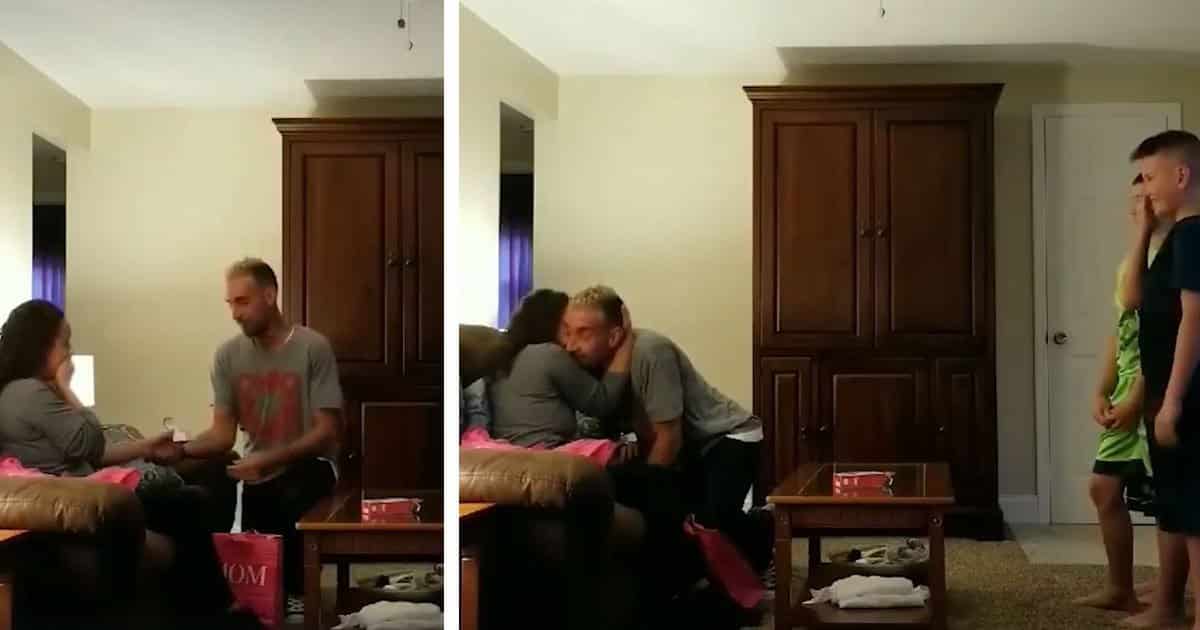 Wedding proposals should always be special and sweet. Over the years, we've seen a lot of wonderful ones on the internet – from that epic underwater proposal to the geeky Monopoly-themed one and to many others.
Needless to say, we all know an effective proposal requires a lot of thought and preparation. It is, however, a big mistake to think that you have to spend a fortune just to make it a memorable moment.
Just take it from this dad who managed to make his proposal simple yet extremely heartwarming.
One father asked his three sons to help him propose to his girlfriend – during her birthday!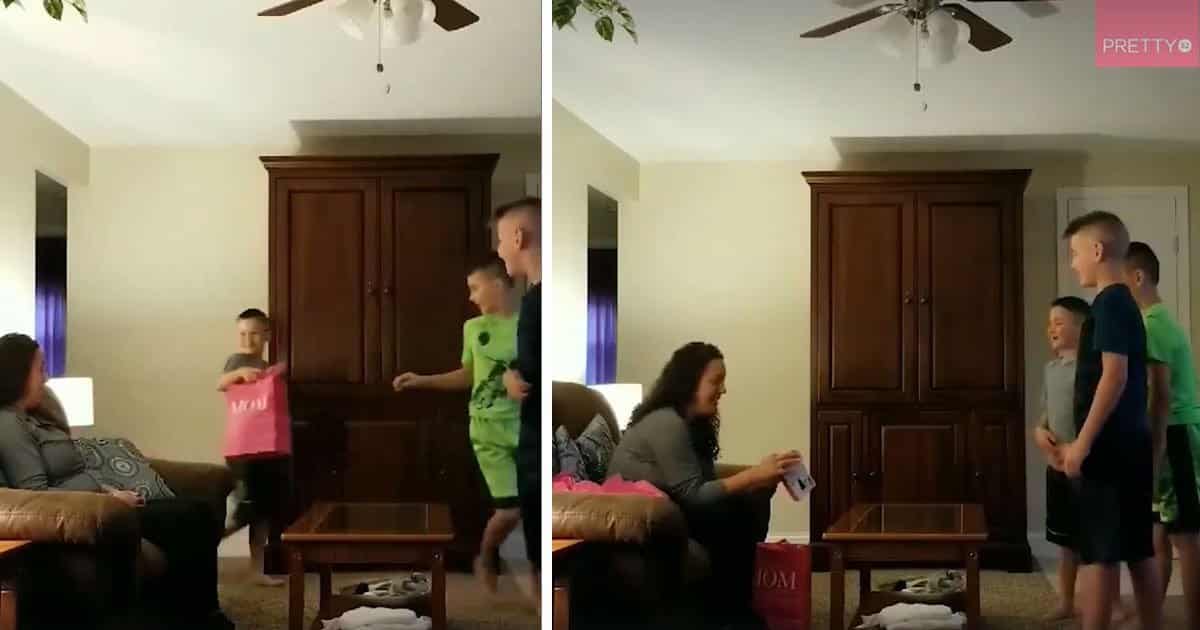 Shared online by Facebook page Pretty 52, we see the tender moment that three young boys surprised their dad's girlfriend with a birthday present. She initially thought the boys were probably pranking her or something but unknown to her, that gift would be a pretty life-changing one for all of them.
"We give you our daddy!"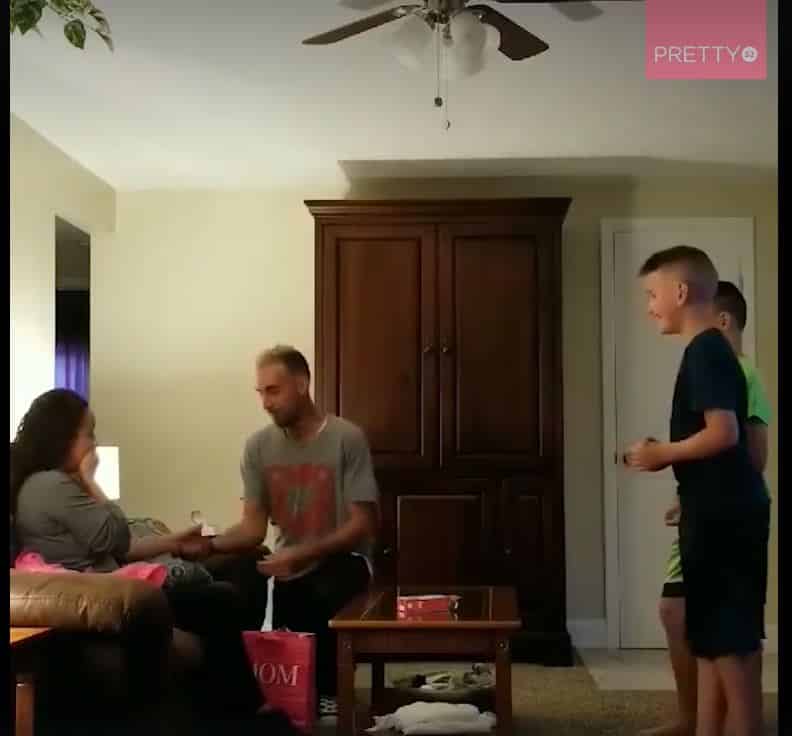 Everything was caught on film and the short clip eventually went viral. Netizens everywhere just loved what they saw and many even admitted that the video sent them to tears.
Watch the video here and see for yourself:
Several commenters took the time to share little details they've noticed while watching the clip.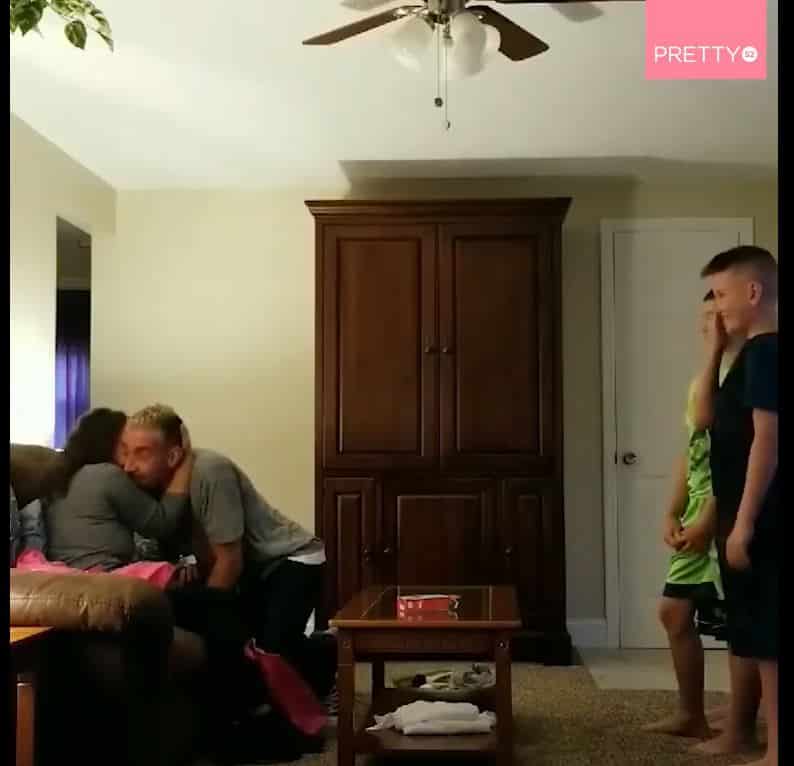 One netizen wrote:
"You know you're a boy mom when you have to calmly ask 'is like a bug gonna crawl out?!' As if it wouldn't surprise you."
Another commented:
"I love how the bag had 'mom' on it – she is clearly already everything to those boys! What a perfect proposal!"
Meanwhile, one woman shared:
"I'm in tears! The boys were emotional and played a huge role. So in love with this family. I hope they live happily ever after."
We are wishing and hoping for that as well. Congratulations Steve and Theresa!
Heartwarming Moment Dad Receives Unexpected Gift From 11-Year-Old Son
The. Best. Son. Ever.
As parents, it is our obligation to look after our children and make sure that they are happy. We buy them clothes, send them to the best schools, and, yes, give them stuff for their birthdays. But as time goes by, our children think of ways to reciprocate the love we give to them.
This is exactly what an 11-year-old did to his father. The lovely moment was caught on tape in which the father can be seen receiving a present from his son. And boy, he sure is excited to see what his kid bought him.
He is one happy father indeed.
Interestingly, the content of the box is what Mike Burr, the father, has always wanted. It should definitely be worth it, as the money spent on the item came from his son's savings. Most of the money came in the form of gifts that the kid received during his birthday.
Burr's son did not make the unwrapping easy, though. The item was hidden inside a number of boxes, all of which made the unwrapping quite exciting. And when the father thought he is about to open the last box, another one pops up.
The kid made sure that his dad will have a hard time unwrapping the gift.
The mother can be heard saying,
And Mike just so you know he saved up all his birthday money to buy you this. Every single penny."
When the last box is finally opened, Burr cannot believe what he sees. He even jokingly asked if his son really bought it. Perhaps he is in disbelief, as he did not expect his kid to give him such gift.
The boy saved up for three months just to buy his father a gift.
Mike shouted:
Are you kidding me?"
Of course, his son bought it. And there is no doubt the kid made his daddy happy on his birthday.
Check out the full video below and find out what gift Mike got!
Baby Born Twice Now Growing Healthy
This baby is a medical miracle!
Thanks to the advancement of medicine, the baby who was born twice is now growing healthy after a year. Baby Lynlee Hope's case is one for the books after she was born two times last year because of a rare congenital condition.
Surgeons removed Lynlee Hope from her mother's womb at 23 weeks and received a crucial operation after a sonogram showed that she has a massive tumor at the base of her spine. The tumor was as big as her head and doctors revealed that the baby may not make it in full term if the tumor is not removed.
Baby Lynlee Hope is now growing healthy after she was born twice last year.
The tumor, known as a sacrococcygeal teratoma, was diverting blood from the fetus, raising the risk of heart failure. It is a crucial condition that requires operation immediately.
When baby Lynlee Hope was rushed to Texas Children's Hospital in Houston, she had 50 percent chance to live as she will undergo a five-hour operation.
Surgeons worked hard in removing the tumor that endangered her life while she was still in the womb.
Baby Lynlee Hope was out of the womb for a full 20 minutes as surgeons removed the tumor. At that time, she weighed 1 pound, 3 ounces. Then, she was safely tucked inside her mother's womb until she reached full term. Three months later, Lynlee was born by cesarean section, weighing 5 pounds, 5 ounces.
Baby Lynlee Hope and her mom are thankful for this medical miracle.
Fast forward a year later, the toddler is now able to walk and run. Mom Margaret Boemer said,
"She loves to run and walk, which is a miracle itself. She is an amazing joy.

She can do whatever she puts her mind to. The sky's the limit."
Baby Lynlee Hope is indeed a medical miracle – and she gets to celebrate two birthdays a year.