Walt Disney Releases First Images Of Its New Toy Story Land
Kids and adults have a new theme park to visit in California and this time it is based on Walt Disney's Tory Story.
Walt Disney has been creating movies that feed the imagination of kids from all over the world. From its oldest Mickey Mouse cartoons to the Disney princesses to real-life inspired characters, the biggest animated movie maker indeed produced a whole new world that even adults fancy dearly.
And Disney is not that selfish to just let you see a magical world on small and big screens. It created a live replica of its fantasy land to let its fans have a first-hand experience all of their favorite characters.
The Disney World is set to open another theme park that will launch mid-next year.
So after the Disneyland installed theme parks in different cities as Tokyo, Hong Kong, California, Paris and soon in Shanghai, the company will soon launch another attraction revolving around the world of the toys that come to life, Toy Story. People of all ages should now save a buck a day to get the tickets to meet and greet Andy and his toys: Sheriff Woody, Buzz Lightyear, Rex, Mr. and Mrs. Potato, Slinky Dog, Rex and the Aliens.
A theme park based on Toy Story located in California is about to finish its construction.
The Walt Disney World is about to open its Toy Story Land in 2018 and the first images of the theme park are absolutely incredible. The company describes the park, which will take another spot in California, as a "colourful landscape" installed with "giant building blocks and game board pieces," and will let guests immerse in an experience "straight out of Andy's vivid imagination."
The park will feature several rides with the rollercoaster as its main attraction.
According to Disney's description of the park, the buildings they created were all designed to look like huge objects, making guests feel like they have been shrunk to small toys. Of course, all of your beloved Toy Story characters will be there to welcome you and accompany you as you stroll around the area.
And when there's an amusement park, there will definitely be the king of all rides, the rollercoaster! The Toy Story Land's main attraction will be the Slinky Dog Dash rollercoaster, where guests will sit in a carriage-like ride as it traverses a whole course of loops, curves, twists and drops. Disney assures park-goers to get a hell of a ride saying:
"Make no mistake, this is one wacky attraction… and fun for the entire family!"
With the buildings designed to look like giant blocks, you will surely feel like you shrunk into toy-size.
Another ride to enjoy is the Alien Swirling Saucers. It will take you out of space in a dizzying rocket ship travel. And to make the experience more realistic, a space electronica will be there to give an out-of-this-world beat. Another ride to appreciate which all Buzz Lightyear fans can enjoy will be The Claw. It will be installed at the arcade area and will also feature a rocket-themed travel.
Disney will never let you go hungry while inside the park. You can refill a whole tummy of energy at the Woody's Lunch Box which is a food court that serve all kinds of sodas, yummy treats, and snacks.
Vice president of Disney Corporate Alliances, Carlos Castro, said:
"We can't wait for our guests to experience Toy Story Land, and the new quick-service window located within the land will surely delight hungry toys and people alike.
We are thrilled to collaborate with Mini Babybel and introduce additional snack offerings in Toy Story Land and throughout Walt Disney World Resort and Disneyland Resort."
So be sure to save some money and fly to California next summer to meet Light Buzzyear and his crew at the Toy Story Land.
The construction of the Toy Story Land was confirmed by Walt Disney Parks & Resorts Chairman Bob Chapek earlier this year at the D23 Expo 2017. Fans of the animated movie have since been eagerly waiting for the park's opening date which is expected to be in 2018's summer season.
Like & Share This Post
Cool Theme Park in Dubai Has Rides Inspired by The Hunger Games, and Then Some
Would you volunteer as tribute?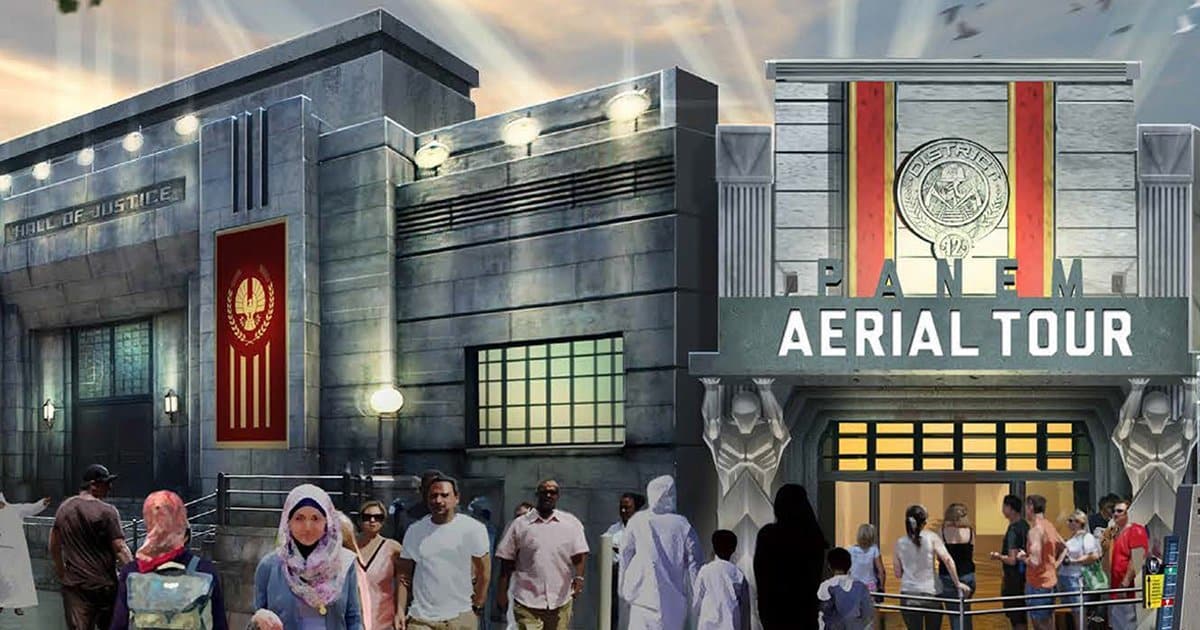 Theme parks will always be a hit attraction, especially when they come up with unique and exhilarating rides. One theme park in Dubai is wowing visitors for its Hunger Games-inspired rides in one of its zones. If you haven't heard of it, it's called The World of Hunger Games in the Hollywood-inspired theme park Motiongate Dubai.
The World of The Hunger Games features never-before-seen footage from the films, interactive character experiences via the Coal Miner's Clash percussion show, food and drinks from Peeta's Bakery, and souvenirs from Panem Supply Co. Cool, huh?
The rides are sure to excite, too.
There's the Capitol Bullet Train, a half-pipe roller coaster that visitors can ride for a thrilling journey from District 12 to the Capitol.
A Panem Aerial Tour is also available.
It's a 4D hovercraft simulator that delivers an immersive tour of the different districts.
Reports say a similar theme park will open in South Korea in 2019.
It will be called Lionsgate Movie World and will also include The Hunger Games-inspired rides in its different movie zones. Other movies to be featured are The Twilight Saga, Now You See Me, and the highly anticipated 2018 Robinhood.
The World of Hunger Games is the theme park's newest zone to open, but there are different zones inspired by other famous films.
Among them are Madagascar, Kung Fu Panda, Smurfs, Shrek, How to Train Your Dragon, Hotel Transylvania, Cloudy With a Chance of Meatballs, Step Up: All In, Underworld, The Green Hornet, Ghostbusters, and Zombieland.

The attractions are also classified by type.
You can choose from their family rides, kids rides, motion simulators, play areas, water rides, roller coasters, and live entertainment shows.
What do you think of Motiongate Dubai and its attractions?
Are you including Motiongate Dubai in your travel goals? Let us know in the comment section below!
35 Breathtaking Places To See Before You Die
Now is the perfect time to save up!
We sometimes think that those unbelievably beautiful locations and/or places only exist in fairy tales. But believe it or not, the real world has them, too. You just need to visit them personally to really appreciate their beauty.
For now, though, you can opt to see them via pictures. Below are images of the most picturesque places we have gathered from the different corners of our planet. Perhaps they will encourage you to travel someday. Check them out!
#35. Dark Hedges, UK
#34. The Tasman National Park, Australia
#33. Devil's Bridge in Gablenz, Germany
#32. Albarracin, Spain
#31. Canyon Fjaðrárgljúfur, Iceland
#30. Gansu Province, China
#29. Naica Mine, Mexico
#28. Lençóis Maranhenses National Park, Brazil
#27. Mount Roraima, Venezuela
#26. Moraine Lake, Canada
#25. Antelope Canyon, US
#24. A lake located in Patagonia, Argentina
#23. The Meteora, Greece
#22. Lake Sørvágsvatn, the Faroe Islands
#21. Zhangjiajie National Forest Park, China
#20. Hitachi National Park, Japan
#19. Petra, Jordan
#18. Capilano Suspension Bridge, Vancouver
#17. Eilean Donan Castle, UK
#16. The Château de Marqueyssac, France
#15. Vatnajokull Glacier Cave, Iceland
#14. Cappadocia, Turkey
#13. Rice Terraces, Vietnam
#12. The Perito Moreno Glacier, Argentina
#11. Prague, Czech Republic
#10. The Lofoten Islands, Norway
#9. Chefchaouen, Morocco
#8. Grand Canyon, US
#7. Underwater City in Shicheng, China
#6. Ellora Caves, India
#5. Mount Saint-Michel, France
#4. Haiku Stairs, Hawaii
#3. Magical hotel in Switzerland
#2. Huacachina Oasis, Peru
#1. Pink Lake Hillier, Australia
We are pretty sure you are stoked to give these places a visit. Let us know which one is your favorite in the comments below!
Swiss Village Willing To Pay Thousands Of Dollars To Each Family That Agrees To Move In
A village in Albinen, Switzerland is willing to pay a huge sum of money to any family who would agree to migrate and live in the zone.
For a place to be called a community, it naturally needs a number of people and some establishments to support its economy. Without people working for the profit of a community, the place is likely to die, forcing the remaining population to seek a greener pasture from a stronger district.
While overpopulation is a problem in some regions of the world, some areas are ironically finding it hard to attract people to live in their zones just like the mountainside village in Switzerland that's running empty of residents. Despite the scenic views from the village, its being rural is probably a big factor why migrants keep on rejecting its offer of residency.
This remote village in Switzerland has a pretty majestic scenery but it is t the risk of being shut down.
The Albinen village in the Canton of Valais do not have large enough a population to survive. Its being quiet and peaceful plus its spectacular alpine views are seemingly not enough to keep its population intact. Families and young people in the area are slowly leaving in groups until its population shoot down to a measly 240, according to the municipality president, Beat Jost.
It only has over 200 people left in the village after families decide to leave the place.
In fact, the only village school has been shut down, forcing the remaining 7 children in the community to travel far to another town for their education. And so to prevent the village from being eradicated from the map of Switzerland, the municipality is offering a handsome sum of money for more families to come and live in the remote community.
To make revive its economy and add its population, it is offering to give money to those who volunteer to move in.
For families looking to buy or build a home in the Albinen village, the municipality is willing to pay a little over $25 thousand for each adult, while each child will be awarded about $10 thousand. This offer means that a family of four could rake in more than $70 thousand, provided their home investment totals at least $200 thousand.
That's a relatively tempting bargain to live in the stunning Canton of Valais with a million-dollar alpine views. Scroll down to see the whole area and decide for yourself whether it's time to pack and fly to Albinen, Switzerland.
#1
#2
#3
#4
#5
#6
#7
#8
Also, watch the footage below to see an aerial view of the Albinen village.

Like
on Facebook