The World's Smallest Inhabited Island Is Just Big Enough For A House And A Tree
One misstep and you're swimming.
A lot of us have fantasized about owning an island where we can hide away from people and live in peace. Owning an island is also a status symbol, with lots of celebrities such as David Beckham and Leonard DiCaprio buying their own pieces of land from faraway places. But most of these islands are pretty big and can hold a large estate, complete with sweeping gardens and probably basketball courts. Wouldn't be cool to own an island that is big enough for just one small house?
In Alexandria Bay in New York state lies a tiny speck of land just big enough for a small house and a tree. Aptly named Just Room Enough Island, it's one of the 1,864 islands located on the St. Lawrence River which separates New York and Ontario, Canada.
This tiny speck of land in New York state is called Just Room Enough Island.
The island was once known as Hub Island and was bought by the wealthy Sizelands family, who built a little cottage and planted a tree, before renaming the property as Just Room Enough Island.
If you're an introvert, it seems like a wonderful place to spend a couple of days.
In order to be considered an island in the region, a piece of land must have an area larger than one square foot, it must remain above the water level year round, and it must sustain at least one tree. Just Room Enough Island narrowly meets those requirements.
The 3,300 square feet of land has just enough room for one house and a tree.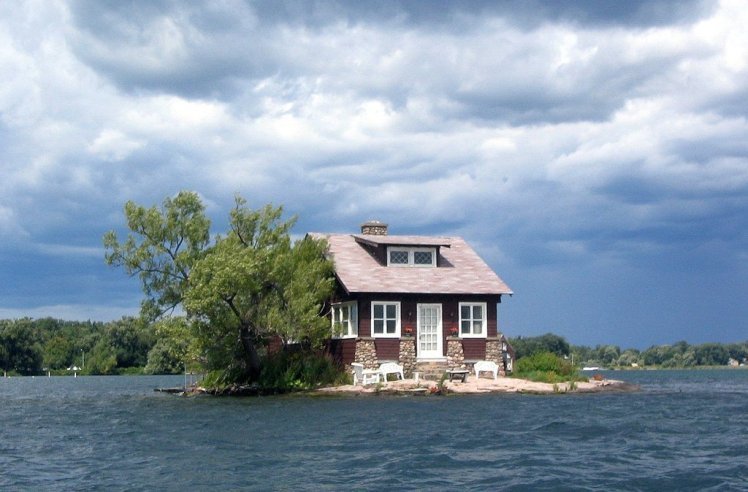 The house has a miniature beach and several deck chairs.
One misstep and you're swimming.
It was the Sizelands who changed the island's name to what it's known at present. The family wanted the island to be the perfect weekend getaway from the hustle and bustle of city life, but the attention it garnered from sightseers and tourists made it impossible to keep their privacy.
Measuring approximately 3,300 square feet or one-thirteenth of an acre, the island is just big enough to house a tennis court. It dethroned Bishop Rock on the Guinness Book of World Records for the distinction of being the world's smallest island.
Just Room Enough Island is about half the size of Bishop Rock, which Guinness Book of World Records said was once the world's smallest inhabited island. The lighthouse on Bishop Rock, which lies just off the English Isles of Scilly, became automated in 1982, so there was no need for humans to man it. That means it lost its status as an inhabited island.
The lighthouse became automated and therefore did not need humans to watch over it.
Because of this, Bishop Rock lost its status as an inhabited island.
The Wonder of Santa Margarida: A Chapel Right Inside A Volcano
..And it has been sitting there for more than 600 years.
Amidst the vast land of Garrotxa, a comarca of Catalonia, Spain, lies a surrounding volcanic terrain in the Natural Park of La Garrotxa Volcanic Zone.
At the Natural Park of La Garrotxa, there are several walking routes that will lead tourists to an interesting awe-inspiring wonder.
...
Western Australia's 'Most Haunted' Building Rebrands Itself To Attract More Tourists
The place wants to prove that it has more to offer other than tales of horror.
While Oakabella Homestead has successfully marketed itself as the most haunted building in Western Australia - thanks to the tales of lost souls and malevolent spirits that once intrigued its guests - its new owners believe that its high time for its image to be changed.
The Oakabella Homestead was built in 1851, or 10 years earlier than its neighboring town, Northampton 460km from Perth, in the picturesque Chapman Valley. With the site's eerie history, which includes multiple deaths including that of a 3-year old child and a worker who shot himself, it is easy to understand why its previous owners made money from ghost tours and scary stories.
...
Now You Can Rent And Stay In A Harry Potter-Themed Apartment
This is perfect for Wizards and Muggles alike!
Every Harry Potter fan dreams of getting into Hogwarts, the fictional school of witchcraft and wizardry popularized by J.K. Rowling's books. But now, they do have a chance of staying for a night or two on a Harry Potter-themed apartment.
Super fan Yue Gao opened the Canongate Luxury Apartment in Scottish Capital - the birthplace of the Rowling. The place overlooks Edinburgh's Royal Mile and is available for rent all year-round.
...