The World's Smallest Inhabited Island Is Just Big Enough For A House And A Tree
One misstep and you're swimming.
A lot of us have fantasized about owning an island where we can hide away from people and live in peace. Owning an island is also a status symbol, with lots of celebrities such as David Beckham and Leonard DiCaprio buying their own pieces of land from faraway places. But most of these islands are pretty big and can hold a large estate, complete with sweeping gardens and probably basketball courts. Wouldn't be cool to own an island that is big enough for just one small house?
In Alexandria Bay in New York state lies a tiny speck of land just big enough for a small house and a tree. Aptly named Just Room Enough Island, it's one of the 1,864 islands located on the St. Lawrence River which separates New York and Ontario, Canada.
This tiny speck of land in New York state is called Just Room Enough Island.
The island was once known as Hub Island and was bought by the wealthy Sizelands family, who built a little cottage and planted a tree, before renaming the property as Just Room Enough Island.
If you're an introvert, it seems like a wonderful place to spend a couple of days.
In order to be considered an island in the region, a piece of land must have an area larger than one square foot, it must remain above the water level year round, and it must sustain at least one tree. Just Room Enough Island narrowly meets those requirements.
The 3,300 square feet of land has just enough room for one house and a tree.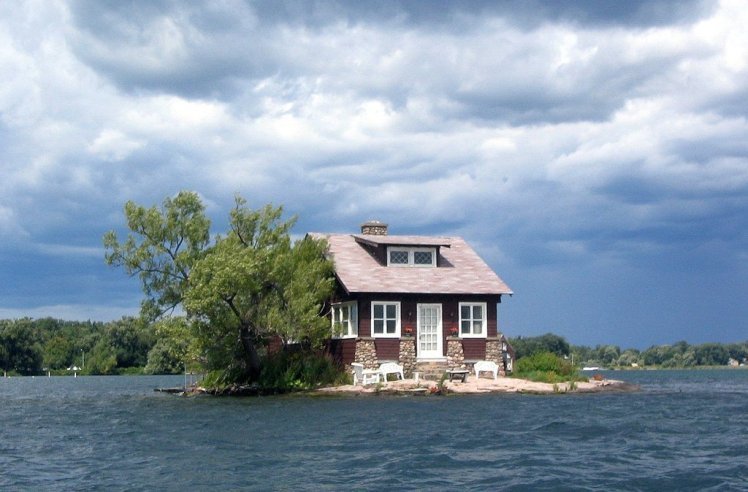 The house has a miniature beach and several deck chairs.
One misstep and you're swimming.
It was the Sizelands who changed the island's name to what it's known at present. The family wanted the island to be the perfect weekend getaway from the hustle and bustle of city life, but the attention it garnered from sightseers and tourists made it impossible to keep their privacy.
Measuring approximately 3,300 square feet or one-thirteenth of an acre, the island is just big enough to house a tennis court. It dethroned Bishop Rock on the Guinness Book of World Records for the distinction of being the world's smallest island.
Just Room Enough Island is about half the size of Bishop Rock, which Guinness Book of World Records said was once the world's smallest inhabited island. The lighthouse on Bishop Rock, which lies just off the English Isles of Scilly, became automated in 1982, so there was no need for humans to man it. That means it lost its status as an inhabited island.
The lighthouse became automated and therefore did not need humans to watch over it.
Because of this, Bishop Rock lost its status as an inhabited island.
Like & Share This Post
Woman Creates Female-Only Destination In Finland Where Men Are Not Allowed
A real-life Themiscyra!
If you're a woman who feels the need to get away from men for a while, Finland could be the next best destination for you. On an island off the coast of Findland is a female-dominated resort destination called SuperShe Island where men are strictly not allowed.
The resort was founded by entrepreneur Kristina Roth who decided it would be a great idea to have a women-only paradise. This place offers a relaxing retreat for women, free from male distraction.
...
Discover And Explore Magnificent Ancient Cave Churches In Cappadocia, Turkey
There are many fascinating things to see in Cappadocia Turkey – among them are the ancient cave churches.
When we think of churches, what immediately comes to mind are huge cathedrals with high ceilings, intricately carved arches, detailed and vibrant stained glasses and elegant spires. However, other churches can be beautiful and unique in their own way, just like how cave churches in Cappadocia, Turkey are.
The land of Cappadocia is not only famed for its hot air balloon festivals. The region also happens to be home to impressive ancient cave churches that are made from carvings on the rock formations in the area.
...
15 Weird Travel Gadgets That Are Actually Useful
Seriously, these are all a must-have for travel enthusiasts!
Traveling – albeit tiring sometimes – is one of the most satisfying things a person can experience. And every travel, we get to discover new sceneries and culture. More importantly, we get to meet new people along the road. Still, we want to make sure that we feel comfortable and relaxed in our escapades.
Elite Readers has compiled a list of travel gadgets that are both weird and useful at the same time. They are guaranteed to help you enjoy and make your vacation worthwhile. Check them out below!
...