The World's Smallest Inhabited Island Is Just Big Enough For A House And A Tree
One misstep and you're swimming.
A lot of us have fantasized about owning an island where we can hide away from people and live in peace. Owning an island is also a status symbol, with lots of celebrities such as David Beckham and Leonard DiCaprio buying their own pieces of land from faraway places. But most of these islands are pretty big and can hold a large estate, complete with sweeping gardens and probably basketball courts. Wouldn't be cool to own an island that is big enough for just one small house?
In Alexandria Bay in New York state lies a tiny speck of land just big enough for a small house and a tree. Aptly named Just Room Enough Island, it's one of the 1,864 islands located on the St. Lawrence River which separates New York and Ontario, Canada.
This tiny speck of land in New York state is called Just Room Enough Island.
The island was once known as Hub Island and was bought by the wealthy Sizelands family, who built a little cottage and planted a tree, before renaming the property as Just Room Enough Island.
If you're an introvert, it seems like a wonderful place to spend a couple of days.
In order to be considered an island in the region, a piece of land must have an area larger than one square foot, it must remain above the water level year round, and it must sustain at least one tree. Just Room Enough Island narrowly meets those requirements.
The 3,300 square feet of land has just enough room for one house and a tree.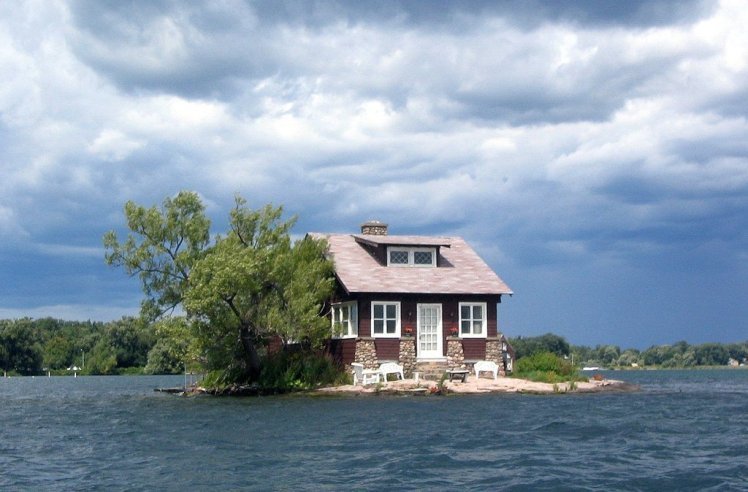 The house has a miniature beach and several deck chairs.
One misstep and you're swimming.
It was the Sizelands who changed the island's name to what it's known at present. The family wanted the island to be the perfect weekend getaway from the hustle and bustle of city life, but the attention it garnered from sightseers and tourists made it impossible to keep their privacy.
Measuring approximately 3,300 square feet or one-thirteenth of an acre, the island is just big enough to house a tennis court. It dethroned Bishop Rock on the Guinness Book of World Records for the distinction of being the world's smallest island.
Just Room Enough Island is about half the size of Bishop Rock, which Guinness Book of World Records said was once the world's smallest inhabited island. The lighthouse on Bishop Rock, which lies just off the English Isles of Scilly, became automated in 1982, so there was no need for humans to man it. That means it lost its status as an inhabited island.
The lighthouse became automated and therefore did not need humans to watch over it.
Because of this, Bishop Rock lost its status as an inhabited island.
Tristan Da Cunha: The Most Remote Inhabited Archipelago in The World
Here's the place that might be great for those needing a break from the busy city life.
To say our world is fascinating would be an understatement. There are many hidden gems and mysteries we have yet to uncover on this planet. The more we study what's around us, the more curious we become. And the more we see of the world, the more we realize there's still much to explore.
One place that will definitely pique your interest is Tristan da Cunha, a remote group of volcanic islands in the South Atlantic. It is also the name of the main island.
Tristan da Cunha is the world's most remote inhabited archipelago.
Decorating Fences With Trash Is A Thing In New Zealand
Some hate it and some love it!
What do you usually do with items you no longer have a use for, like your old toothbrushes, boots, or bras? Usually, you discard them and toss them into the trash or find other ways to reuse them. For some people in New Zealand, however, these items can be used as decors for fences -- the famous of this can be found in Central Otago.
The Cardrona Bra Fence has become a unique tourist attraction that started in 1999. It has gained worldwide attention for the colorful brassieres brazenly displayed on the fence.
The bra fence started one morning when four women's bras were found hanging on the fence along the road.
Take A Look At The Most Expensive Hotel Suite In The World, Which Costs $80,000 A NIGHT!
The marble bathroom is equipped with Hermes accessories.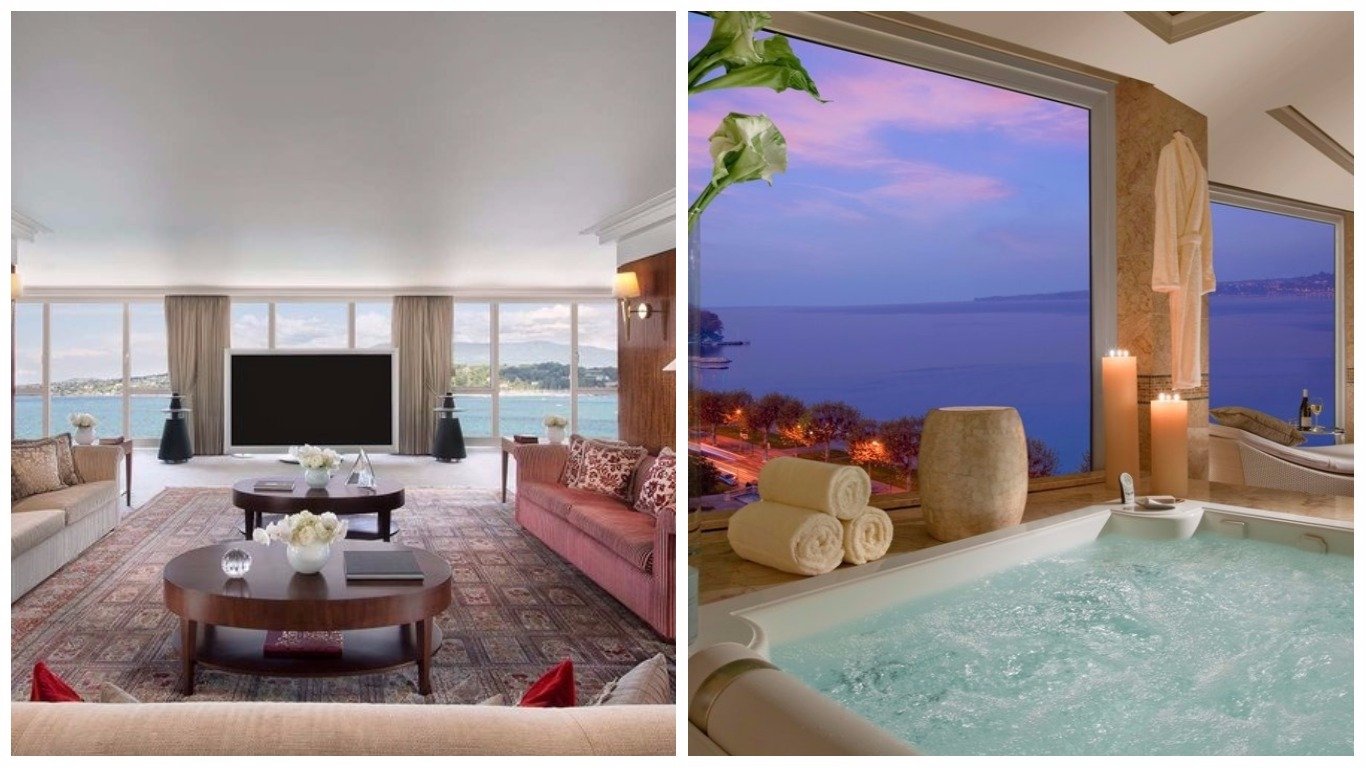 When it comes to expensive accommodations, we are inclined to think that the priciest ones are located in places like Las Vegas, where money rolls around in obscene amounts, or Dubai, where the truly rich treats sports cars like disposable underwear. You would be surprised to discover that the most expensive accommodation of them all is within the area of serene Lake Geneva in Switzerland and you probably need to be a one-percenter to be able to afford it.
No less than Bill Gates, Rihanna, and Richard Branson have stayed at this super posh suite at Hotel President Wilson. Only celebrities like them can afford to drop a jaw-dropping $80,000 A NIGHT for this accommodation that comes with a personal chef, butler, bullet-proof glass, AND its own security team. Whew.
The Royal Penthouse Suite has 12 bedrooms and occupies the entire 8th floor of the hotel. At 18,000 square feet, it's also considered the largest suite in Europe.