Woman's Mouth 'Impregnated' With A Dozen Baby Squid After Eating Calamari
Are you ready to become pregnant with baby squids through a sumptuous calamari meal? This woman is certainly not.
Who would have thought that someone can become pregnant – not by a human but by another species – from simply eating your favorite food? It's human nature to have food cravings and indulge yourself in meals to the point that some of us couldn't stop chewing until we become "food pregnant." Becoming literally pregnant, though, out of your food addiction is another story, but it actually happens and another case of this just emerged recently.
A Korean woman experienced one of the most unusual effects of eating food. She became literally "pregnant" after consuming a common squid meal favorite — calamari. The 63-year-old complained of sharp pain in her mouth and that was when doctors found out that her mouth had become impregnated with 12 baby squids.
According to reports, the unnamed woman was eating a piece of squid that though partially cooked, still had its internal organs intact. She quickly felt an intense pain in her mouth, making her spit out the food. However, she continued to feel some "prickling and foreign body" in her mouth, hence deciding to go for a checkup.
It might be hard to enjoy another calamari meal after finding out that it can impregnate you.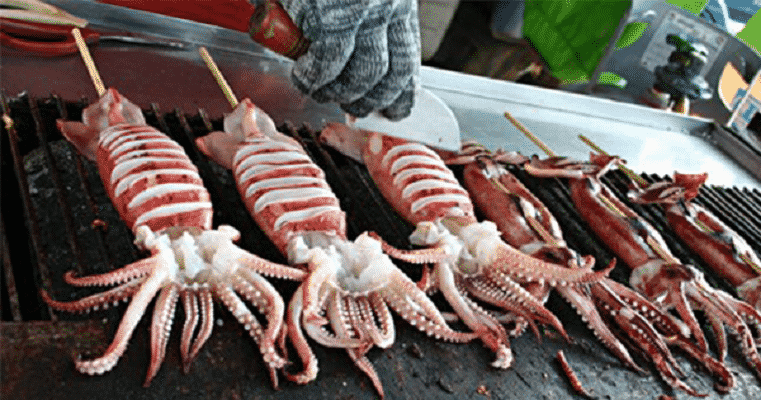 From the woman's hospital records, doctors reportedly discovered a number of "baby cephalopods" or baby squids attached to the interior of her mouth. The creatures, later identified as "squid spermatophores," are actually sacks that are equipped with some sort of an apparatus that can forcefully release sperm. The cement-like material then secures itself to a wall, which in the case of the woman, is her tongue's mucous membrane, cheek, and gingiva.
A spermatophore apparently has an apparatus that can shoot sperm when chewed.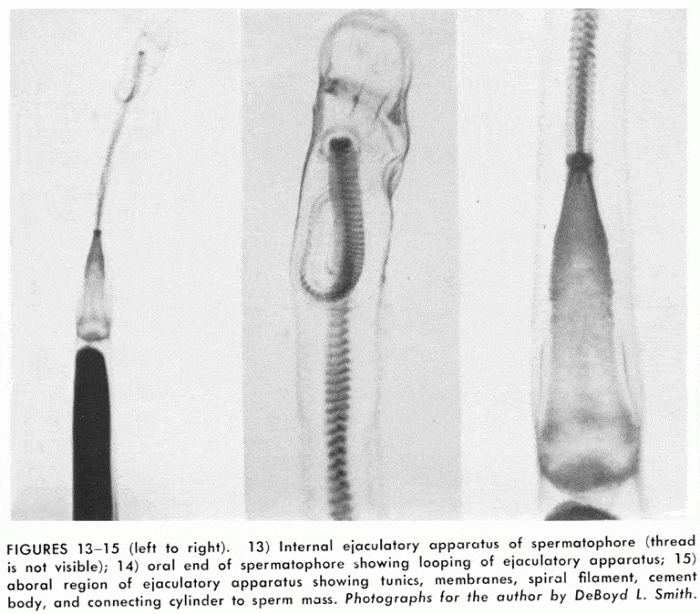 Despite the squid being boiled before cooking, the sperm or "cephalopod spermatophores" were still alive and they penetrated the woman's oral cavity during consumption. It is believed that chewing the sack was what prompted them to shoot sperm, which was then embedded in the woman's oral cavity. Apparently, the mouth is just one of the few places that spermatophores could penetrate.
Despite being brought to a boil, the spermatophore survived and left sperm in the consumer's oral cavity.
Danna Staaf, a squid aficionado from Science 2.0, elaborates on the incident, sharing her own experience, saying:
"The skin on your hands, and most of the rest of your body, is much too thick to get stuck. I've probably had hundreds of spermatophores [discharge] on my fingers and never felt a sting."
After an excruciating pain, the scientific paper from the National Center for Biotechnology Information in Bethesda, Maryland, reported that the baby squids were finally detached from its Korean host. It stated:
"Twelve small, white spindle-shaped, bug-like organisms stuck in the mucous membrane of the tongue, cheek, and gingiva were completely removed, along with the affected mucosa."
So be extra cautious the next time you eat any squid meal to avoid hosting baby squids in your mouth.
While it seems extraordinary to experience such kind of "pregnancy" out of food, the woman's story isn't actually the only case in the world. Several incidents of spermatophores impregnating oral cavities were reported in Japan. However, the Korean's case is considered unique as it is the first that happened after consuming a parboiled squid while the other cases were reported from eating them raw.
Another case of squid insemination was documented by the US National Library of Medicine National Institutes of Health, after the patient had eaten raw seafood. This time the doctors noted that the biopsy showed that "the sperm bags of the squid had thrust into the squamous epithelium (inner lining) of the patient's hard palate (roof of the mouth).
10 of the Most Dangerous Animals on Earth
Most of these creatures are actually territorial.
It is worth noting that not all animals in this world are considered dangerous. However, some of them are indeed equipped with abilities that make them a threat to humans. Hence they are called "wild" animals. Interestingly, their appearance says otherwise. They can look cute and friendly, but once agitated, expect a deadly retaliation.
Below are common creatures that are actually dangerous in one way or another. Check them out!
#10. Beaver
This creature is widely known for its nearly-human skill at felling trees and manipulating waterways. Apparently, it is territorial and defensive. It will not hesitate to use its razor-sharp teeth. ...
We Might See Fishless Oceans By 2048
Continuous overfishing and water pollution might see our oceans fishless by 2048.
A lot of us are falling in love with the beach because of the majestic view of serene water and limitless horizon. However, the real beauty of the ocean can be seen deep under with the countless marine lives that comes in different colors, forms and sizes.
Also, don't forget how savory seafood dishes are. So many of us just love salmons, tunas, shrimps, squids and crabs. It's really hard to imagine a menu missing all of these entries!
Well in about two more decades, we might not have to imagine how it's like to miss the taste of a fish-based meal as we might face such consequence for real. Experts are now warning us that there will be no fishes left in any ocean by 2048.
Yes. We might be seeing our oceans without any kind of fish in 2048.
...
19 Hysterical Animal Comics That Will Make Your Day
Animals can be sassy too.
Truth be told, there's something fascinating about the animals and their natural ways. For some vague reasons, despite their inability to speak human language, through facial expression and body language, they can (unwittingly) convey a plethora of ideas. Through tail wagging and panting, dogs are able to express their simple joy in seeing their masters after a long day of work. Through yawning in boredom, cats are able to express their nonchalant thoughts about the futile existence of the entire inferior human race. We can learn a lot of things about them just by merely watching them live their life for a few minutes during a lazy afternoon.
Apparently, an artist named Joshua Barkman had the same idea. Using his talent, he created the False Knees comics – a collection of cartoon drawings containing a few dark and humorous comic strips showcasing sassy animals that would surely bring a smile on your face.
So, if you're having a bad day, sit back, relax, and enjoy the sassiness.
1. Well, it's official, geese are evil.
...