Woman's Mouth 'Impregnated' With A Dozen Baby Squid After Eating Calamari
Are you ready to become pregnant with baby squids through a sumptuous calamari meal? This woman is certainly not.
Who would have thought that someone can become pregnant – not by a human but by another species – from simply eating your favorite food? It's human nature to have food cravings and indulge yourself in meals to the point that some of us couldn't stop chewing until we become "food pregnant." Becoming literally pregnant, though, out of your food addiction is another story, but it actually happens and another case of this just emerged recently.
A Korean woman experienced one of the most unusual effects of eating food. She became literally "pregnant" after consuming a common squid meal favorite — calamari. The 63-year-old complained of sharp pain in her mouth and that was when doctors found out that her mouth had become impregnated with 12 baby squids.
According to reports, the unnamed woman was eating a piece of squid that though partially cooked, still had its internal organs intact. She quickly felt an intense pain in her mouth, making her spit out the food. However, she continued to feel some "prickling and foreign body" in her mouth, hence deciding to go for a checkup.
It might be hard to enjoy another calamari meal after finding out that it can impregnate you.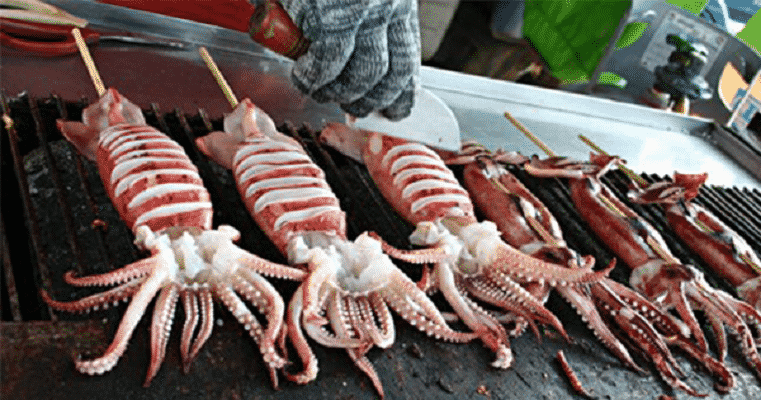 From the woman's hospital records, doctors reportedly discovered a number of "baby cephalopods" or baby squids attached to the interior of her mouth. The creatures, later identified as "squid spermatophores," are actually sacks that are equipped with some sort of an apparatus that can forcefully release sperm. The cement-like material then secures itself to a wall, which in the case of the woman, is her tongue's mucous membrane, cheek, and gingiva.
A spermatophore apparently has an apparatus that can shoot sperm when chewed.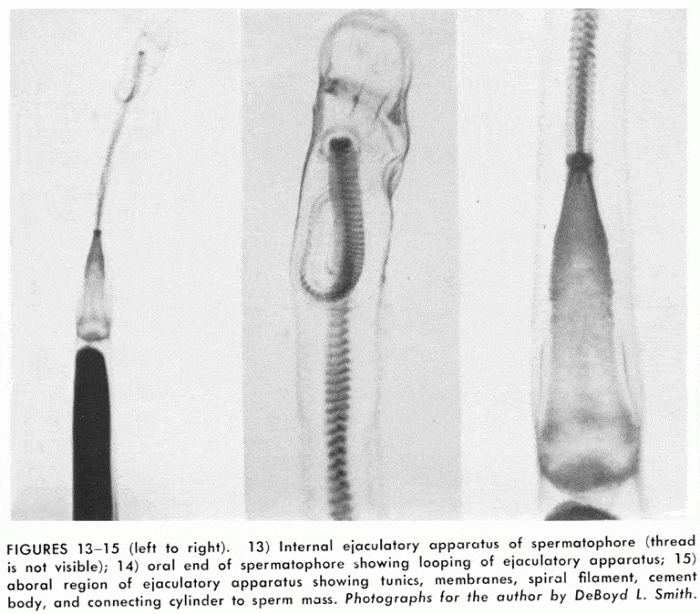 Despite the squid being boiled before cooking, the sperm or "cephalopod spermatophores" were still alive and they penetrated the woman's oral cavity during consumption. It is believed that chewing the sack was what prompted them to shoot sperm, which was then embedded in the woman's oral cavity. Apparently, the mouth is just one of the few places that spermatophores could penetrate.
Despite being brought to a boil, the spermatophore survived and left sperm in the consumer's oral cavity.
Danna Staaf, a squid aficionado from Science 2.0, elaborates on the incident, sharing her own experience, saying:
"The skin on your hands, and most of the rest of your body, is much too thick to get stuck. I've probably had hundreds of spermatophores [discharge] on my fingers and never felt a sting."
After an excruciating pain, the scientific paper from the National Center for Biotechnology Information in Bethesda, Maryland, reported that the baby squids were finally detached from its Korean host. It stated:
"Twelve small, white spindle-shaped, bug-like organisms stuck in the mucous membrane of the tongue, cheek, and gingiva were completely removed, along with the affected mucosa."
So be extra cautious the next time you eat any squid meal to avoid hosting baby squids in your mouth.
While it seems extraordinary to experience such kind of "pregnancy" out of food, the woman's story isn't actually the only case in the world. Several incidents of spermatophores impregnating oral cavities were reported in Japan. However, the Korean's case is considered unique as it is the first that happened after consuming a parboiled squid while the other cases were reported from eating them raw.
Another case of squid insemination was documented by the US National Library of Medicine National Institutes of Health, after the patient had eaten raw seafood. This time the doctors noted that the biopsy showed that "the sperm bags of the squid had thrust into the squamous epithelium (inner lining) of the patient's hard palate (roof of the mouth).
Like & Share This Post
Sea Turtles Are Turning Female Because of Rising Temperatures
The warmer the temperature is, the bigger probability that hatchlings will turn female.
Here's a fascinating tidbit about sea turtles - their gender depends on temperature. The warmer the temperature is, the bigger probability that hatchlings will turn female. Because of global warming, the number of female sea turtles are increasing dramatically.
According to the study of researchers from the National Oceanic and Atmospheric Administration, California State University and Worldwide Fund for Nature Australia,:
"Combining our results with temperature data show that the northern GBR green turtle rookeries have been producing primarily females for more than two decades and that the complete feminisation of this population is possible in the near future."
...
Million of Crabs in Christmas Island Marches Back to the Jungle After Mating Season
The tide of crustaceans crawling all over the beach is so thick it can be seen from Google Earth.
Once a year, millions of baby crabs can be seen making their way to the beaches of Christmas Island during mating season. These crabs came from the ocean and are heading towards the jungle where the adult crabs live.
The march produces a sea of crimson, a sight so amazing that it has become a tourist attraction. The tide of crustaceans crawling all over the beach is so thick it can be seen from Google Earth. Just try to imagine that!
...
Woman Performs Surgery On A Butterfly With Broken Wings – And It Worked!
Despite having no medical expertise, she was able to perform a successful wing transplant.
Monarch butterflies are perhaps one of the most interesting species, with wings that seem to be a work of art. They can only live from two weeks to five months the most. Apparently, there was a certain butterfly on a brink of death. It basically came into this world with a defected wing.
Romy McCloskey vowed to raise three monarch butterflies, but one of these creatures had a problem on its wings. Determined he could save it, Romy turned her home into a mini operating room. She even used common household items in performing a wing transplant. Yes, that's right – a wing transplant!
What is more interesting is the fact that Romy had no medical expertise whatsoever. She was a "professional costume designer and master hand embroiderer," though. Still, she managed to make the operation successful.
Scroll down and check out the photos to see how the surgery went!
...