Keaton Jones' Father Was Abusive and Is Reportedly a Jailed White Supremacist
The plot thickens.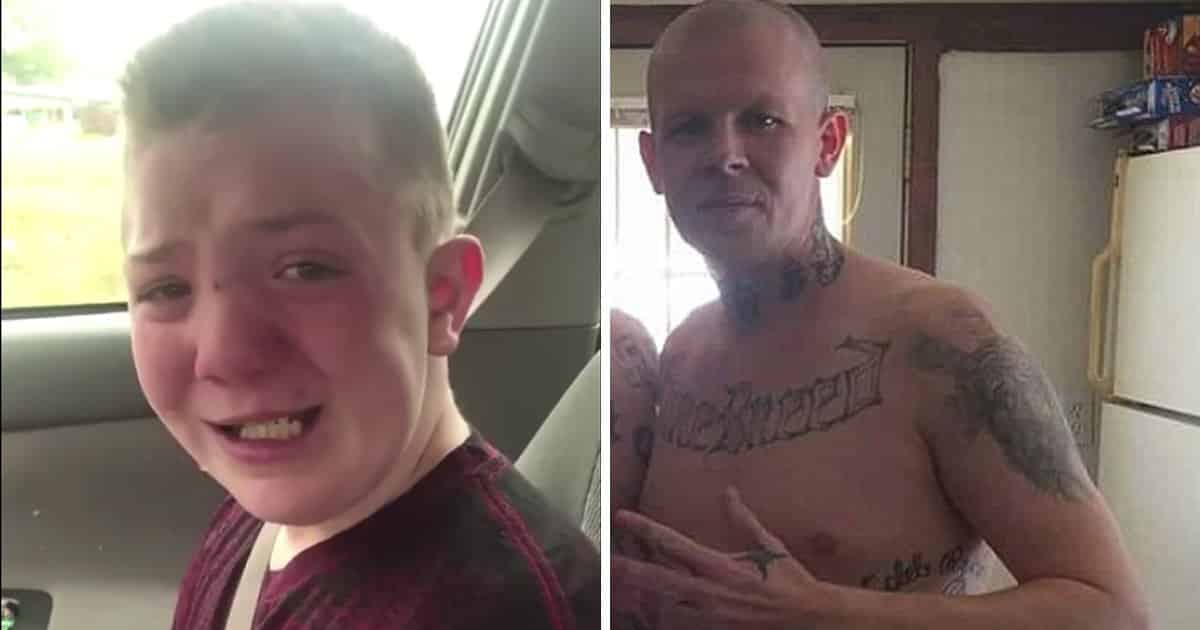 Keaton Jones' story has been a roller coaster ride. It started with a viral video of the boy that got everybody on the Internet–famous celebrities like Justin Bieber, Demi Lovato, Hailee Steinfeld, Mark Ruffalo, Katy Perry, and Chris Evans included–showing support for Keaton and condemning bullying.
The video was filmed and shared by Keaton's mother, Kimberly Jones, and it shows the child crying and asking his bullies to stop harassing him. The world was moved by Keaton's words:
"Just out of curiosity, why do they bully? What's the point of it? Why do you find joy in taking innocent people and finding a way to be mean to them? It's not okay."
But not long after the Internet showed an outpouring of support for Keaton did his story take an unexpected turn.
Online users discovered controversial photos of the older Jones alongside the Confederate flag, which many consider a symbol of slavery and white supremacy. Racist posts by Jones were also unearthed, which sparked speculations that Keaton was being bullied in school because he was calling other kids racial slurs.
The mother was also heavily criticised for the several GoFundMe accounts in Keaton's name that appeared online.
People accused the controversial mother of cashing in on her son's misfortune and viral fame. She has been called a scammer by MMA fighter Joe Schilling and a hypocrite by some. She later said that the accounts were all fake, except for one that received $58,000 before it was shut down.
Now, another member of their family is under fire.
Keaton's father, Shawn White, is reportedly a white supremacist currently serving time in jail. VT.co reports that the father has been in prison since 2015 for a probation violation related to a 2012 aggravated assault conviction. TMZ reports he is set for release in 2018.
White's Facebook page includes posts showing support for white supremacy. In some photos, he is seen with a hand sign associated with the Aryan Circle, one of the largest white supremacist gangs in US prisons. He is also pictured with a "Pure Breed" tattoo on his chest and a "White Pride" one on his stomach. Memes relating to white pride and aryan pride can also be seen on his page.
DailyMail.com also reports that White had abused Keaton and the rest of their family in the past.
According to the publication, White, who split with Jones when Keaton was just a toddler, at one point burst through the family's door in their Knoxville, Tennessee home and threatened to shoot everyone, including the children, with an AK-47.
See Keaton's viral video below.
Like
on Facebook
While people still feel strong compassion for Keaton, his parents no longer have the public's sympathy. If anything, the public is now more concerned about the welfare of Keaton and his siblings.
Three-Year-Old Girl's Bizarre Condition Never Lets Her Sleep In Her Entire Life
A three-year-old girl has a problem getting sleep at night. Find out about her unique condition and how they are trying to resolve it.
Sleep is an essential type of rest that children need. A lot of body and brain development require complete rest, which is possible only through a good night's sleep. However, a three-year-old girl can't seem to fall asleep and her parents are seriously concerned.
Jessica seems normal by the day. She plays, socializes, laughs and eats just like any other kid. But when darkness breaks in, the little girl's "different" side takes over.
Meet Jessica, the girl who can't sleep.
MMA Fighter Calls Viral Keaton Jones Video A Scam After Celebrities Expressed Support
An MMA fighter and some other public figures call the viral video of the sobbing boy pleading to stop bullying a scam. Find out why.
A heartbreaking video of a middle school student named Keaton Jones has spread like wildfire on social media. The young boy was in tears as he talked about his tormenting experience as a bully victim in school. While the video was initially taken as an eye-opening message on one of the biggest issues faced by many kids today, it has now been shrouded in scandal with several people claiming Keaton is simply used as a tool for a big scam.
A couple of days ago, the world came to know the boy who pleaded bullies to stop criticizing him through a video that his mother, Kimberly, posted on Facebook. He asked, while sobbing, "Just out of curiosity, why do they bully?" He continued to share his disappointment asking, "What's the point of it? Why do you find joy in taking innocent people and finding a way to be mean to them? It's not okay".
A video of Keaton Jones pleading for bullies to stop harassing him has gone viral on Facebook.
Meet The 6-Year-Old Boy Who Makes $11 Million A Year On YouTube
Millions of parents and kids watch his videos.
Today's typical six-year-old would be all about playing with various toys and gadgets. Six-year-old Ryan of YouTube's Ryan ToysReview, a family-run YouTube channel, is the same - except that he makes a crazy ton of money doing so.
The young online host, YouTube star, and now multi-millionaire generated around $11 million in pretax income in 2017, which is probably the highest amount any six-year-old in history has ever made. Ryan places 8th, along with YouTube comedy channel Smosh, in Forbes' annual list of highest-earning YouTube celebrities.
Ryan ToysReview started in March 2015.