China Faces New and Unlikely Enemy Attacking Its Naval Assets – Jellyfish Swarms!
Scientists and engineers are getting involved.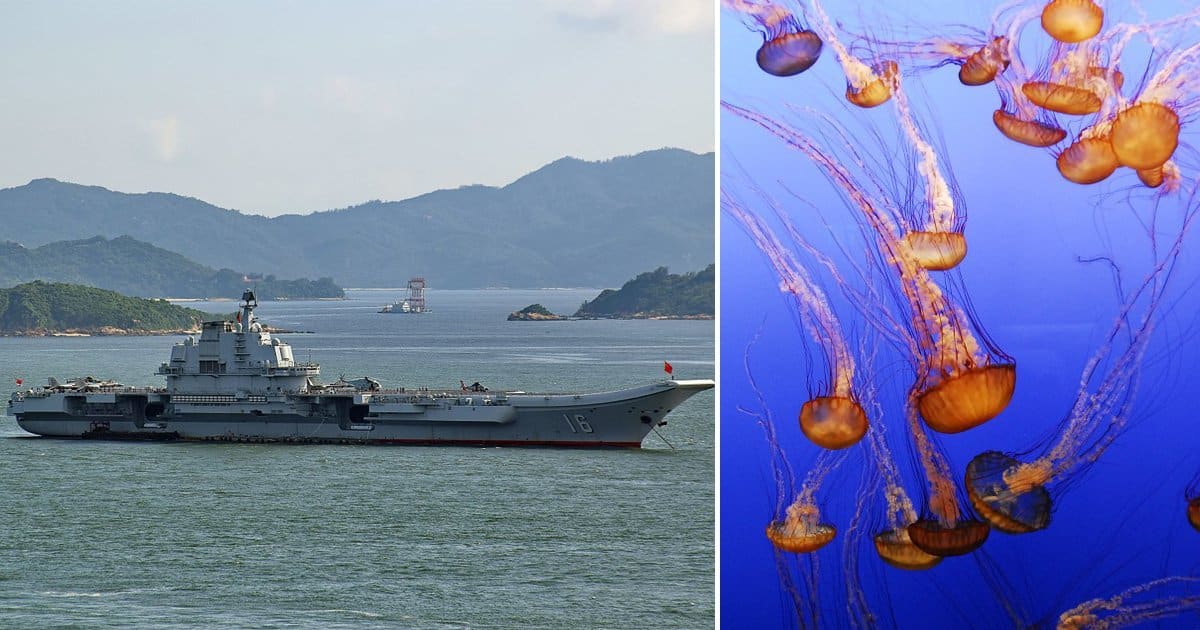 One of the world's most powerful nations has met its match in the form of a brainless invertebrate. Chinese naval forces are facing an unlikely enemy: the jellyfish.
Swarms of jellyfish have been attacking China's aircraft carriers, getting into naval propulsion systems, shutting down ships, and overheating engines – and it's partly the Chinese's fault. No thanks to their overfishing, particularly of shark fisheries, the global jellyfish population has grown exponentially.
Jellyfish swarms have moved engineers and scientists in China to think of ways to deal with the problem.
One of their efforts is the diabolically named "jellyfish shredder." Created by engineers at the Liaoning Ocean and Fisheries Science Research Institute in Dalian, China, the device is made of a net that's hundreds of yards long and lined with sharp steel blades. It's meant to be dragged behind by a ship, which will then shred any jellyfish that gets in its way.
The jellyfish shredder can help clear the path for larger vessels.
Unsurprisingly, this jellyfish problem is not unique to China, and it's only getting worse. Since the jellyfish population boom of recent years, coastal coal and nuclear plants have been closed down in the US, UK, Japan, Sweden, and the Philippines. Plants that take in seawater to use as coolant suck up large numbers of jellyfish that end up clogging the systems.
Liaoning, China's first aircraft carrier, was built in Dalian on the Yellow Sea. This body of water has seen an overwhelming increase in jellyfish population in recent years. It isn't nuclear-powered and probably does not suck in seawater, but its seawater intakes can still get clogged and cause overheating, fires, and equipment burnouts.
Reports say that the jellyfish swarms are partly China's fault.
Overfishing, especially of sharks, has caused a sharp decline in the shark population. Sharks are the main predator of jellyfish, and experts believe that the shark's absence is the major reason for the jellyfish boom. Also, overfishing can cause jellyfish to take over and occupy entire ocean regions.
Like & Share This Post
Doctor In Hot Water For Reusing Anal Catheters On Multiple Patients
This is scary and disgusting.
Medical instruments or devices that come in contact with patients' secretions are usually for single use only, to prevent contamination and spread of disease. Anal catheters, for instance, should only be used once.
A doctor based in East Brunswick, New Jersey, however, is now being accused of reusing disposable one-use anal catheters on many of his patients. Dr. Sanjiv K. Patankar, a colorectal surgeon, had his medical license suspended for placing his patients in imminent danger.
...
25 Crazy Hilarious Things Only Overprotective People Do
These people just need to chill sometimes. Seriously.
Some of us are just overprotective when it comes to a lot of things. It could be towards a pet, a car, a family member or loved one. We care about them so much that we try our best to make an educated decision - and there is just no limit to our imagination when it comes to such, so to speak.
This is exactly what this compilation is all about. Today, we are going to feature some of the hilarious things only overprotective individuals can do.
Scroll down below and see for yourself!
...
Meet the World's Youngest Serial Killer
A boy from India gained notoriety as a serial killer victimizing babies.
We get scared when we hear the words, "serial killer." It makes us think of evil men who do unspeakable things to their victims. Movies and TV shows have also reinforced this image. It's almost always grown men who are portrayed as serial murderers.
That's part of the reason why people are shocked when they find out that the world's youngest known serial killer is a boy from India named Amarjeet Sada (a few reports cite his name as "Amardeep Sada"). In pictures, Amarjeet looks just like any other kid. He was actually evil incarnate.
...