14 Offensive Teacups You Can Use To Insult Your Guests With Class
I badly need these for some people I know!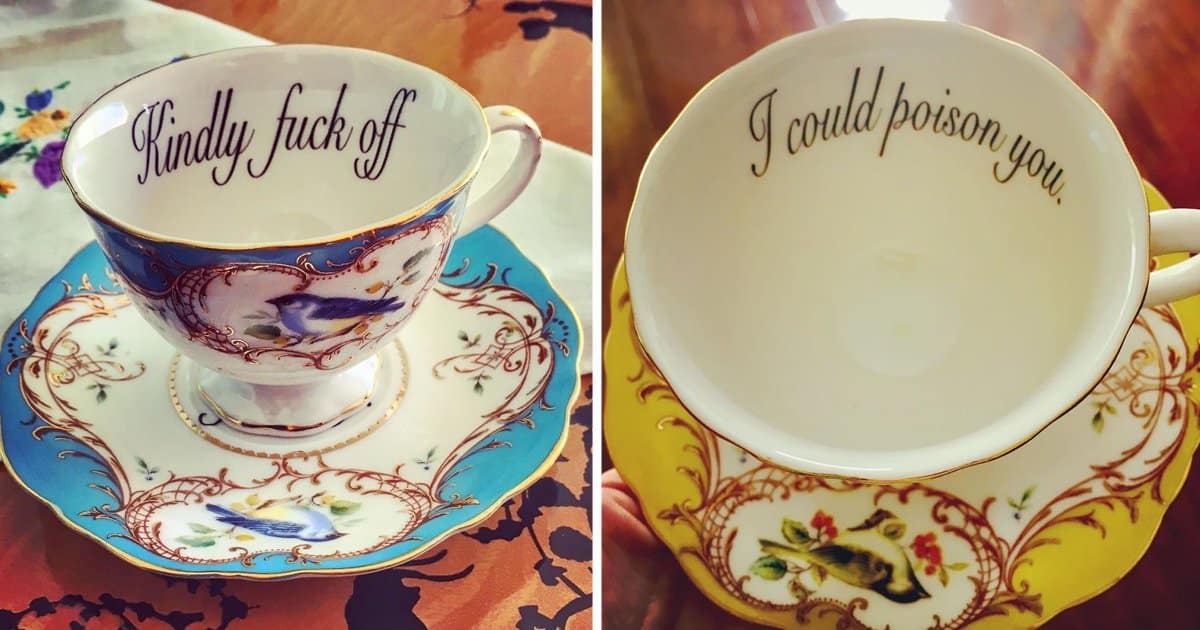 They look delicate and classy and yet it's actually a big insult when someone decides to use them to serve your beverage. These teacups are definitely not your grandmother's old-fashioned ones – and they are not recommended for the faint of heart.
Created by Miss Havisham, these unique teacups are "for the lady who speaks her mind." The tableware collection is indeed absolutely funny as they are vulgar – with phrases such as "Kindly f**k off," "I could poison you," and many others.
Melissa Johnson, the brains behind Miss Havisham, shared:
"A wise woman once told me, 'If you got hate in your heart, you gotta let it out.

"By far, our favorite way to release it is by stewing over a scalding cup of tea."
As for the inspiration for the project, Melissa explained:
"I've been an animation producer for 20 years and this was a much needed creative outlet.

"My grandmother was a (crazy) sometimes-antique dealer and I grew up in an eccentric family surrounded by lovely, but often broken, things. Every woman in my family is a Miss Havisham to some degree so I guess old and creepy imprinted on me because pretty much everything I love is chipped and discarded."
Check out the photos below:
#1.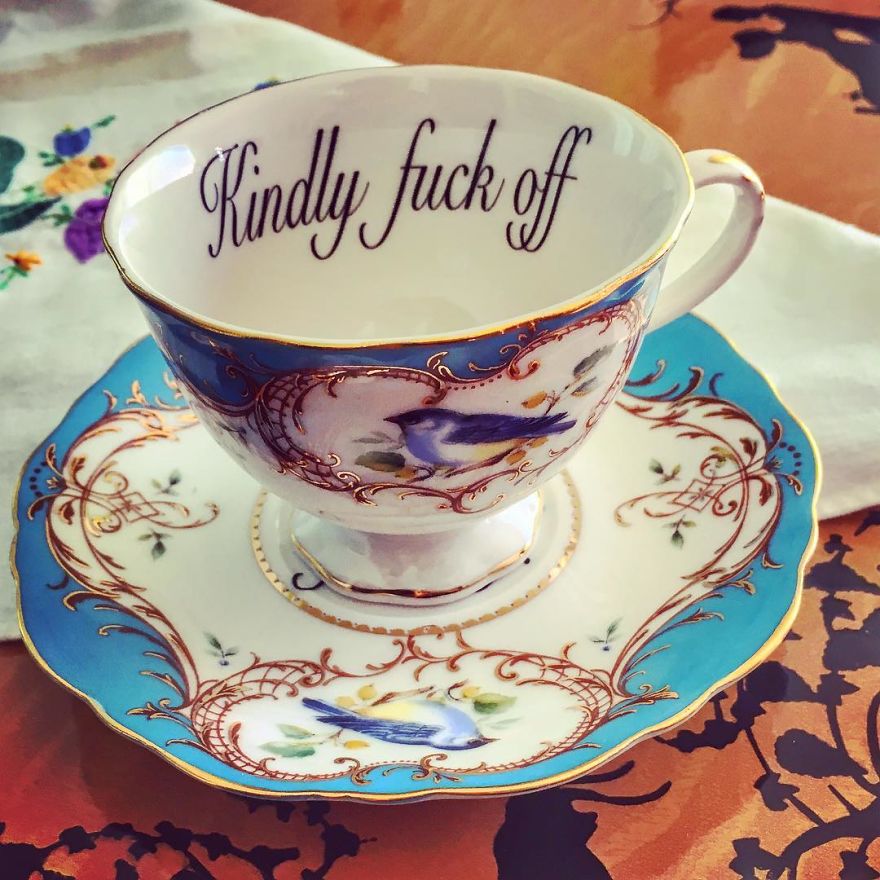 #2.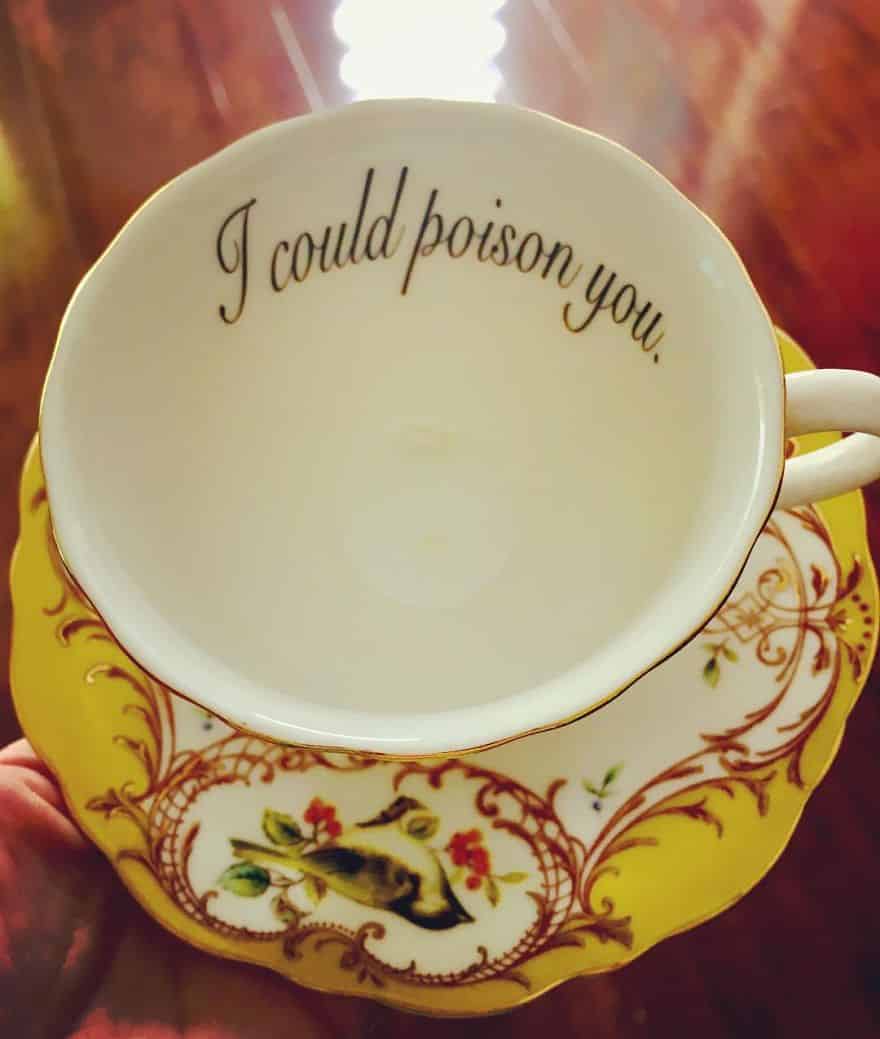 #3.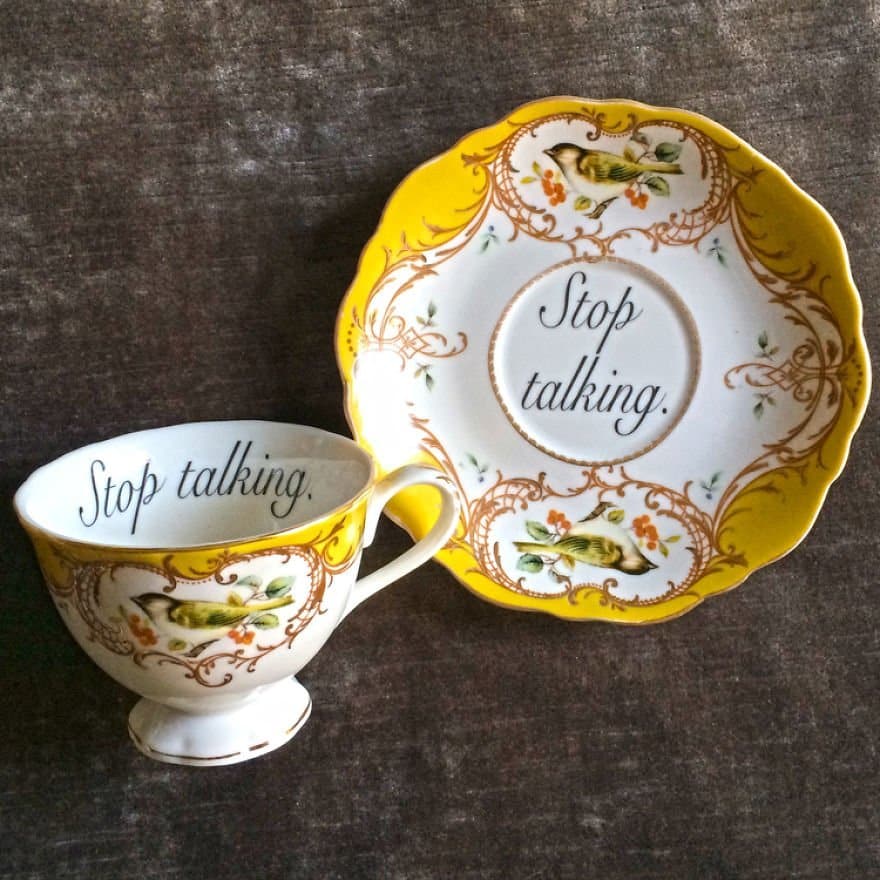 #4.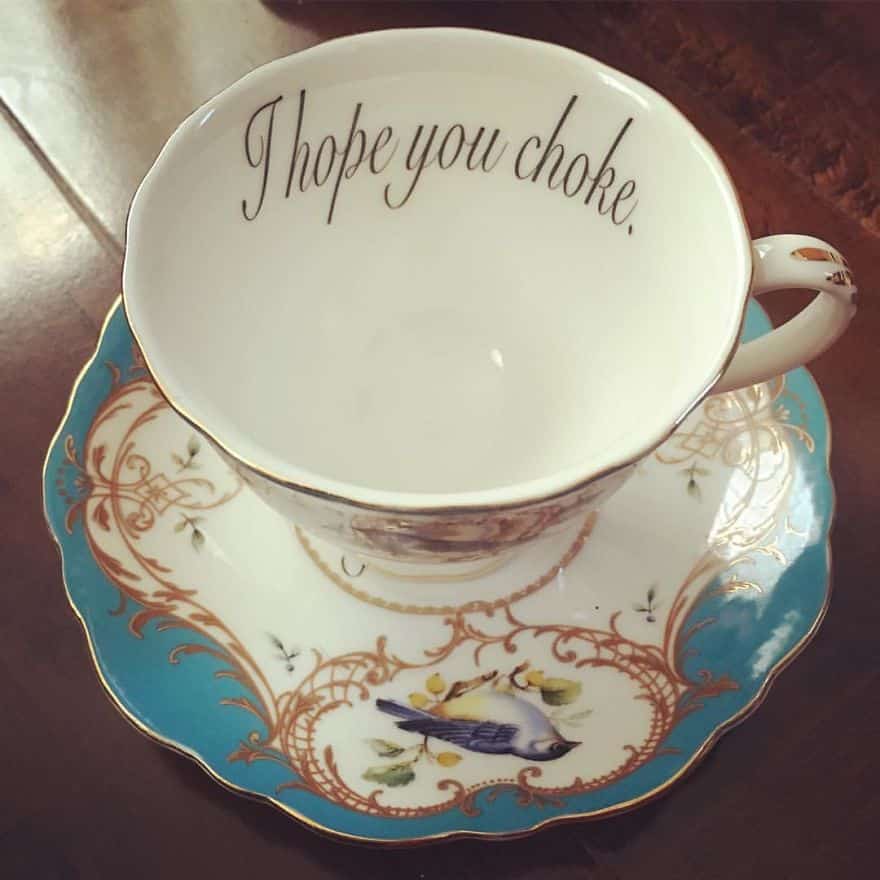 #5.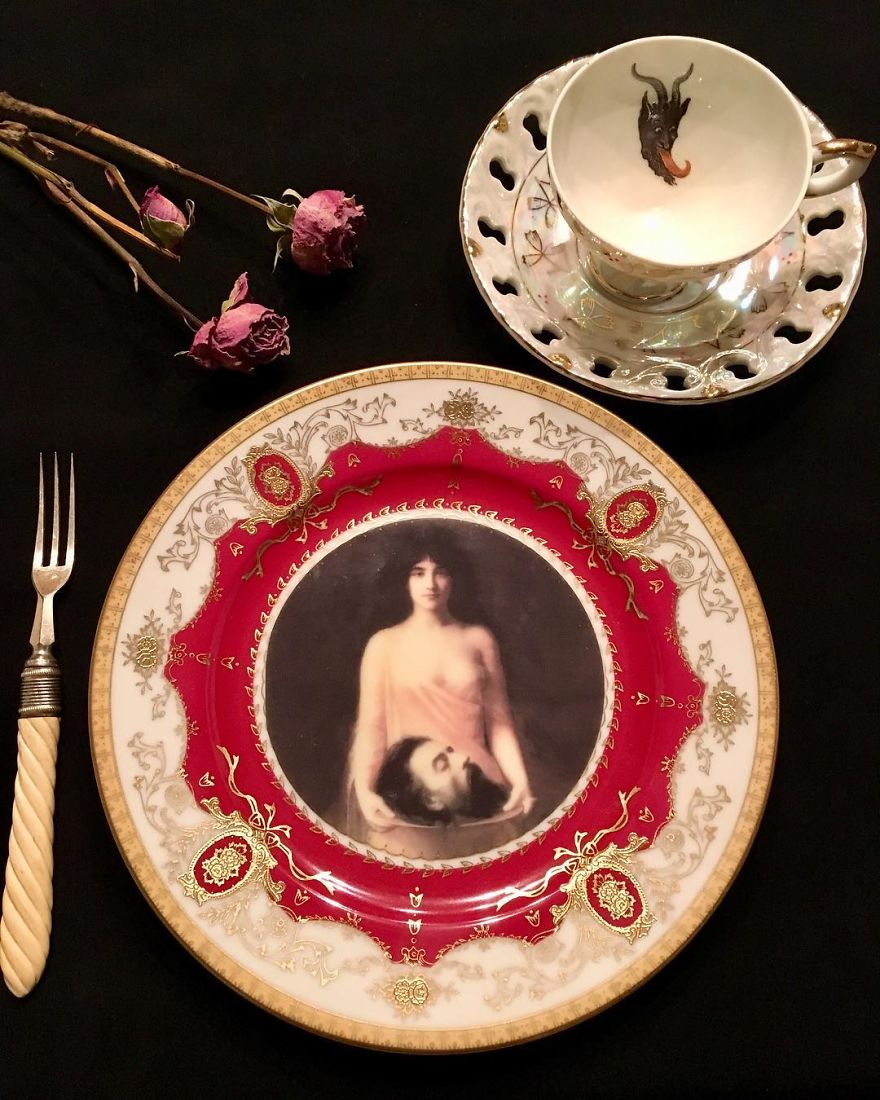 #6.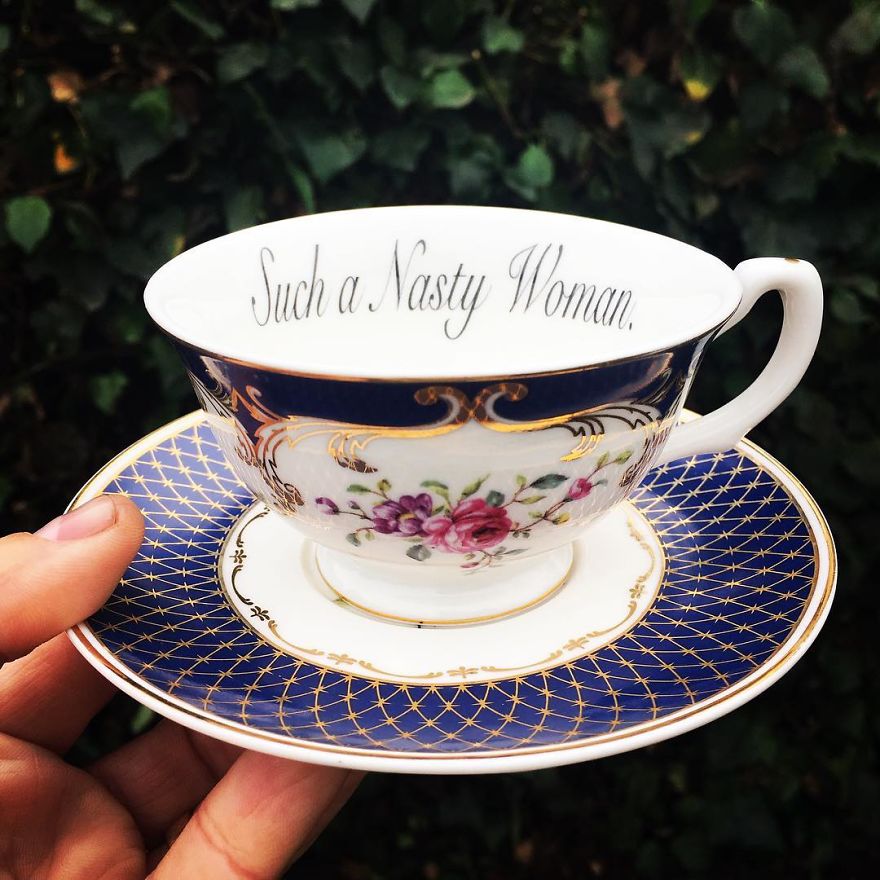 #7.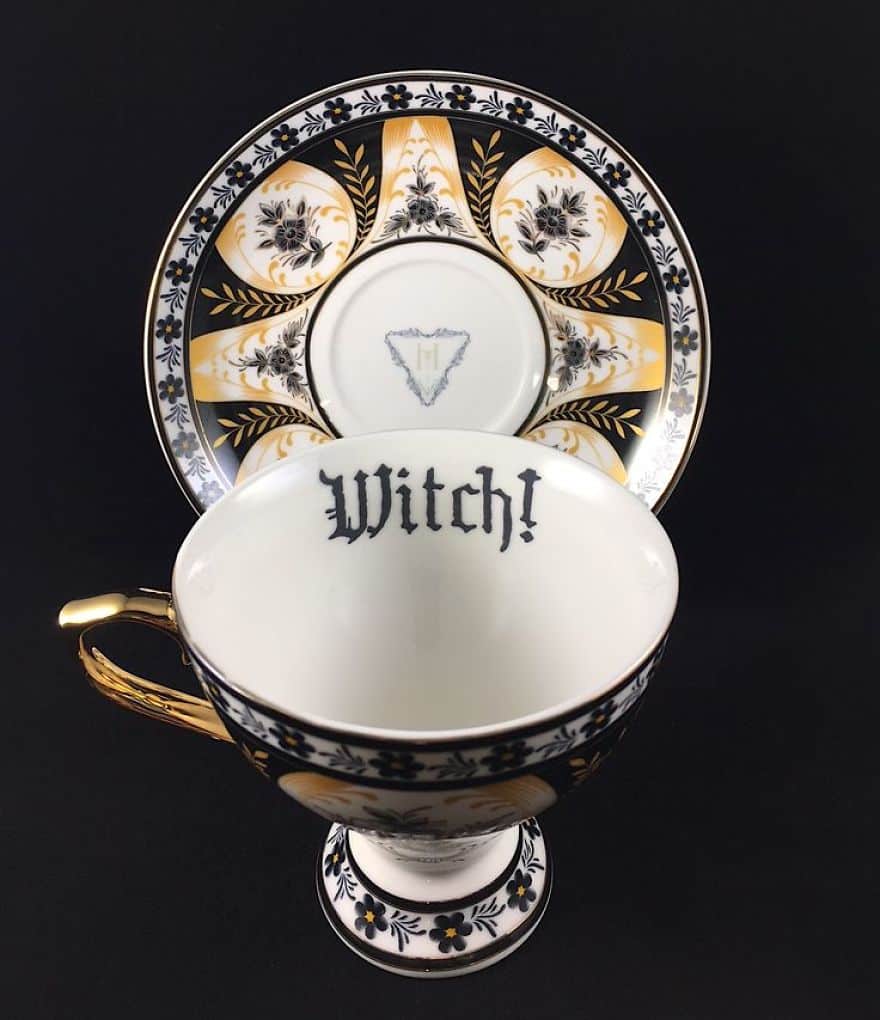 #8.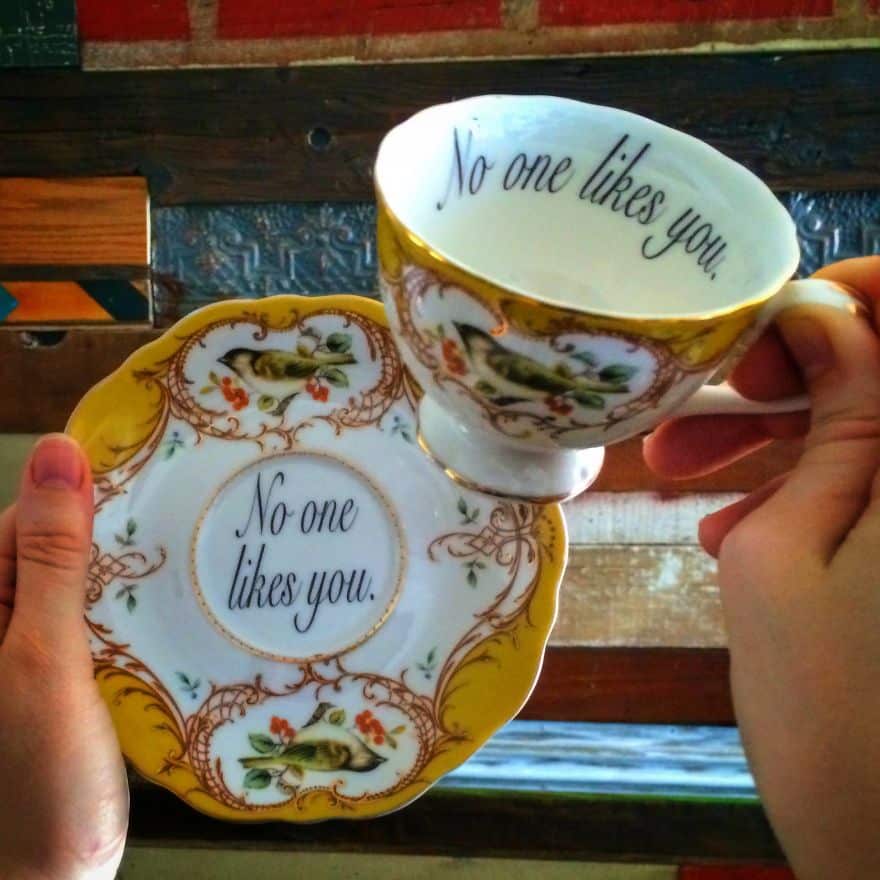 #9.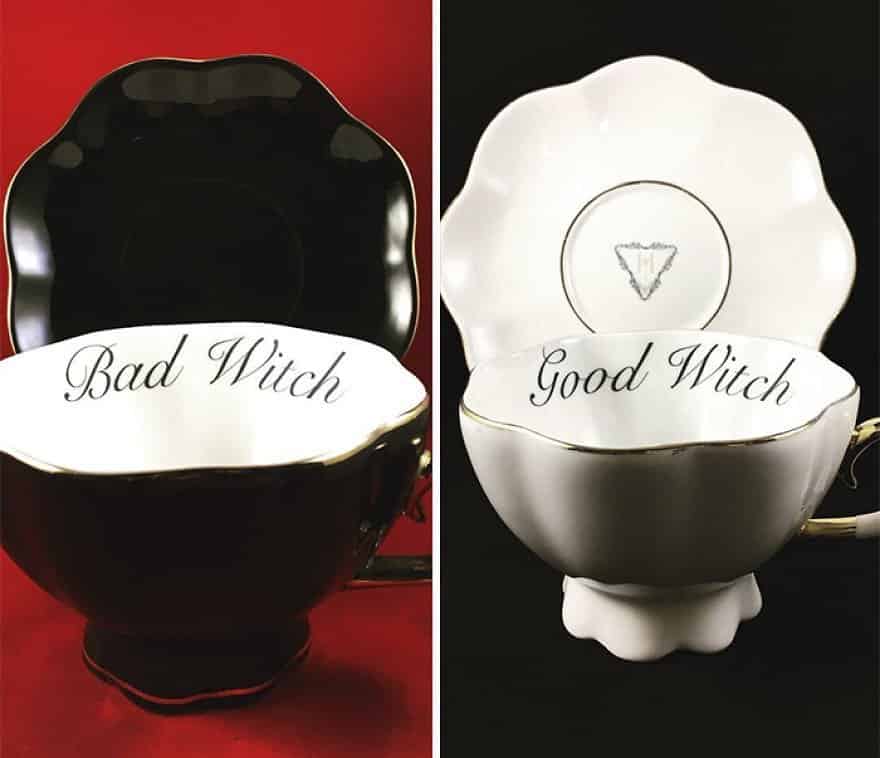 #10.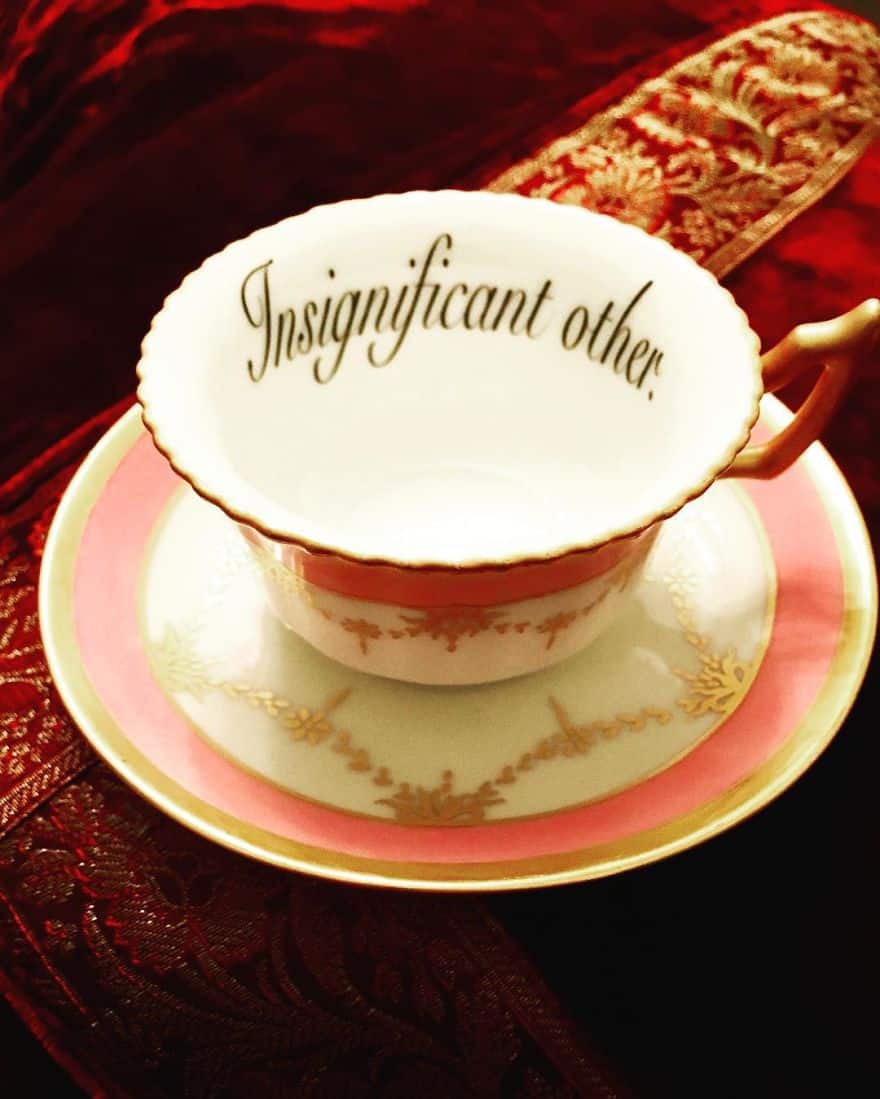 #11.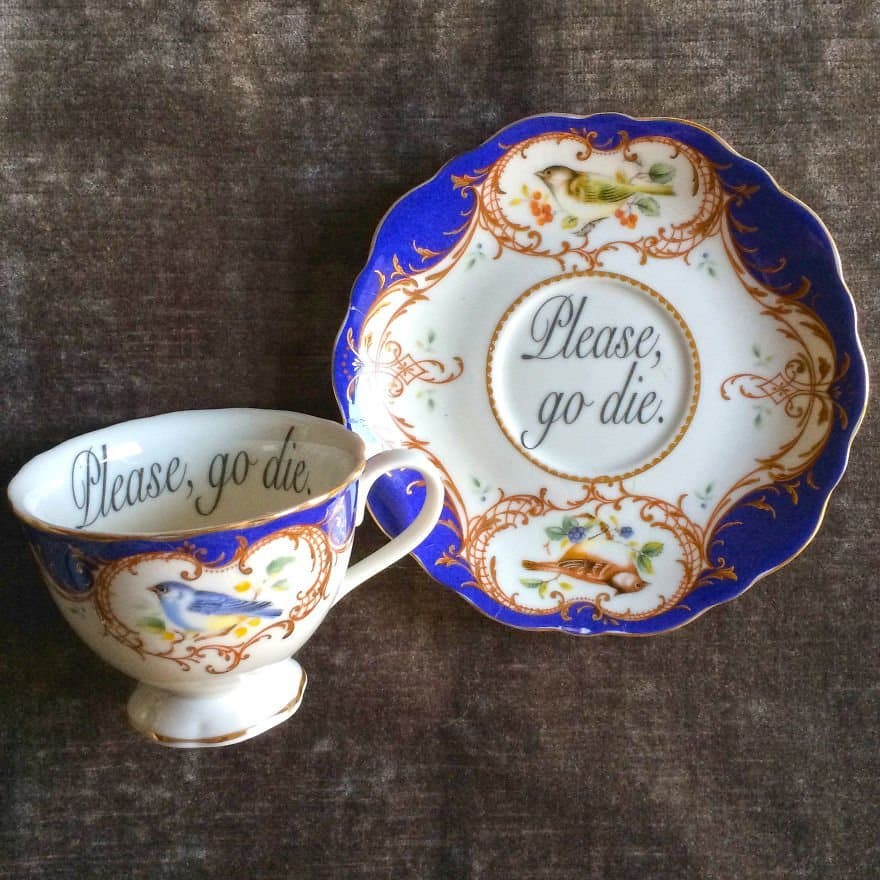 #12.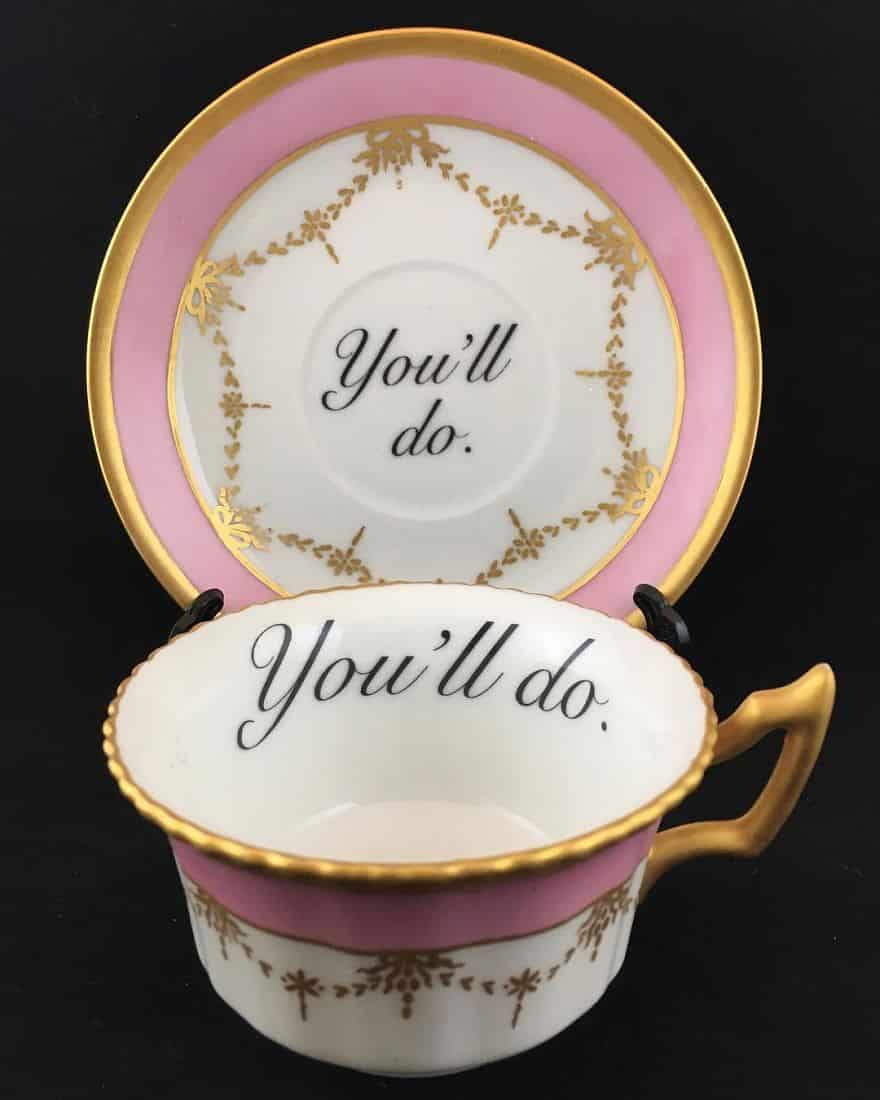 #13.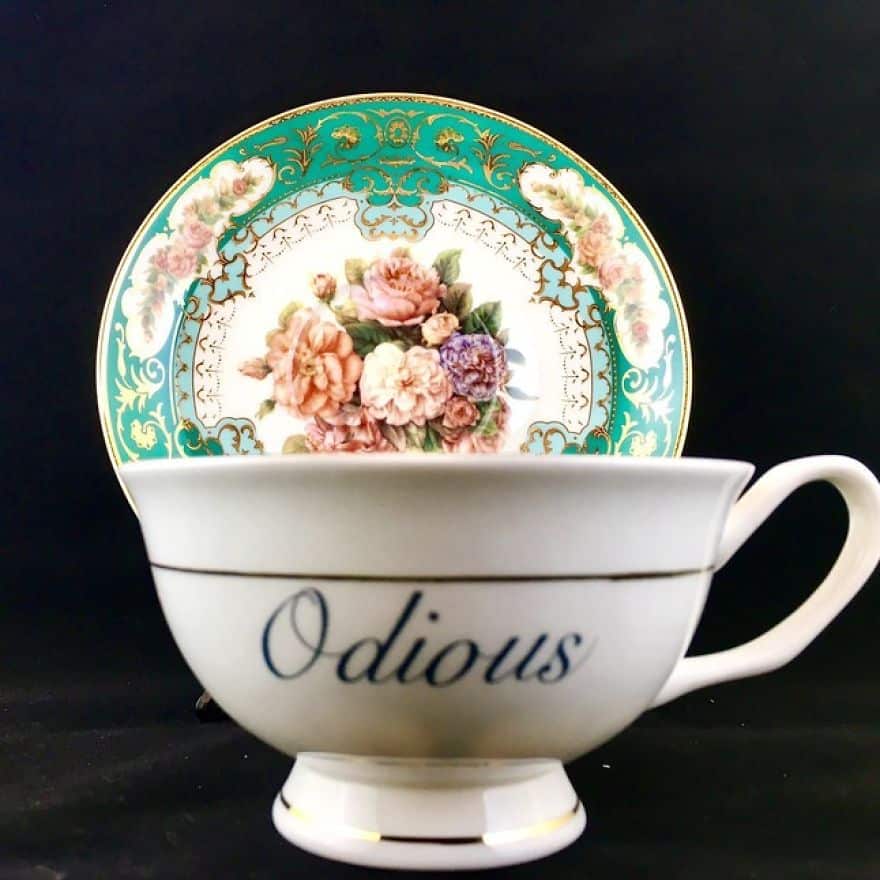 #14.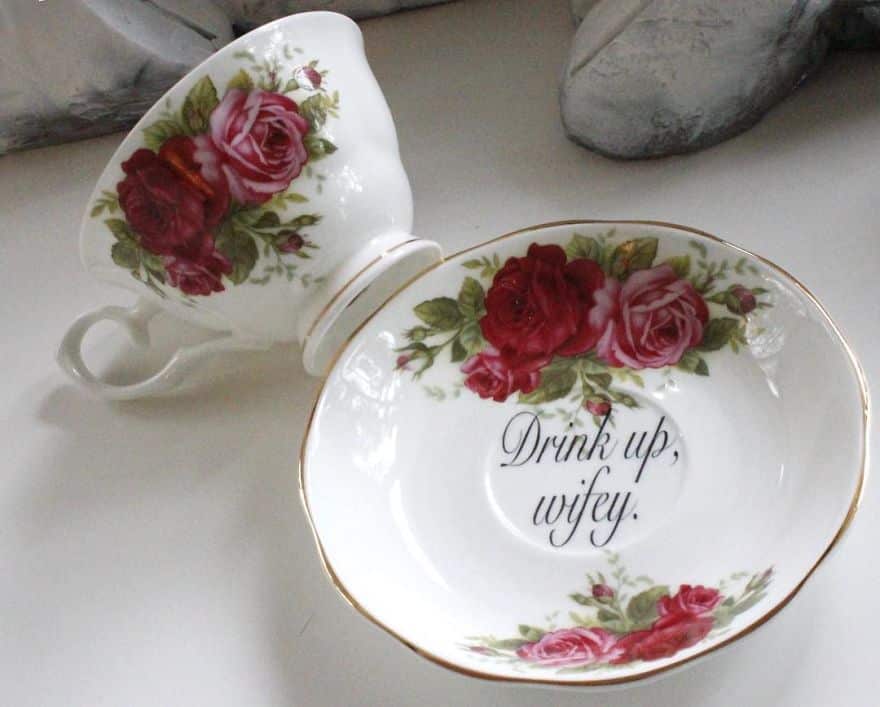 Mellisa furher told BoredPanda:
"I love the juxtaposition of high brow and low. Here are these delicate and prissy cups that aren't really what they seem on the outside and neither are most of us. They have a history and they also have spunk. Context is really everything. They can be super mean I suppose but if you don't get my sense of humor there's really nowhere to go from there."
Surprisingly, the most popular item in their collection is "We hate your baby."
"No one is going to say that out loud but we've all thought it at one time or another. Oddly enough, that cup is particularly popular with parents which surprised me."
If you're interested to purchase one or a set, go check out the official Miss Havisham website or follow them at Facebook and Instagram.
28 Funny Photos of Cool Parents Taking Things Easy In Parenting
No. 9 is epic!
Being a parent is a big responsibility to take on since you'll be making sure that your kid grows up to become decent human beings. But let's not forget that parents are humans and they are not perfect. They still make a lot of mistakes and many continue to learn how to become a better parent each day.
For some parents, though, they have accepted the fact that there are things that they can't control. These are cool parents who are taking things easy as they always find a solution to every mistake made. The result is hilarious and, at the same time, clever. Check out the photos.
#1. Clever solution to the absence of a hair tie.
29 Funny Yet Creative Solutions to Everyday Problems
If it works, then it is not stupid!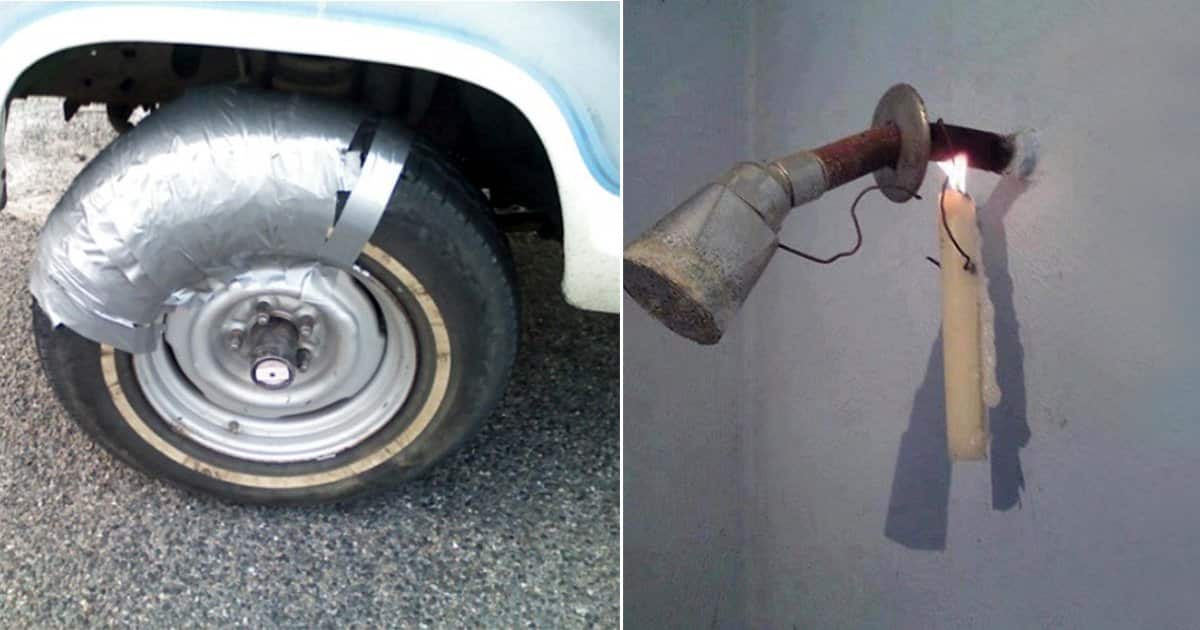 I think we can all agree that "desperate times call for desperate measures." Sometimes, we come to a point in our lives where we just have to be creative and practical in dealing with our problems. They may not be the best of solutions, but they're still important to do in one way or another.
This compilation is exactly what it means for the aforementioned quote. And if you think "tape is the only solution to all," then you are right. Without further ado, here are the very people who resolved things using their wit.
#1. For starters...
16 Hilarious Photos of Jealous People Caught On Camera At The Wrong Moment
Jealousy is a disease. Try your best not to catch it.
At some point in our lives, we become green with envy around people who have things that we desire most. Some of us may be great at hiding our emotions, while others put themselves out there and show it to the world. There are also those who try to keep their feelings of jealousy to themselves, but somehow, their facial expressions give it away and they're caught on camera.
These jealous people just happen to be spotted sporting the green with envy look at the wrong moment. The result is a hilarious set of photos that should remind each and everyone that this could happen to any of us.
#1. Those guys wish they were in his shoes.