Blind Singer From the Philippines Amazes People With Guitar-Playing Skills and Vocals
This blind singer from the Philippines is worthy of a worldwide spotlight.
Somebody shared a link to a very surprising video via our inbox and we thought it would be worth sharing. The video features a blind singer named Renie Entatano who is from the Philippines.
Based on the information given to us, Renie was born blind. He is a resident of a village named Tarusan in the town of Bataraza in Palawan. The province of Palawan is a about a one-hour plane ride from the Philippines' capital region, Metro Manila.
Renie Entatano's guitar seems to be an extension of his body.
We don't know how Renie learned how to sing and play the guitar. However, based on what we saw and heard in a series of videos that have been uploaded on Facebook, he has a God-given talent that simply can't be ignored.
In this video he does an excellent cover of American singer Charlie Puth's 2016 hit "One Call Away."
Renie Entatano's voice is melodious and pitch perfect.
Like
on Facebook
In the rest of the videos, Renie does instrumental pieces with ease and flourish.
The collection of videos featuring Renie's performances was originally posted on December 23, 2016.
Look at his fingers go!
Like
on Facebook
Those who have watched the videos have expressed their admiration for Renie's talent and have pointed out that he deserves to be in the spotlight. Renie's talent easily cancels out the fact that he can't see. He has achieved something despite the disability that he was born with.
How did he get this good?
Like
on Facebook
We should all be inspired by Renie's indomitable spirit and his cheerful attitude. These are priceless qualities that will help us survive and triumph over the challenges that come our way. Sometimes, it really takes someone who has overcome a bigger challenge to remind us that we should not lose hope.
Here's another heartwarming song:
Like
on Facebook
He sang this Filipino song to express support for President Rodrigo Duterte.
Like
on Facebook
For many people, Renie isn't just a blind singer, he is a source of unlimited inspiration. The fact that he can sing pretty well is just a bonus, because it's really his spirit that pushes us to be better versions of ourselves.
Like & Share This Post
Heartwarming Moment Three Young Boys Help Their Dad Propose To His Girlfriend
The boys are clearly more excited than their dad!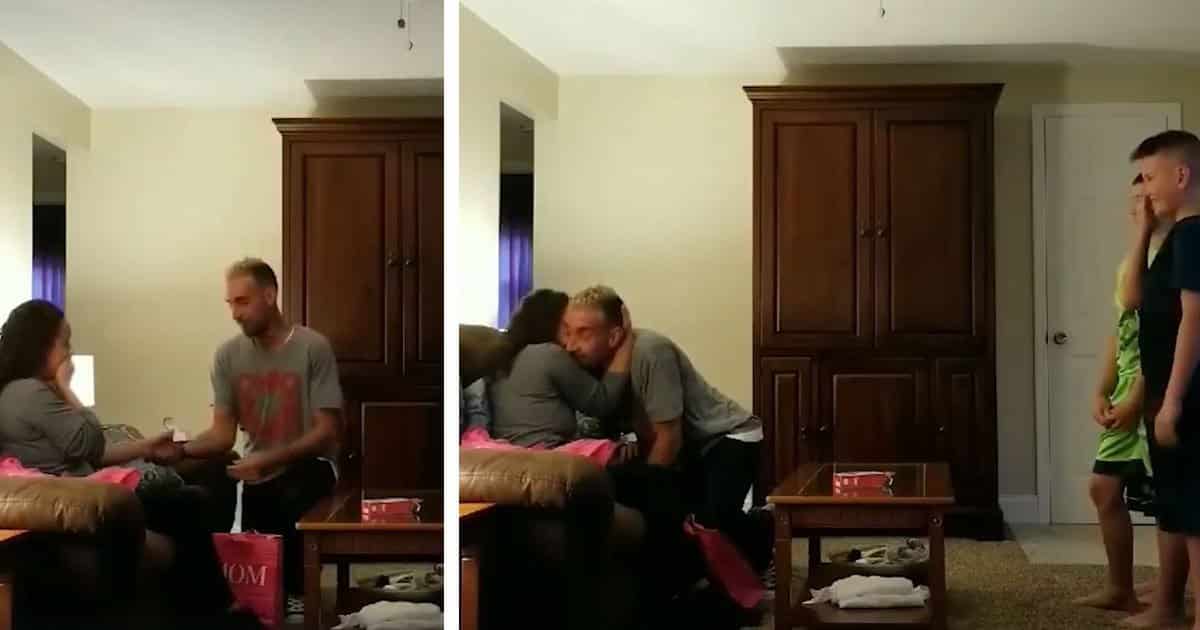 Wedding proposals should always be special and sweet. Over the years, we've seen a lot of wonderful ones on the internet – from that epic underwater proposal to the geeky Monopoly-themed one and to many others.
Needless to say, we all know an effective proposal requires a lot of thought and preparation. It is, however, a big mistake to think that you have to spend a fortune just to make it a memorable moment.
Just take it from this dad who managed to make his proposal simple yet extremely heartwarming.
One father asked his three sons to help him propose to his girlfriend – during her birthday!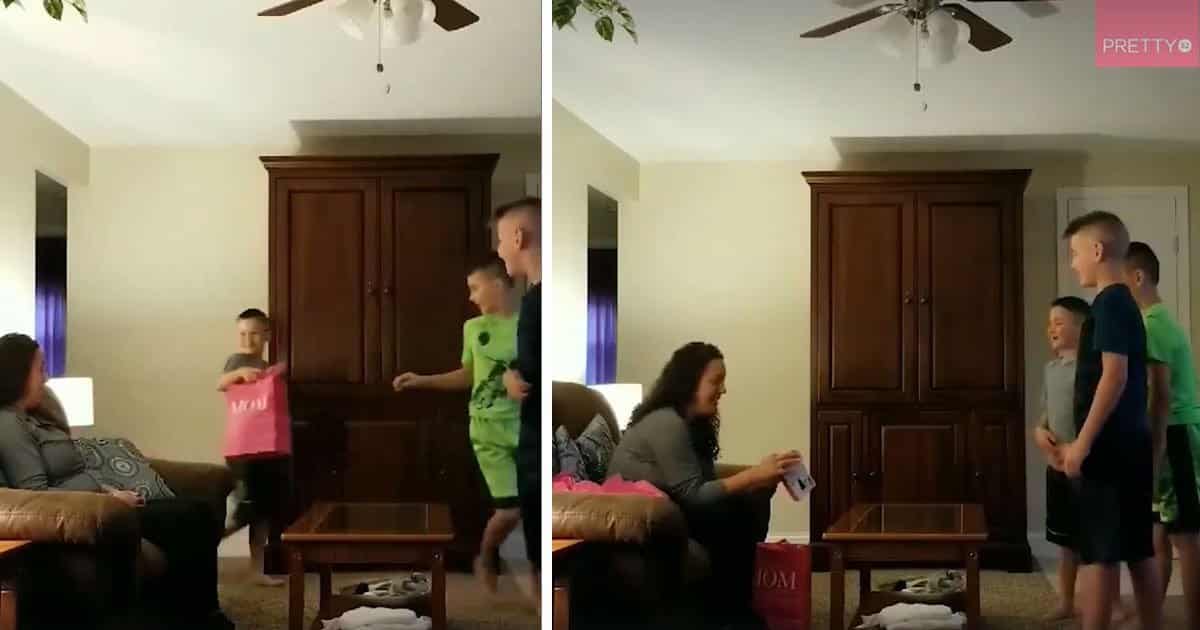 Shared online by Facebook page Pretty 52, we see the tender moment that three young boys surprised their dad's girlfriend with a birthday present. She initially thought the boys were probably pranking her or something but unknown to her, that gift would be a pretty life-changing one for all of them.
"We give you our daddy!"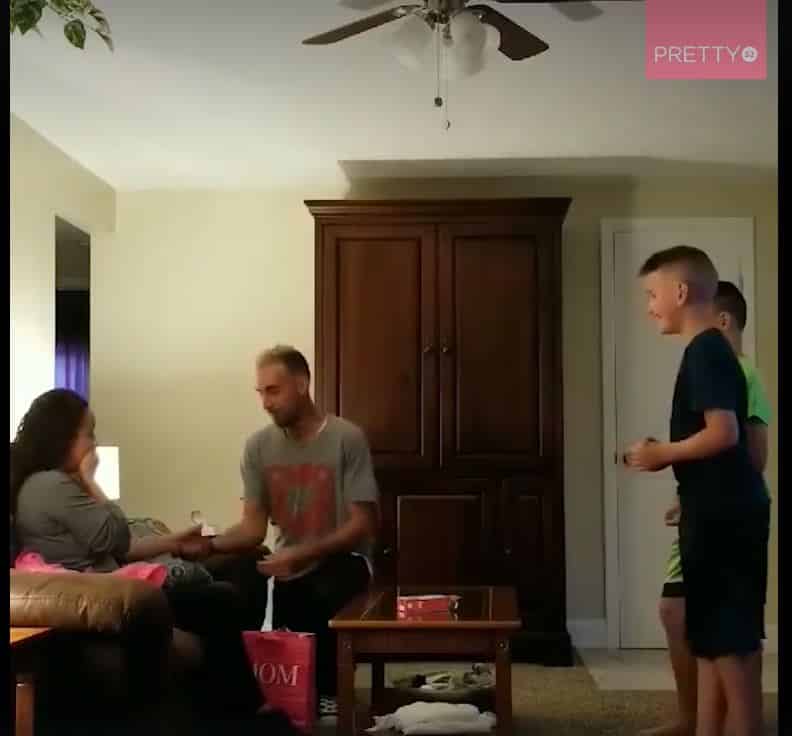 Everything was caught on film and the short clip eventually went viral. Netizens everywhere just loved what they saw and many even admitted that the video sent them to tears.
Watch the video here and see for yourself:
Several commenters took the time to share little details they've noticed while watching the clip.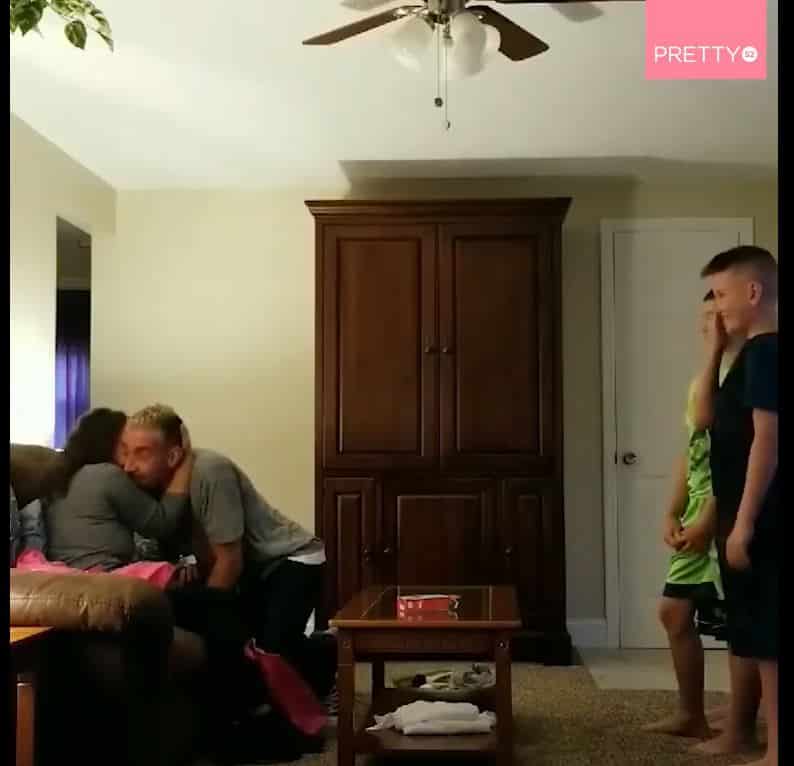 One netizen wrote:
"You know you're a boy mom when you have to calmly ask 'is like a bug gonna crawl out?!' As if it wouldn't surprise you."
Another commented:
"I love how the bag had 'mom' on it – she is clearly already everything to those boys! What a perfect proposal!"
Meanwhile, one woman shared:
"I'm in tears! The boys were emotional and played a huge role. So in love with this family. I hope they live happily ever after."
We are wishing and hoping for that as well. Congratulations Steve and Theresa!
Heartwarming Moment Dad Receives Unexpected Gift From 11-Year-Old Son
The. Best. Son. Ever.
As parents, it is our obligation to look after our children and make sure that they are happy. We buy them clothes, send them to the best schools, and, yes, give them stuff for their birthdays. But as time goes by, our children think of ways to reciprocate the love we give to them.
This is exactly what an 11-year-old did to his father. The lovely moment was caught on tape in which the father can be seen receiving a present from his son. And boy, he sure is excited to see what his kid bought him.
He is one happy father indeed.
Interestingly, the content of the box is what Mike Burr, the father, has always wanted. It should definitely be worth it, as the money spent on the item came from his son's savings. Most of the money came in the form of gifts that the kid received during his birthday.
Burr's son did not make the unwrapping easy, though. The item was hidden inside a number of boxes, all of which made the unwrapping quite exciting. And when the father thought he is about to open the last box, another one pops up.
The kid made sure that his dad will have a hard time unwrapping the gift.
The mother can be heard saying,
And Mike just so you know he saved up all his birthday money to buy you this. Every single penny."
When the last box is finally opened, Burr cannot believe what he sees. He even jokingly asked if his son really bought it. Perhaps he is in disbelief, as he did not expect his kid to give him such gift.
The boy saved up for three months just to buy his father a gift.
Mike shouted:
Are you kidding me?"
Of course, his son bought it. And there is no doubt the kid made his daddy happy on his birthday.
Check out the full video below and find out what gift Mike got!
Baby Born Twice Now Growing Healthy
This baby is a medical miracle!
Thanks to the advancement of medicine, the baby who was born twice is now growing healthy after a year. Baby Lynlee Hope's case is one for the books after she was born two times last year because of a rare congenital condition.
Surgeons removed Lynlee Hope from her mother's womb at 23 weeks and received a crucial operation after a sonogram showed that she has a massive tumor at the base of her spine. The tumor was as big as her head and doctors revealed that the baby may not make it in full term if the tumor is not removed.
Baby Lynlee Hope is now growing healthy after she was born twice last year.
The tumor, known as a sacrococcygeal teratoma, was diverting blood from the fetus, raising the risk of heart failure. It is a crucial condition that requires operation immediately.
When baby Lynlee Hope was rushed to Texas Children's Hospital in Houston, she had 50 percent chance to live as she will undergo a five-hour operation.
Surgeons worked hard in removing the tumor that endangered her life while she was still in the womb.
Baby Lynlee Hope was out of the womb for a full 20 minutes as surgeons removed the tumor. At that time, she weighed 1 pound, 3 ounces. Then, she was safely tucked inside her mother's womb until she reached full term. Three months later, Lynlee was born by cesarean section, weighing 5 pounds, 5 ounces.
Baby Lynlee Hope and her mom are thankful for this medical miracle.
Fast forward a year later, the toddler is now able to walk and run. Mom Margaret Boemer said,
"She loves to run and walk, which is a miracle itself. She is an amazing joy.

She can do whatever she puts her mind to. The sky's the limit."
Baby Lynlee Hope is indeed a medical miracle – and she gets to celebrate two birthdays a year.