32 Quirky Yet Thought-Provoking Drawings By Artist Nacho Diaz
This guy is good at finding humor in everyday objects.
What sets apart great art from terrible art? It could be many things but personally, I think what makes good artwork stand out is its ability to communicate to its intended audience. Whether it is a well-detailed painting or a simple comic strip, effective art can convey a message and even spark an emotion from its beholder.
This is exactly the reason why I became an instant fan of Nacho Diaz, an artist whose work we will showcase below. Based in Spain, Diaz has been making waves online mostly because of his funny illustrations.
In a Bored Panda feature, this talented guy has been described as someone who "enjoys putting everyday things into bizarre situations" thus, "perfectly creating humorous double entendres."
You'll have to see his stuff to understand what that means. But trust us on this – you'll never see a broccoli, a teabag, or a pinata the same way again once you get to experience Diaz' art.
Go check out his colorful, thought-provoking drawings below:
1. Global warming accurately depicted.
2. No love for broccoli.
3. Poor T-Rex!
4. We all know how this feels like.
5. The big difference.
6. Next!
7. The naughty teabag.
8. Not again!
9. Nasty piñata.
10. Formula for popularity.
11. Half empty vs hall full.
12. Relieved.
13. WTF!
14. The fatal hug.
15. Basically me every single day.
16. Puberty hit him hard.
17. What ghosts talk about when they share scary stories together…
18. A Halloween scene.
19. I got that reference.
20. Turn back!
21. How to be fab!
22. It's all fun and games until…
23. No one likes this dude.
24. Before and after going to the beach.
25. That annoying feeling!
26. You lose!
27. The loneliest browser ever.
28. Fit!
29. Caught in the act.
30. Monday fights back.
31. Indeed!
32. When coffee is life…
I don't know about you but I think this dude's drawings would look perfect as wall prints – or even as shirts!
In case you want to see more of Nacho Diaz' works, you can go check out his official website. Moreover, you may also follow him on social media via Instagram and Facebook.
Couple Replicates Bookshelf Design They Saw Online And It Looks Awesome
There is really nothing impossible when it comes to patience and creativity.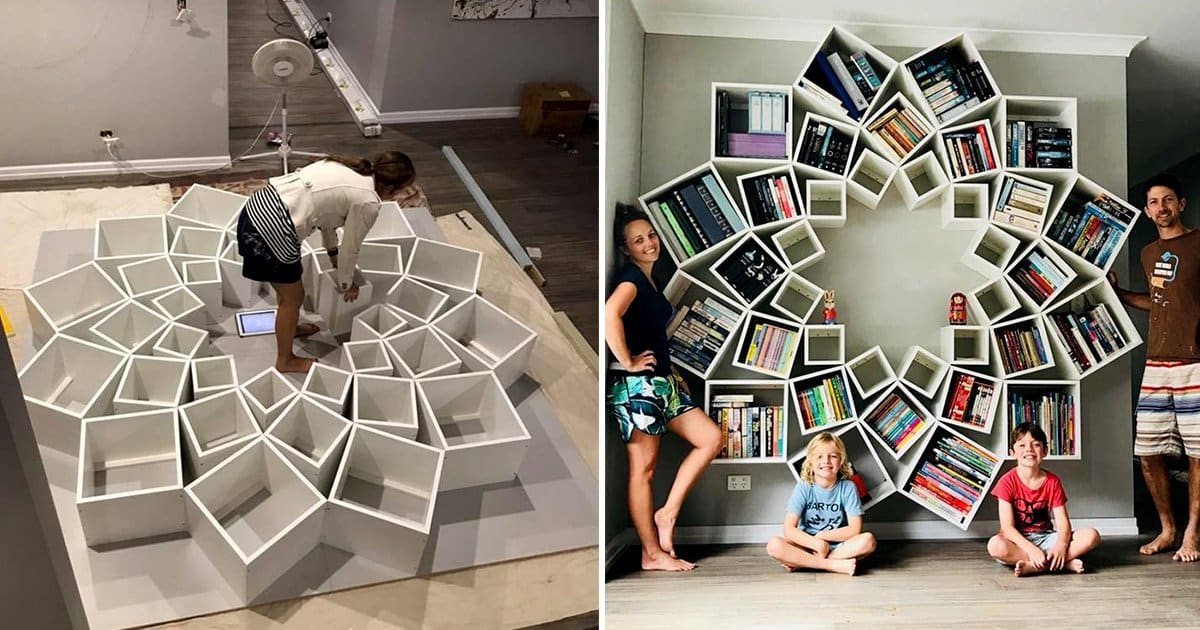 Like most of us, Jessica and Sinclair Breen have been interested in pictures posted on Pinterest. Both got easily hooked by the social media's inspiring photos that cover almost everything from design and fashion, to technology and photography. Apparently though, the couple decided to turn the inspiration to action.
Basically, the two found a picture of a bookshelf online. When Jessica showed it to Sinclair, the latter "almost had a heart attack." This is where everything started. The couple knew that they must give it a try.
After measuring the wall space, Jessica took the inspiring picture with her and showed it to a graphic arts teacher who worked at the same school as hers. With his help, they immediately understood what size panels to order and use. They spent around $900 just to get everything into place.
New Museum of Selfies to Open Soon in Los Angeles for $25 Per Ticket
We've reached the next level of human vanity.
As if we weren't seeing too much selfies on social media already, news tells us that, yes, a museum exclusively dedicated for selfies will be opening pretty soon. Is this the biggest proof of human vanity, so far? Well, maybe!
According to reports, the said museum will showcase selfie-inspired art along with the history of selfies. Of course, there will also be designated areas for museum-goers who want to take their own selfies during their visit.
The Museum of Selfies is scheduled to open in Los Angeles this January 2018.
Artist Illustrates What Loss Of Net Neutrality Looks Like – And It's Truly Disturbing!
The internet as we know it will never be the same without net neutrality.
Net neutrality has recently been a hot topic – for very valid reasons. Internet users in the United States are at a risk of losing it and many are understandably furious about it.
What is net neutrality anyway and why is it such a big deal these days? Read on and we'll give you more details about it plus we'll share with you a thought-provoking comic made by a talented illustrator.
The government wants to turn the internet into a profit-driven product.