Top 10 Largest Residential Houses in the World
Take a peek into the lap of luxury with these 10 mindblowing gigantic homes owned by the world's richest tycoons and celebrities!
When you have a lot of money, you'll definitely want to spend it on a house you can comfortably live in. Naturally, a lot of people equate comfort with size which is why giant, gaudy McMansions have become popular with the rich.
But today we're not just talking about the rich. We're talking about the ultra, super, spend-your-money-on-gold-plated-toilets rich – and these are their homes.
10. Hala Ranch, Aspen, Colorado
Size: 56,000 square feet
Owner: Hedge fund manager John Paulson, previously Saudi Prince Bandar bin Sultan
Price: $135 million
Features: 15 bedrooms, 27 bathrooms, reflection pools, sculpture gardens, fishing ponds, its own car wash, gas pumps, mechanic shop, heated horse stables, racquetball court, cross-country skiing trails, and its own sewer treatment plant.
9. The Manor, Los Angeles, California
Size: 56,500 square feet
Owner: Petra Ecclestone-Stunt, the billionaire daughter of Formula One CEO Bernie Ecclestone
Price: $150 million
Features: 7 bedrooms, grand double staircase similar to the one on Gone with the Wind
8. Maison de L'Amitie, Palm Beach, Florida
Size: 60,000 square feet
Owner: Dmitry Rybolovlev, a Russian billionaire, previously Donald Trump
Price: $95 million
Features: Gold and diamond fixtures in each part of the house
7. Xanadu 2.0, Medina, Washington
Size: 66,000 square feet
Owner: Bill Gates
Price: $123.54 million
Features: Tech friendly (guests are given pins that can adjust the lighting and temperature), built into its natural surroundings and uses tree canopies to reduce heat and cooling usage, man-made river with sand from the Caribbean, 2,100 square-foot library.
6. The Pensmore Mansion, Ozark Mountains of Highlandville, Missouri
Size:72,000 square feet
Owner: Steve Huff, entrepreneur and engineer
Features: Made with highly durable, sustainable, safe, and energy efficient material that can withstand nearly all man-made and natural disasters.
5. La Reverie, Palm Beach, Florida
Size: 84,626 square feet
Owner: Sydell Miller, co-founder of Matrix Essentials hair products company
Features: The largest home in Palm Beach Country, Florida. Used as a living space and a venue for charity balls and concerts.
4. Versailles, Windemere, Florida
Size: 90,000 square feet
Owner: David Siegel, the CEO of Westgate Resorts
Features: Still under construction. It has two movie theaters, an 8,000 square-foot master suite, 30 bathrooms, 15 bedrooms, 11 kitchens, 6 pools, and a 30-car underground garage.
3. Fairfield Pond, Hamptons
Size: 110,000 square feet
Owner: Ira Rennert, American investor and junk bond businessman
Price: $170 million
Features: The house is 66,000 square feet with 29 bedrooms, 39 bathrooms, a formal dining hall, basketball court, bowling alley, two tennis courts, two squash courts, and a hot tub worth $150,000.
2. Antilla, Mumbai, India
Size: 400,000 square feet
Owner: Mukesh Ambani, head of India-based petrochemical giant Reliance Industries and fifth richest man in the world
Price: $2 billion
Features: 550 feet high, 27 stories, with floors for different functions. 6 stories of parking lots; a living area with 9 elevators and several lounges; a ballroom with crystal chandeliers, LCD monitors, an entertainment stage, and embedded speakers; a bar area; swimming pool; yoga studio; ice room; 4-story open garden; wine room; movie theater; and the sleeping quarters of the family of 5.
1. Istana Nurul Iman Palace (The Palace of the Faith Light), Brunei
Size: 2.15 million square feet
Owner: Sultan of Brunei, Hassanal Bolkiah
Price: $1.4 billion
Features: 1,788 rooms, 257 bathrooms, 5 swimming pooks, a 110-car agarage, air conditioned stables for 200 polo ponies, a banquet hall, a mosque that can accomodate 1,500 people.
Designer: Leandro V. Locsin from Ayala International
Like & Share This Post
Creative Hospital Christmas Decors That Definitely Bring The Yuletide Cheer
Christmas at the hospital isn't so bad afterall!
Sure, a hospital may not be the first thing that pops into your head when you think of Christmas. Besides, most of us prefer to spend the holidays at home with our loved ones. However, Christmases at hospitals aren't probably as gloomy as we may imagine it to be.
Case in point, the compilation below shows us exactly how creative hospital workers can be during the yuletide season. Their DIY decorations are superbly awesome and pretty inventive at the same time!
Who would have thought that latex gloves can double as Christmas trees, right? Or that prescription bottles can be used for Christmas lights?
We're definitely impressed with their works and yep, just go scroll down below to see for yourself:
#1. Babies in Christmas stockings. Cuteness overload!
#2. Adding a little festivity in an otherwise empty wall.
#3. As we were telling you, latex gloves can actually become a Christmas tree.
#4. Santa's blood pack?
#5. Prescription bottles turned into Christmas lights.
#6. Hospital wreath!
#7. Kinda looks like a Christmas and Halloween décor in one.
#8. You don't even have to inflate the gloves.
#9. Festive pee jars.
#10. Don't forget to use it!
#11. DNA Christmas décor.
#12. Dental Hygiene Christmas tree.
#13. Urinals turned into a Christmas wreath.
#14. "There are some Christmas surprises we do not want." LOL!
#15. Nice door décor!
#16. Rudolph in the hospital.
#17. Perhaps a reminder to stay safe from accidents during the Christmas season?
#18. Check out Santa's beard!
#19. Hematology Christmas Tree.
#20. "I Work At A Hospital, Merry Christmas From Us Nurses!"
#21. Rudolph the red-nosed speculum.
#22. Another take of Rudolph.
#23. White medical Christmas tree.
#24. Ruby the Reindeer
#25. Just a few gloves and decors and your Christmas tree is good to go.
#26. Hospital staff indeed loves using the speculum as a Christmas décor.
#27. Another medical-themed Christmas tree.
#28. I like this version!
#29. Pharmacy wreath.
#30. Urine bottle reindeer.
#31. It is a white Christmas indeed!
#32. That cat is a nice touch.
#33. 12 Days of Nursing Christmas.
#34. A radiographer's Christmas.
#35. Holiday at the hospital ain't so bad.
#36. ICU Christmas.
9 Items You Should Never, Ever Place in a Microwave
Because not everything can stand in the heat.
The microwave is one of the most used and important equipment in every household. It is a blessing especially to those who are always on the go. Apparently though, this device is often misused. Some people, who just love to put anything on it, do not even realize the potential harm it does.
Below are things that you, in one way or another, should not put in the microwave. Keep them in mind!
#9. Fruits
Fruits like bananas and apples have no place in the microwave. They just lose their texture and taste. Grapes, in particular, will explode as well as other dried fruits such as prunes and raisins.
#8. Take-Out Boxes
Sure, these boxes are quite convenient but do not make the mistake of putting them in a microwave. Otherwise, they will be caught in a fire and will only damage the equipment.
#7. Aluminum Foil
Unfortunately, almost everyone who owns this appliance is fond of putting aluminum foil inside. Remember this: Any metallic or folic item will nuke your equipment. It is plain and simple really: No metals allowed.
#6. Plastic
This is a no-brainer but 95 percent of heated plastics will only release chemical fumes. Although some are marked with "microwave safe," there are those that you need to avoid. Always check the label.
#5. Eggs
Putting an egg inside a microwave will produce a lot of steam underneath the shell, thanks to the rapid heat. And since it has no way of releasing, it will eventually explode. Luckily for you, it will not necessarily destroy the equipment. However, the clean-up task will be quite nasty.
#4. Travel Mugs
It holds true that most travel mugs are meant to be placed in a microwave. But then again, they work the same as the plastic ones mentioned above. So, be sure to only use travel mugs with "microwave safe" label.

#3. Frozen Meat
If you are to cook a frozen meat, microwaving it is not the best way to go. Doing so will only cook the meat unevenly, and that is something you do not want to happen. The outside may look cooked, but the inside is actually not.
#2. Old Mugs and Plates
Some people have the habit of microwaving their old mugs and plates. Truth is, they do not actually belong there. They were not made to take the heating. In fact, plates made around the 1960s are likely to produce radiation and might even be glazed with lead.
#1. Brown Paper Bags
A paper bag seems harmless, but once it is placed inside a microwave it can become unsanitary. It tends to release toxic fumes that are (you guessed it!) bad for your health.
14 Awesome Survival Tips That Can Help You One Day
I never knew #10 is possible.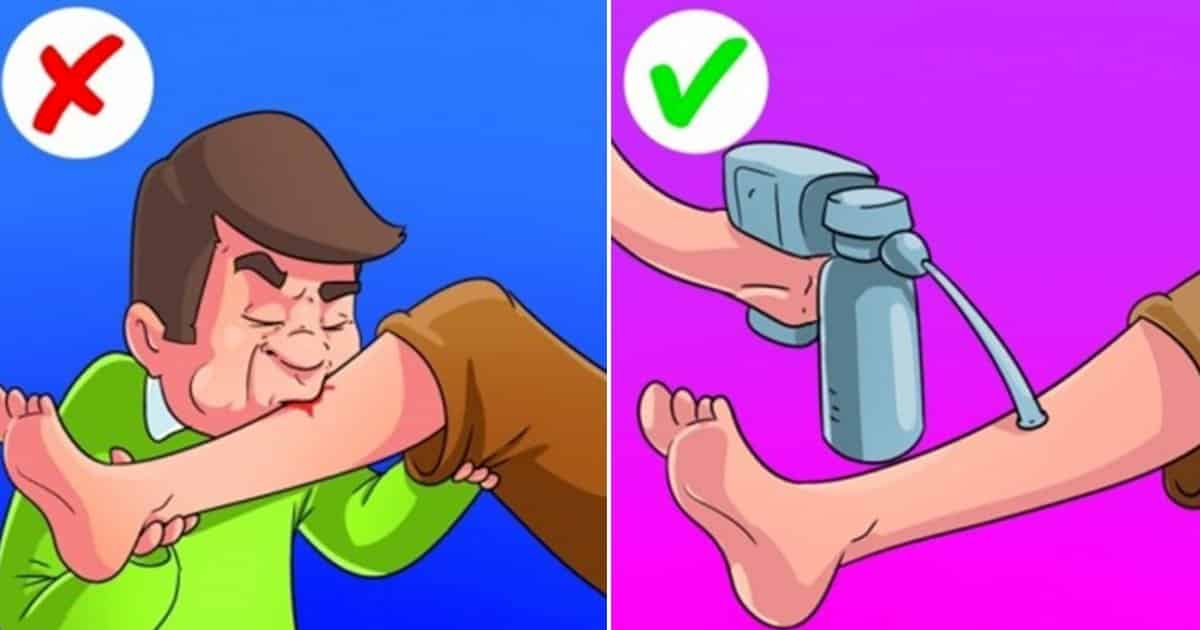 Even when we were kids, we were already taught how to survive in life. For instance, we underwent fire and earthquake drills, so we would know where to go when such catastrophe happens. We were taught to be prepared – to be always prepared.
With how dangerous life has become these days, we thought it would be best to share with you some incredible survival tips. And we are pretty sure they will become very helpful to you one day. They are designed to enable you to make split-decisions even in an emergency situation. Check them out!
#1. Stopping a Car When the Brakes Fail
When this happens, make sure to still pump the brake pedal – fast and hard – to build up possible brake fluid pressure. However, if this does not help at all, the best thing to do is to use the parking brake. You can also try to scrape your vehicle in a guardrail or wall to slow it down. Although the last option will definitely ruin your car, it is still going to save your life.
#2. How to Start a Fire With No Resources
The proven way to generate fire is by using batteries and two small pieces of foil, though you can replace the latter with a gum wrapper. Just place each foil on the ends of the battery to heat up and burn. Also, try using wrappers from corn chips like Doritos. They are surprisingly highly flammable.
#3. Emergency Number
Interestingly, most cell phones have the capability of dialing a local emergency number. And believe it or not, you can do this even without a SIM card or if you are in an area where there is no signal. How? Basically, your device attempts to dial an emergency number by sending an electronic lifeline. This process is called "digital handshake."
#4. DIY Water Purifier
Have you tried hiking or going to places where water is scarce or just plain dirty? Apparently, there is a trick that can help you big time. Just by using coarse sand, gravel, fine sand, charcoal, and an empty bottle you can easily create your own water purifier. As the water flows through these different layers, it gets filtered.
#5. Sending an Emergency Signal
If you want to achieve the best fire signal, then you must make sure there is enough smoke. This can be achieved by using fresh pine and spruce leaves. If not, you can always resort to wet leaves from trees and other rubber materials.
#6. Fishing With a Can Top
Fishing is a must especially when you are looking for ways to get food. To make a fishing hook, just use the little tag found on the top of your soda or beer can. Trust us, it is the perfect shape for a fishing hook.
#7. Avoiding Venomous and Deadly Insects
A regular spider might not be a huge burden but a poisonous one is. Keep in mind that this type of creatures has venoms poisonous enough to create severe allergic reactions. It is important that you learn to distinguish which ones are poisonous and which ones are not.
#8. Escaping Riptide
The first and foremost thing to do when stuck in a riptide is to never panic. Do not, by all means, fight or swim against it. It will only exhaust you. The best idea is to swim parallel to the shore and just go with the flow. At some point, the rip current will dissipate on itself.

#9. Keeping Warm Using Campfire Rocks
If you are to build a campfire, always make sure there are rocks around it. These will control the fire. More importantly, they can be used to keep you warm when the fire dies out.
#10. Alternative Uses of Cat Litter
Do not throw those cat litter, as they can be used to get your car out of a mud or snow. The litter can be utilized for extra traction. Simply place them under the tires.
#11. Collecting Waters From Trees
Water acquired from trees is actually clean. It does not even require some method of filtering. To transpire it, just tie a plastic bag over a branch. Make sure that you cover plenty of leaves.
#12. Never Suck Out Venom
Contrary to popular belief, it is best for you not to suck out venom from a bite. It is only a bad idea, as it can help spread the venom.
#13. HELP Position in Cold Waters
This one here is where the so-called Heat Escape Lessening Pressure (HELP) comes in. Just cross your arms and make sure to help them tight against your chest (or you can do so on your sides). From there, put your legs up and press your thighs together. Remain still in this position in order not to lose body heat.
#14. Opening Any Lock
There is various stuff that you can use to pick the lock. These include butter knife, flathead screwdriver, or anything that is flat enough. Oh, a bobby pin is perfect for this one.