The 'Halo Brow' Is The Latest Beauty Trend And People Are Confused
Yay or nay?
The eyebrow obsession for beauty enthusiasts is far from over. After welcoming 2018 with the fishtail brows, people are switching things up with what is called the halo brow. As the name suggests, the latest beauty look features a unibrow in the shape of a halo.
The halo brow is the the brainchild of 16-year-old Hannah Lyne (aka @hannahdoesmakeupp on Instagram). The British teen from Huddersfield, U.K. used NYX Cosmetics' Tame and Frame Brow Pomade in "Espresso" to form the halo brow, and she added highlighter on her cheekbones, the inner corner of her eyes, and brow bone for an extra glow.
The new look was actually inspired by the recently popular fishtail brows.
In an interview with POPSUGAR, Lyne said:
"I was having a conversation with a friend trying to come up with a new idea for a look, and all of a sudden it came to me that I should connect my brow tails. This look was influenced by fishtail brows; seeing the way my brow flicked upwards inspired the idea of just carrying the brow on until it met in the middle."
Some online users found the new look strangely beautiful.
Since posting her newly created eyebrow look on Instagram, it has garnered a lot of attention, likes, and comments. Some users found the halo brow strange, while some defended Lyne from her bashers.
One commenter said:
"Nope. Stop it. That's hideous and just a strange unibrow…." – @jess_familywoman
While another one remarked:
"16 aswell, also why are people getting so triggered? I'm pretty sure this is just a joke, is not like this is an everyday look or anything smh. Lighten up ppl🙄" – @ayeshasvanity
The halo brow hasn't taken off quite yet.
It's not clear whether this new way of doing brows is going to become a hit. But a few people on Instagram have tried the look. Perhaps we'll just have to wait and see if this new kind of unibrow will be the latest beauty trend.
Related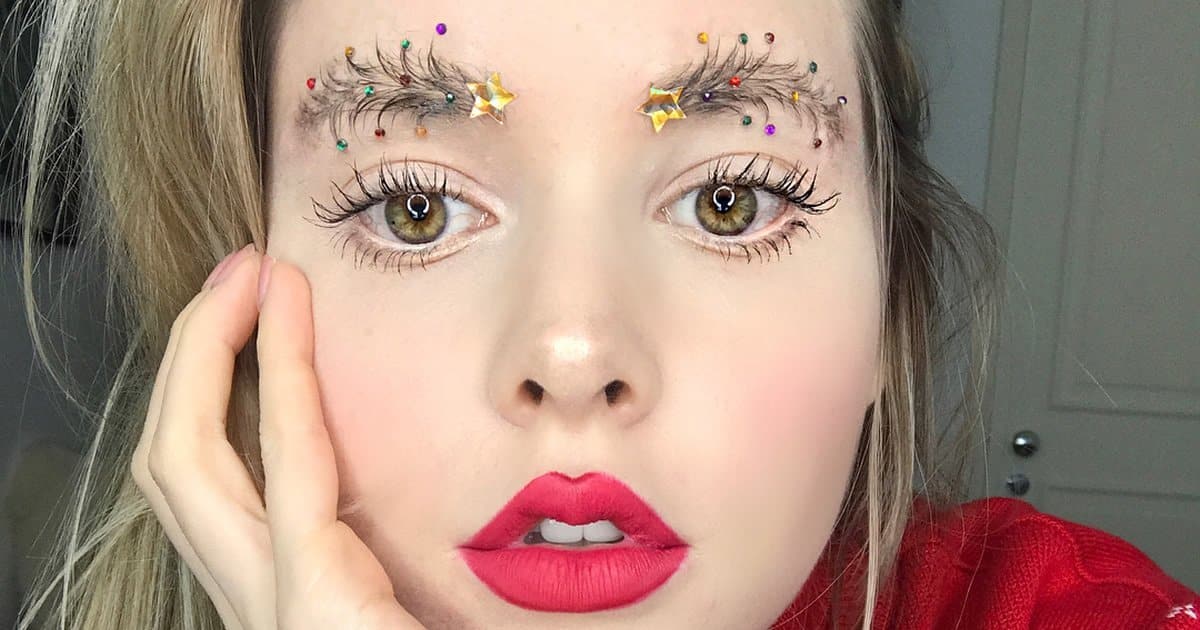 Early Riser Women Have Less Chance of Developing Depression Than Late Risers, Study Claims
It's time to wake up early.
It's not easy to wake up early if you sleep late at night. However, a new study finds that women who get up early in the morning are less likely to get depressed than those who wake up late.
The study, conducted by the scientists at the University of Colorado Boulder, and Brigham and Women's Hospital in Boston, looked into over 32,000 women with an average age of 55. Researchers found out that those who are not morning persons are more susceptible to depression. The findings of this study were published in the Journal of Psychiatric Research.
...
A Photographer's Chilling Capture Of Ukraine's Serial Killers' Gazes
I won't mind staying out of their line of sight, please.
Independent photographer David Tesinsky, known for depicting controversial and unusual social topics through his photo series, embarked on another evocative photo-documentary, this time, in a prison in Kharkiv, east of Ukraine. Those who have seen his latest photos describe the portraits chilling.
Tesinsky, writing in an article entitled "I've Photographed the Gaze of Serial Killers In A Prison In Ukraine", shared that the Kharkiv jail had more leeway for those incarcerated. The penitentiary for the worst criminals in Ukraine allows weddings of prisoners inside its walls, provides TV for each convict and offers a room for rent for those who want private time with their lovers.
Together with Ukrainian journalist Oleksiy Naumenko, Tesinsky photographs the looks of evil. Locked behind bars, his camera captures the faces of men and women convicted of killing strangers, policemen and family members - one of them guilty of murdering 29 people.
Check this gallery and gaze into the eyes of these killers, all of whom are serving life sentences.
...
Tibetan Girl's Unconventional Beauty Shakes the Modeling World
Her look is so different, "out of this world" is a more fitting description for her.
Right now, when you say "supermodel," you immediately think of Kendall Jenner or the Hadid sisters, Gigi and Bella. They may differ when it comes to looks, but they are still considered conventional by modeling standards. Now a new model comes in and her look is so different, and some say "out of this world" is a more fitting description for her.
Tsunaina, who hails from Tibet and is currently living in the UK, has beautiful slanted eyes, gorgeous pouty lips, chiseled jawline, and lots of beauty marks scattered all over her lower face.
...