Dad Creates Epic Artwork on Lunch Bags to Help Son Make Friends
The best dad ever!
When we were still kids, parents would make sure that we had everything we needed before going to school – one of which was our lunch bags. Dominick, a dad hailing from California, is among those parents who take pride in preparing lunch for their kids. But mind you, he does it in a very different way.
For over 4 years, Dominick has been drawing on his son's brown paper lunch bags. And mind you, his drawings are a work of art. According to him, he has managed to decorate more or less 550 bags. It is really amazing how passionate and determined he is.
Although his son is already in middle school, Dominick still continues to prepare and decorate his lunch bags. There was even a time when he decorated all lunch bags for his son's soccer games when it was their turn to prepare snacks. For other people, breakfast might be the most important meal of a day but for Dominick, it is, without a doubt, lunch!
Check out the drawings below and be inspired by his creativity!
For more than 4 years, Dominick has been decorating his son's lunch bags when he takes him to school.
He has managed to decorate around 550 bags.
And yes, he is not slowing down anytime soon.
Dominick admits that his son is an introvert and is shy about making new friends.
This gave him the idea to draw stuff on lunch bags to help the boy break the ice.
He believes that the artworks should somehow get conversations going.
And voila, it worked!
Kids would line up and ask him who did the artwork.
If the art was about a superhero, they would gather and talk about it.
Or if it was animal of sorts, they would debate which one is the coolest and toughest.
The kid loved the artwork so much that he would constantly remind his dad about it.
In some ways, the drawings made his son the center of attraction at school.
Dominick also draws real-life figures, depending on the current events, lessons, etc.
The two obviously love superheroes the most.
On average, each drawing would take at least an hour to be completed.
Although he tries not to take up so much time, he makes sure that the final piece is quite satisfying.
He uses paints, markers, and pencils, among others.
Even though his son is already in middle school, he still decorates lunch bags.
Dominick said that his efforts finally paid off when his son learned to interact with other students.
Awesome dad, indeed!
Check out more of Dominick's lunch bag drawings on his official Instagram page. Let us know what you think about his artwork in the comments below!
32 Quirky Yet Thought-Provoking Drawings By Artist Nacho Diaz
This guy is good at finding humor in everyday objects.
What sets apart great art from terrible art? It could be many things but personally, I think what makes good artwork stand out is its ability to communicate to its intended audience. Whether it is a well-detailed painting or a simple comic strip, effective art can convey a message and even spark an emotion from its beholder.
This is exactly the reason why I became an instant fan of Nacho Diaz, an artist whose work we will showcase below. Based in Spain, Diaz has been making waves online mostly because of his funny illustrations.
In a Bored Panda feature, this talented guy has been described as someone who "enjoys putting everyday things into bizarre situations" thus, "perfectly creating humorous double entendres."
Couple Replicates Bookshelf Design They Saw Online And It Looks Awesome
There is really nothing impossible when it comes to patience and creativity.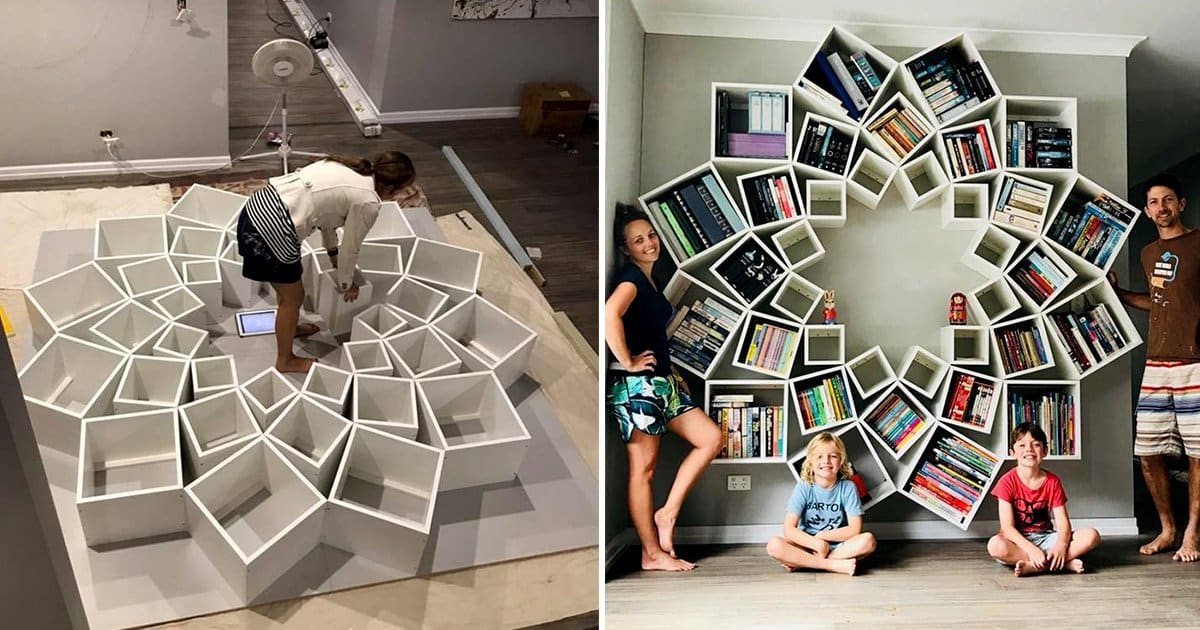 Like most of us, Jessica and Sinclair Breen have been interested in pictures posted on Pinterest. Both got easily hooked by the social media's inspiring photos that cover almost everything from design and fashion, to technology and photography. Apparently though, the couple decided to turn the inspiration to action.
Basically, the two found a picture of a bookshelf online. When Jessica showed it to Sinclair, the latter "almost had a heart attack." This is where everything started. The couple knew that they must give it a try.
After measuring the wall space, Jessica took the inspiring picture with her and showed it to a graphic arts teacher who worked at the same school as hers. With his help, they immediately understood what size panels to order and use. They spent around $900 just to get everything into place.
New Museum of Selfies to Open Soon in Los Angeles for $25 Per Ticket
We've reached the next level of human vanity.
As if we weren't seeing too much selfies on social media already, news tells us that, yes, a museum exclusively dedicated for selfies will be opening pretty soon. Is this the biggest proof of human vanity, so far? Well, maybe!
According to reports, the said museum will showcase selfie-inspired art along with the history of selfies. Of course, there will also be designated areas for museum-goers who want to take their own selfies during their visit.
The Museum of Selfies is scheduled to open in Los Angeles this January 2018.