Transgender Father Breastfeeds His Kids
See how he did it!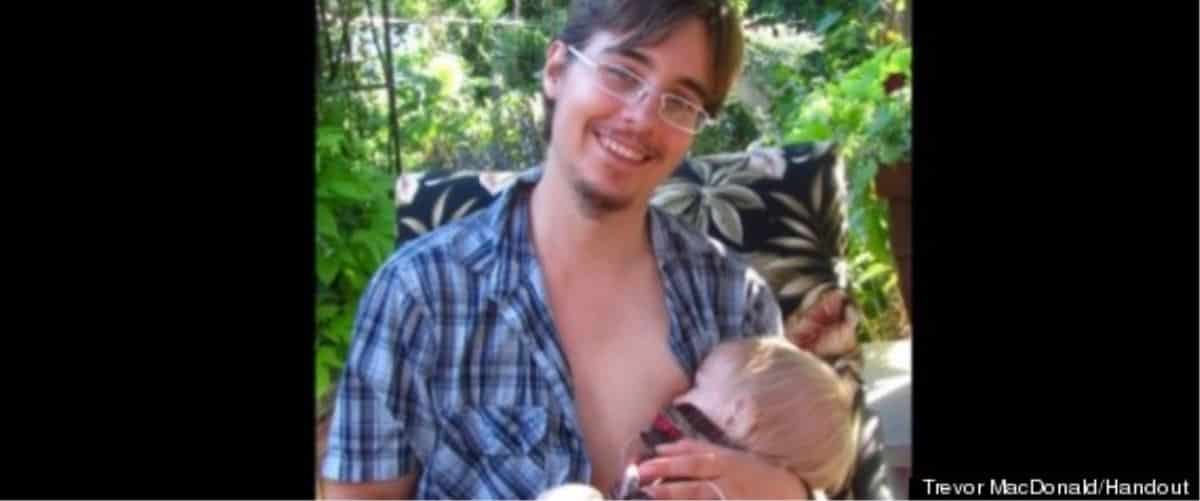 We've heard a lot of mothers talking about their tough breastfeeding journeys, but this story is one for the books. Trevor MacDonald, a female-to-male transgender man, has overcame the difficulties of breastfeeding thanks to a special tube and donated milk.
As part of his transition, MacDonald earlier had his breasts removed. Since he had plans of having a child of his own in the future, he chose not to have a "bottom operation". After his transition, the Winnipeg resident eventually married the love of his life Ian.
While MacDonald was taking a break from his testosterone therapy, the couple was blessed with a baby boy. They named him Jacob.
A Transdad's Breastfeeding Journey
Photo credit: Huffington Post
After giving birth, the transgender father was surprised to discover he was capable of producing a small amount of milk. Initially set to give formula milk to Jacob, MacDonald opted to breastfeed his son. However, MacDonald had one problem. Because of his previous surgery, there wasn't enough breast tissue for Jacob to latch on.

With the help of La Leche League, an international nonprofit organisation dedicated for breastfeeding women, MacDonald learned to breastfeed Jacob using a supplemental nursing system or SNS.
SNS, which is a special tube connected to the nipple, stimulated MacDonald's body to produce his own milk.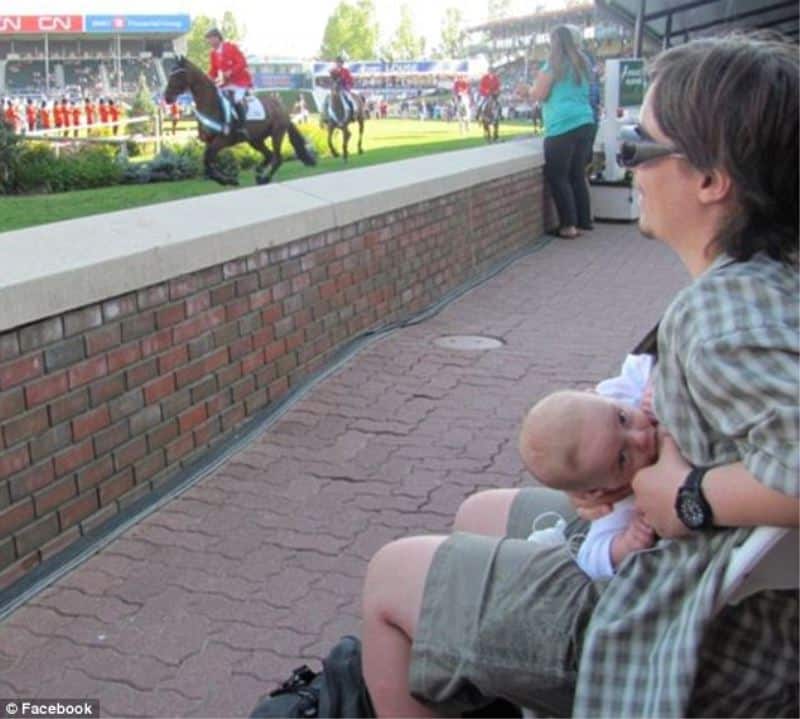 Photo credit: Mail Online
"This way, the baby gets both the milk that the parent can produce and supplement from the bottle at once," he explained in his blog shared in Huffington Post. The couple was also able to give Jacob breastmilk exclusively as they asked for donated milk from a Facebook group called Human Milk 4 Human Babies.
MacDonald also eventually gave birth to their second baby and he plans on breastfeeding again.
"Nursing has taken on dimensions that I never imagined would be possible for us."
To learn more about trans parents and breastfeeding, visit MacDonald's blog Milk Junkies.
Professional Russian Boxer Beats Up Thugs Who Harassed His Wife
This is what happens when perverts harassed the wrong girl.
Three perverts paid the painful price for harassing a professional boxer's wife when they tried to drag her into a VIP room of a Russian nightclub. Unfortunately for them, the woman's husband is none other than Nicolai Vlasenko, a 29-year-old professional boxer and martial arts expert.
Vlasenko returned from the toilet to find the thugs harassing his wife, trying to get her to join them at their table - of course he wasn't pleased to see his wife being treated that way.
Vlasenko did not wish to fight any of the assailants until one of them suggested to continue the discussion outside.
Rude Men Disrespects Memorial. This Soldier Puts Them In Their Place!
Disrespectful men started laughing and murmuring during a military memorial, this brave soldier had enough and silenced the crowd.
Looks like nothing is solemn anymore, especially at public gatherings. Nothing makes me cringe more than when I'm at a ceremony and during the national anthem, people are just so disrespectful.
So when a crowd of rude, disrespectful men started laughing and murmuring during a military memorial, this brave soldier at the Tomb of the Unknown Soldier at Arlington National Cemetery silenced the crowd and demanded respect. The Tomb of the Unknowns is a monument dedicated to American service members who have died without their remains being identified.
"It is requested that everyone maintains a level of silence and respect," he declares in a firm voice, as he stops in stance with his rifle out front. The crowd was silenced immediately!
Instead of Scissors, Badass HairStylist Uses Katana to Cut His Customers' Hair
His technique is definitely NOT for the faint of heart.
Getting a haircut doesn't typically include the possibility of having your head chopped off, but we imagine that fear is always imminent for the people who get their hair styled by Vietnamese hairstylist Nguyen Hoang Hung.
Instead of using the traditional sharpened scissors most hairstylists use, Hung's tool of choice is a lethal weapon - the Japanese samurai sword. Yes, a sword. He says the light touch he uses allows him to create a feathered, layered look that is otherwise impossible to achieve.
Hung was part of a game show several years ago, where he was required to use unconventional techniques to cut hair. He once had to cut hair with a chainsaw... what the?! So, once the show was over he attempted to cut hair using a katana. He now uses a Wakizashi, a razor-sharp Samurai sword which is typically used to fighting in close quarters. And after he mastered this technique, he took to the salons and hasn't gone back to typical scissors yet!