29 Funny Yet Creative Solutions to Everyday Problems
If it works, then it is not stupid!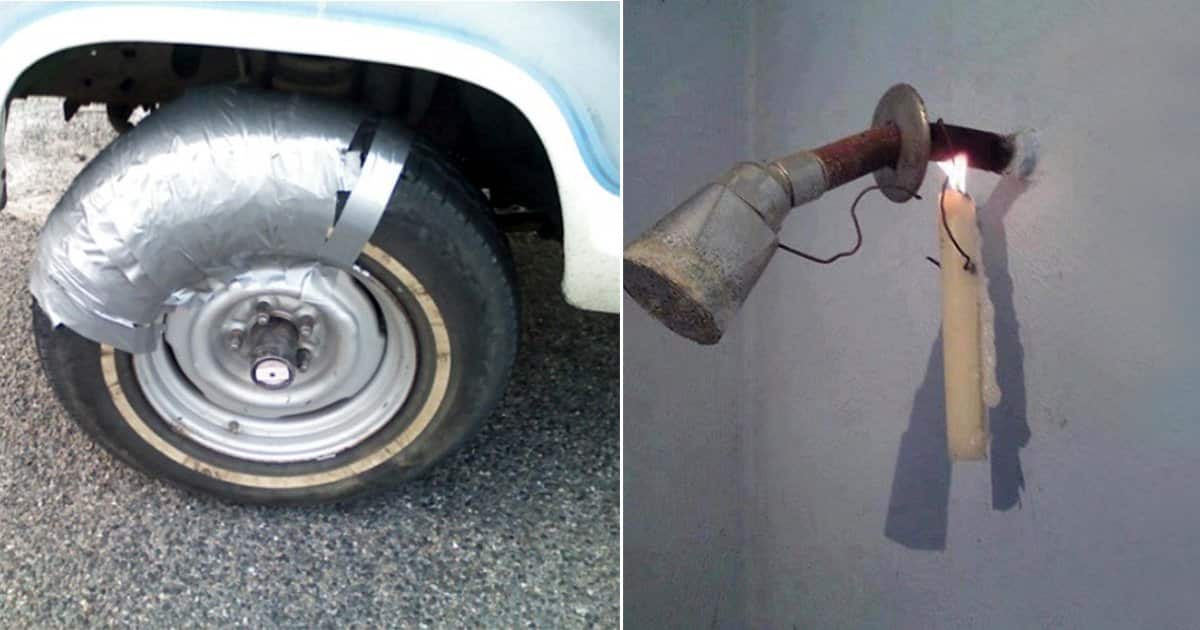 I think we can all agree that "desperate times call for desperate measures." Sometimes, we come to a point in our lives where we just have to be creative and practical in dealing with our problems. They may not be the best of solutions, but they're still important to do in one way or another.
This compilation is exactly what it means for the aforementioned quote. And if you think "tape is the only solution to all," then you are right. Without further ado, here are the very people who resolved things using their wit.
#1. For starters…
#2. I got to admit, this is genius.
#3. Convertible car you say?
#4. Well… well… well…
#5. Just making things easier for the mailman.
#6. Technology at its… nevermind.
#7. Who says you need a microwave?
#8. If it works, then it is not stupid.
#9. Want a new way to shower?
#10. Let's see if thieves can conquer this.
#11. Tape just fixes everything, doesn't it?
#12. Nah, who cares about perfection.
#13. Tape everywhere.
#14. At least, there is an art.
#15. Only for the special guest.
#16. Yup, it is safe and it works.
#17. This is sick, though!
#18. OMG I cannot stop laughing. LOL
#19. Again, if it works, it is not stupid.
#20. You just have to be witty.
#21. No need to hold it, brother.
#22. Here goes the tape again.
#23. They must certainly have a good reason for doing this.
#24. Is the heater working, Susan?
#25. Just imagine the possibilities.
#26. You know who.
#27. I.T. people really know their way around things.
#28. Yup.
#29. Want to know the best way to eat Pringles?
So, what do you think about this compilation? We bet you tried them once, twice, or even more in your life. Let us know what you think in the comments below!
16 Times Stephen Hawking Made Us Laugh While Teaching About the Universe
Many knew him for his intelligence, but Stephen Hawking was also famous for his great sense of humor.
It cannot be denied that the late Stephen Hawking was among the greatest and most intelligent individuals in this world. While we still mourn the loss of an incredible scientist, perhaps it is only right to remember how significant he was. And what better way to do that than highlighting his humorous side!
Yes, that is right – Stephen's humor was as great as his intelligence. This was even clearly stated in a documentary called "Stephen Hawking: A Brief History of Mine." According to him, humor will always have a major role in his life. Why exactly? Well, that is because it helped him overcome the struggle of degenerative motor neuron disease, a condition he was first diagnosed in 1963.
...
The High Heel Brow Is the Newest Thing to Raise Eyebrows on Instagram
The creator of the odd eyebrow look was trying to make a statement.
You've heard of the fishtail brows, the squiggly brows, the halo brow, and all the other bizarre eyebrow looks that have been circulating Instagram. Well, there's a new one for you to judge.
The high heel brow no doubt looks odd. SkyzEditz on Instagram, real name Stefan Oskys, from London, is responsible for the latest eyebrow look. The 19-year-old digital marketing executive and former art school student is known for editing existing photos of bloggers and celebrities to apply different beauty trends on them.
...
Zoos Are Posting Hilarious Amazon-Style Reviews of Their Animals on Twitter
Other animal lovers got in on the action, too.
The Twitter accounts of several zoos recently went viral after they started posting funny Amazon-style reviews of their animals. Using the hashtag #rateaspecies, zoos, zookeepers, scientists, academics, and other animal lovers shared their hilarious thoughts on their animals with the rest of the Twitterverse.
Some animals received five stars along with glowing reviews, while others weren't as lucky and got some scathing comments. The #rateaspecies movement on Twitter has provided us with much-needed entertainment. See just some of the reviews below.
...