Breathtaking Photos Show How Famous Cities Have Changed Over The Past Decades
Seeing how much the world has changed in the last decades will totally blow your mind!
It is amazing to think about how seeing the places now, we are so unaware of all that they have been through and take it all for granted. Every skyscraper close to the clouds and the bridges that make us able to get connected to other places that people found it difficult to reach before. Every place has a story and a photograph can, as they say, say a thousand words.
Have you ever wondered how all the famous cities in the world ever looked like before becoming the breathtaking places that they are now?
Here are some of the famous cities all over the world and how they looked like decades before vs. now:
Dubai,United Arab Emirates
Witness the rapid growth of the Emirates through these pictures. It was not long before lights filled the air when the night falls in Dubai.
Dubai, United Arab Emirates
Shenzen, China
How the world's most populous state looked like back in the year 1964.
Abu Dhabi, United Arab Emirates
The capital of the United Arab Emirates and the second most populous city next to Dubai's amazing evolution.
London, The Great Britain
The 21st-century city with history stretching far back to the Roman times.
Seoul, South Korea
The city that once looked simple has now turned into a widespread metropolis of futuristic skyscrapers where its pop culture meet its own unique culture of temples and palaces.
Istanbul, Turkey
The old city that was, for centuries, the site of chariot races, and Egyptian obelisks remain reflecting the cultural influences of the many empires that were once governed them.
Tokyo, Japan
The fast-paced capital and also the most populous city of Japan with the right mix of hyper-modern and traditional cultures. This city that seemed to be a vast of empty land is now home to countless neon-lit skyscrapers.
Fortaleza, Brazil
The state capital well-known for its beaches and how it looked before having covered in enormous buildings.
Rio De Janeiro, Brazil
The municipality before its symbol 38m Christ the Redeemer statue atop Mt. Corcovado was built.
Melbourne, Australia
Sydney, Australia
The country, and continent, surrounded by the Indian and Pacific oceans known for the Great Barrier Reef.
Toronto, Canada
The most populous city in Canada in two pictures taken 86 years before and most recently before its famous CN Tower was built.
Jakarta, Indonesia
Indonesia's capital, with historic mix of cultures – Javanese, Malay, Chinese, Arab, Indian and European – that has influenced its architecture, language and cuisine.
Chicago, United States of America
America's largest city famed for its bold architecture, it has a skyline bristling with skyscrapers.
San Franciso, USA
How the city of San Francisco looked like from a century and a decade before.
New York, USA
The fast-paced concrete jungle , globally influential center of art, culture, fashion and finance.
Singapore, Republic of Singapore
The world's only island city-state back in 2000 and now.
Just think of all the history behind every monuments and skyscrapers that were built.
Like & Share This Post
Walt Disney Releases First Images Of Its New Toy Story Land
Kids and adults have a new theme park to visit in California and this time it is based on Walt Disney's Tory Story.
Walt Disney has been creating movies that feed the imagination of kids from all over the world. From its oldest Mickey Mouse cartoons to the Disney princesses to real-life inspired characters, the biggest animated movie maker indeed produced a whole new world that even adults fancy dearly.
And Disney is not that selfish to just let you see a magical world on small and big screens. It created a live replica of its fantasy land to let its fans have a first-hand experience all of their favorite characters.
The Disney World is set to open another theme park that will launch mid-next year.
So after the Disneyland installed theme parks in different cities as Tokyo, Hong Kong, California, Paris and soon in Shanghai, the company will soon launch another attraction revolving around the world of the toys that come to life, Toy Story. People of all ages should now save a buck a day to get the tickets to meet and greet Andy and his toys: Sheriff Woody, Buzz Lightyear, Rex, Mr. and Mrs. Potato, Slinky Dog, Rex and the Aliens.
A theme park based on Toy Story located in California is about to finish its construction.
The Walt Disney World is about to open its Toy Story Land in 2018 and the first images of the theme park are absolutely incredible. The company describes the park, which will take another spot in California, as a "colourful landscape" installed with "giant building blocks and game board pieces," and will let guests immerse in an experience "straight out of Andy's vivid imagination."
The park will feature several rides with the rollercoaster as its main attraction.
According to Disney's description of the park, the buildings they created were all designed to look like huge objects, making guests feel like they have been shrunk to small toys. Of course, all of your beloved Toy Story characters will be there to welcome you and accompany you as you stroll around the area.
And when there's an amusement park, there will definitely be the king of all rides, the rollercoaster! The Toy Story Land's main attraction will be the Slinky Dog Dash rollercoaster, where guests will sit in a carriage-like ride as it traverses a whole course of loops, curves, twists and drops. Disney assures park-goers to get a hell of a ride saying:
"Make no mistake, this is one wacky attraction… and fun for the entire family!"
With the buildings designed to look like giant blocks, you will surely feel like you shrunk into toy-size.
Another ride to enjoy is the Alien Swirling Saucers. It will take you out of space in a dizzying rocket ship travel. And to make the experience more realistic, a space electronica will be there to give an out-of-this-world beat. Another ride to appreciate which all Buzz Lightyear fans can enjoy will be The Claw. It will be installed at the arcade area and will also feature a rocket-themed travel.
Disney will never let you go hungry while inside the park. You can refill a whole tummy of energy at the Woody's Lunch Box which is a food court that serve all kinds of sodas, yummy treats, and snacks.
Vice president of Disney Corporate Alliances, Carlos Castro, said:
"We can't wait for our guests to experience Toy Story Land, and the new quick-service window located within the land will surely delight hungry toys and people alike.
We are thrilled to collaborate with Mini Babybel and introduce additional snack offerings in Toy Story Land and throughout Walt Disney World Resort and Disneyland Resort."
So be sure to save some money and fly to California next summer to meet Light Buzzyear and his crew at the Toy Story Land.
The construction of the Toy Story Land was confirmed by Walt Disney Parks & Resorts Chairman Bob Chapek earlier this year at the D23 Expo 2017. Fans of the animated movie have since been eagerly waiting for the park's opening date which is expected to be in 2018's summer season.
Cool Theme Park in Dubai Has Rides Inspired by The Hunger Games, and Then Some
Would you volunteer as tribute?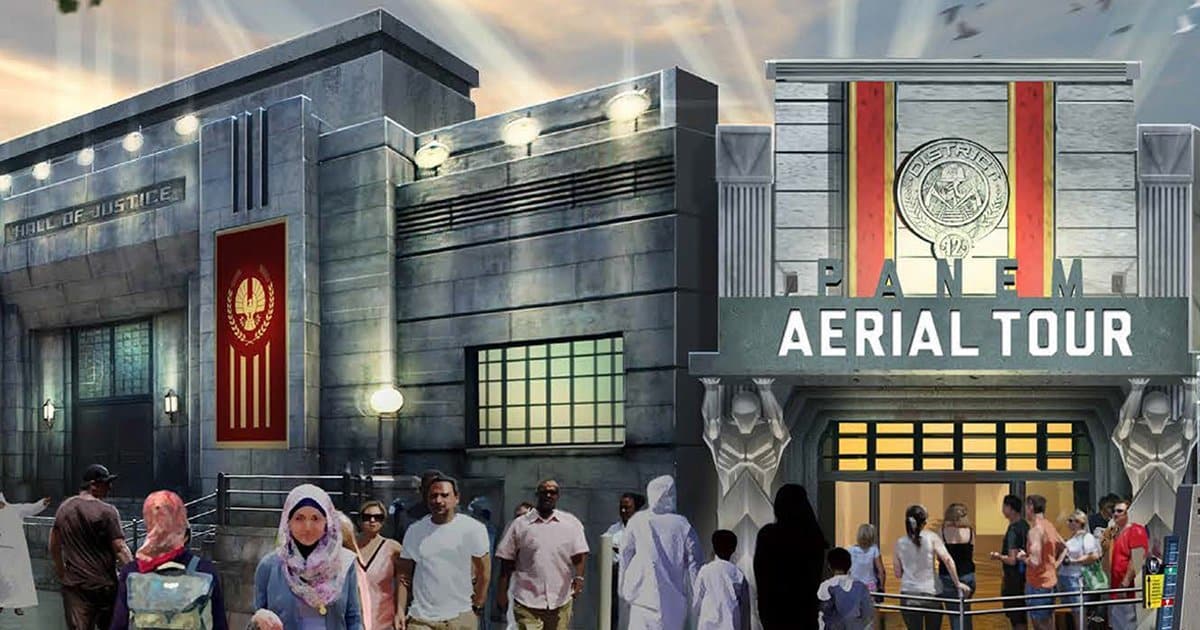 Theme parks will always be a hit attraction, especially when they come up with unique and exhilarating rides. One theme park in Dubai is wowing visitors for its Hunger Games-inspired rides in one of its zones. If you haven't heard of it, it's called The World of Hunger Games in the Hollywood-inspired theme park Motiongate Dubai.
The World of The Hunger Games features never-before-seen footage from the films, interactive character experiences via the Coal Miner's Clash percussion show, food and drinks from Peeta's Bakery, and souvenirs from Panem Supply Co. Cool, huh?
The rides are sure to excite, too.
There's the Capitol Bullet Train, a half-pipe roller coaster that visitors can ride for a thrilling journey from District 12 to the Capitol.
A Panem Aerial Tour is also available.
It's a 4D hovercraft simulator that delivers an immersive tour of the different districts.
Reports say a similar theme park will open in South Korea in 2019.
It will be called Lionsgate Movie World and will also include The Hunger Games-inspired rides in its different movie zones. Other movies to be featured are The Twilight Saga, Now You See Me, and the highly anticipated 2018 Robinhood.
The World of Hunger Games is the theme park's newest zone to open, but there are different zones inspired by other famous films.
Among them are Madagascar, Kung Fu Panda, Smurfs, Shrek, How to Train Your Dragon, Hotel Transylvania, Cloudy With a Chance of Meatballs, Step Up: All In, Underworld, The Green Hornet, Ghostbusters, and Zombieland.

The attractions are also classified by type.
You can choose from their family rides, kids rides, motion simulators, play areas, water rides, roller coasters, and live entertainment shows.
What do you think of Motiongate Dubai and its attractions?
Are you including Motiongate Dubai in your travel goals? Let us know in the comment section below!
35 Breathtaking Places To See Before You Die
Now is the perfect time to save up!
We sometimes think that those unbelievably beautiful locations and/or places only exist in fairy tales. But believe it or not, the real world has them, too. You just need to visit them personally to really appreciate their beauty.
For now, though, you can opt to see them via pictures. Below are images of the most picturesque places we have gathered from the different corners of our planet. Perhaps they will encourage you to travel someday. Check them out!
#35. Dark Hedges, UK
#34. The Tasman National Park, Australia
#33. Devil's Bridge in Gablenz, Germany
#32. Albarracin, Spain
#31. Canyon Fjaðrárgljúfur, Iceland
#30. Gansu Province, China
#29. Naica Mine, Mexico
#28. Lençóis Maranhenses National Park, Brazil
#27. Mount Roraima, Venezuela
#26. Moraine Lake, Canada
#25. Antelope Canyon, US
#24. A lake located in Patagonia, Argentina
#23. The Meteora, Greece
#22. Lake Sørvágsvatn, the Faroe Islands
#21. Zhangjiajie National Forest Park, China
#20. Hitachi National Park, Japan
#19. Petra, Jordan
#18. Capilano Suspension Bridge, Vancouver
#17. Eilean Donan Castle, UK
#16. The Château de Marqueyssac, France
#15. Vatnajokull Glacier Cave, Iceland
#14. Cappadocia, Turkey
#13. Rice Terraces, Vietnam
#12. The Perito Moreno Glacier, Argentina
#11. Prague, Czech Republic
#10. The Lofoten Islands, Norway
#9. Chefchaouen, Morocco
#8. Grand Canyon, US
#7. Underwater City in Shicheng, China
#6. Ellora Caves, India
#5. Mount Saint-Michel, France
#4. Haiku Stairs, Hawaii
#3. Magical hotel in Switzerland
#2. Huacachina Oasis, Peru
#1. Pink Lake Hillier, Australia
We are pretty sure you are stoked to give these places a visit. Let us know which one is your favorite in the comments below!