Guy Stunned His Sarcastic Boss Who Scolded Him On His First Day of Work
A boss yells at his employee and this is how the young man replies. It is epic.
What would you do if you've been yelled at and humiliated by your boss at the office? We're pretty sure you would either a) yell back at him or b) cry in shame and run away to the washroom and hide until everyone else is gone for the day. There will always be that boss from hell in every company that employees are scared of. That one terror boss who everyone scampers away from when s/he walks into the room.
We get it that there are employees that need to be reprimanded especially when they happen to be uhm, 'sleeping on the job'. But we think, no matter how small or huge the fault may be, being kind to the people who work for you is a sign of respect. Why? Because you just might get your ass handed back to you like what this employee did:
Read this story
A young guy from North Dakota moves to Florida and goes to a big "everything under one roof" department store looking for a job.

The Manager says, "Do you have any sales experience?" The kid says "Yeah. I was a vacuum salesman back in North Dakota."

Well, the boss was unsure, but he liked the kid and figured he'd give him a shot, so he gave him the job.

"You start tomorrow. I'll come down after we close and see how you did."

His first day on the job was rough, but he got through it. After the store was locked up, the boss came down to the sales floor.

"How many customers bought something from you today?" The kid frowns and looks at the floor and mutters, "One". The boss says "Just one?!!? Our sales people average sales to 20 to 30 customers a day. That will have to change, and soon, if you'd like to continue your employment here. We have very strict standards for our sales force here in Florida. One sale a day might have been acceptable in North Dakota, but you're not on the farm anymore, son."
The kid took his beating, but continued to look at his shoes, so the boss felt kinda bad for chewing him out on his first day. He asked (semi-sarcastically), "So, how much was your one sale for?"

The kid looks up at his boss and says "$101,237.65".

The boss, astonished, says "$101,237.65?!? What the heck did you sell?"

The kid says, "Well, first, I sold him some new fish hooks. Then I sold him a new fishing rod to go with his new hooks. Then I asked him where he was going fishing and he said down the coast, so I told him he was going to need a boat, so we went down to the boat department and I sold him a twin engine Chris Craft. Then he said he didn't think his Honda Civic would pull it, so I took him down to the automotive department and sold him that 4×4 Expedition."

The boss said "A guy came in here to buy a fish hook and you sold him a boat and a TRUCK!?"

The kid said "No, the guy came in here to buy tampons for his wife, and I said, 'Dude, your weekend's shot, you should go fishing.
What can you say about this story? Share your opinions in the comment section below.
Like & Share This Post
10 Horrifying Tales of Death's Stench
What on earth is that foul stench?
Through sense of smell alone, you can already determine a lot of things. That food smells delicious. That person is a smoker. The wheel of your car is burning. Without our sense of smell, God only knows how different our life would be.
If you take a quick good look (or smell) around you, you'll discover a lot of terrible cases involving a foul stench. And as you might have guessed already, the list below is comprised of cases worse than your typical run-of-the-mill dead mice in the attic.
#1. 9 Mutilated Dead Bodies
Back in October 2017, somewhere in Zama, Japan, the neighborhood began complaining about a nasty smell coming from their sewage system. Upon investigation, the authorities discovered nine mutilated corpses.
Twenty-seven-year-old Shiraishi moved into his apartment in Tokyo back in August. Despite Shiraishi's effort to hide the horrible truth, the neighbors said they noticed the putrid smell from the same month. Later on, it was discovered that the case was tied to the disappearance of a 23-year-old woman with Shiraishi, who was also discovered with the other dead bodies.
#2. Blow-up doll corpse
Miami police discovered something atrocious back in October 2017 when they decided to pay Della Wright's home a visit. After Wright decided to file a complaint regarding a foul stench she smelled from her son's bedroom, the police began an investigation. To their surprise, they discovered a rotting female corpse inside. The corpse's stomach was brutally gutted and a rotting leg was also found under the sheet.
The 32-year old son Jerome was arrested after they found out that the rotting corpse was his 52-year old girlfriend Deanna Clendinen. Needless to say, he used the corpse on something you would rather not think about.
#3. South African murders
It happened just this November 2017. After noticing a foul stench from one of his Cape Town properties, Themba Malgas immediately decided to investigate. To his surprise, he discovered the decaying remains of 38-year-old mother Shafieka Petersen and her one-year-old daughter.
Unfortunately, two days after the horrible discovery, the foul stench persisted. Determined to fix the problem, Malgas continued his investigation. Upon checking the bulk of clothes in the basin area, he noticed a brown blanket covered in blood. When he lifted it, to his surprise, he saw some ropes crawling with maggots. Everything fell into place when the authorities conducted further investigation and figured out that Peterson's 49-year-old boyfriend, Paul Evans, was behind all these.
#4. Abandoned Elevator
The folks in Denver's Woodstream Village apartment complex had a very unforgettable experience when a foul stench caught their attention back in July 2017. After receiving a report regarding a bad smell all over the apartment hallways, the authorities conducted an investigation in the building.
According to the residents, the smell has been persistent for a week at the time. During the investigation, the authorities discovered that the source of the funk was the decomposing corpse in the unused elevator of the apartment. The corpse was identified as the 82-year-old man who lived in that area named Isaak Komisarchik.
#5. Maggot infestation
Back in September 2017, the police were contacted by a New Delhi field officer after detecting a horrible smell from a campus residence in that area. According to the reports, it came to a point where the smell was unbearable. Upon investigation, the authorities discovered the maggot-infested remains of Yashvir Sood. Sood was a 62-year-old retired nuclear scientist and lived with his two younger siblings, Harish and Kamla.
What's more disturbing was that the two siblings lived in the apartment with the dead body of Sood. The police said that the two were apparently mentally unstable.
#6. Failed air freshener
Back in May this year, the authorities conducted an investigation into a house in Frackville, Pennsylvania. It was the house of the missing 49-year-old Todd Swantek. During their investigation, they discovered a disturbing smell in the house. To everyone's horror, it was Swantek's rotting remains on the couch. The puzzling thing was that the body was covered with blankets and pillows and near the door were a bunch of air fresheners and fly strips in order to hide the corpse's miasma of decay.
Later on, after a thorough investigation, the victim's son, Tyler Swantek, was convicted after discovering the tension between the two. According to reports, Tyler had been vocal about him wanting to kill his father. Another thing was that the authorities found a blood-covered firearm in Tyler's room which matched the bullet wounds in the victim's skull.
#7. Block of Concrete
A Wichita landlord filed a complaint in September this year regarding a terrible smell he discovered from one of his properties. Authorities discovered a corpse of a three-year-old boy hidden inside a block of concrete right inside the home of Miranda Miller and her boyfriend, Steven Bodine.
Alongside this, according to the reports, Miller's three-year-old son Evan Brewer was reported missing two months ago. Back in July, Evan's father Carlo Brewer pushed to get a court order in order to protect his son from Miranda's boyfriend. After an excruciating process regarding a few variables, the judge finally decided to seal Evan's state protection records after the authorities failed to provide enough evidence regarding the suspicion that Evan died from abuse and neglect.
#8. Feasted upon by feral dogs
Sanitation workers in Bhopal, India conducted an investigation after discovering a foul stench at a government hospital in March 2017. It was said that the patients and doctors have been suffering an intolerable stench in the hospital. After a thorough investigation, they discovered the half-eaten corpse of the 70-year-old woman named Bismillah Khan.
Reports stated that Khan had been missing for a few days earlier in the hospital. The investigation pointed out that the wild dogs in the vicinity dragged her and feasted on her.
#9. Airing Cupboard
In January 2017, the British police were shocked after discovering the remains of the 44-year-old Victoria Cherry inside the airing cupboard of a Bolton apartment. Before that, the neighbors said that they've been noticing a terrible smell from that apartment.
According to reports, Cherry was last seen in October 2015. She was still with her partner Andrew Colin then, but unfortunately, it was discovered that she left him for another man. After the discovery, Colin admitted to the crime.
#10. Corpse Bank
Back in June this year, the police discovered the decaying body of a 60-year-old postman named Peter West in his very own house in Leicester, England. According to the authorities, the 36-year-old Kieron West intentionally did not report the death of Peter in order to take advantage of the shared bank account, which he abused to sustain his drugs addiction.
By the time the stench became unbearable, only then, they decided to bring it up to the authorities.
29 Funny Yet Creative Solutions to Everyday Problems
If it works, then it is not stupid!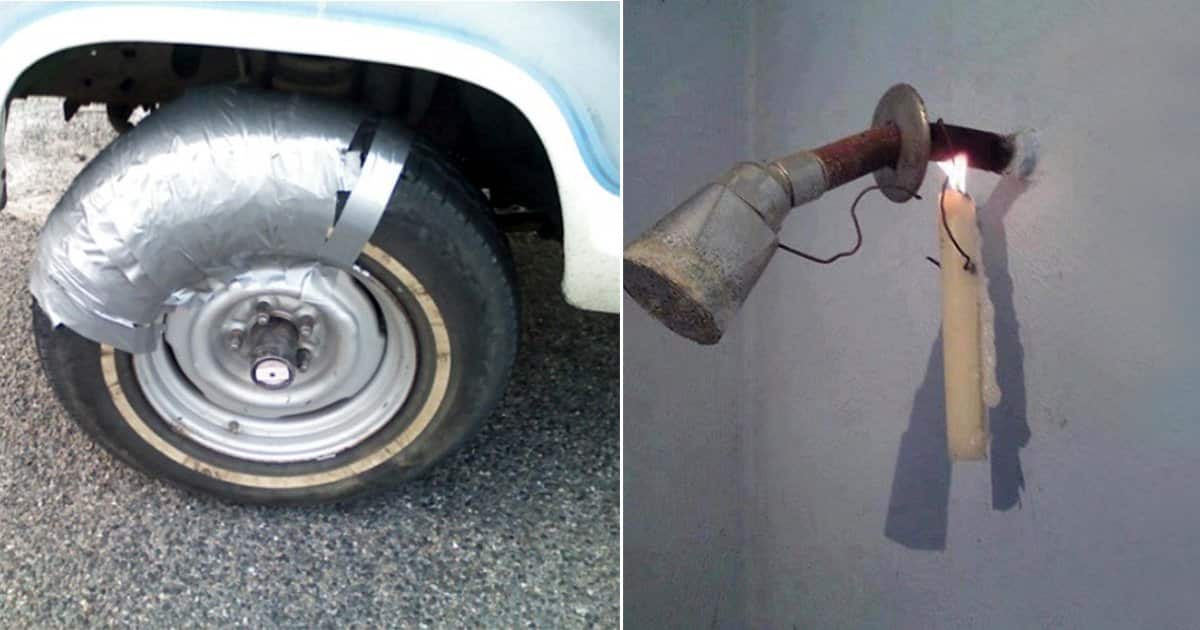 I think we can all agree that "desperate times call for desperate measures." Sometimes, we come to a point in our lives where we just have to be creative and practical in dealing with our problems. They may not be the best of solutions, but they're still important to do in one way or another.
This compilation is exactly what it means for the aforementioned quote. And if you think "tape is the only solution to all," then you are right. Without further ado, here are the very people who resolved things using their wit.
#1. For starters…
#2. I got to admit, this is genius.
#3. Convertible car you say?
#4. Well… well… well…
#5. Just making things easier for the mailman.
#6. Technology at its… nevermind.
#7. Who says you need a microwave?
#8. If it works, then it is not stupid.
#9. Want a new way to shower?
#10. Let's see if thieves can conquer this.
#11. Tape just fixes everything, doesn't it?
#12. Nah, who cares about perfection.
#13. Tape everywhere.
#14. At least, there is an art.
#15. Only for the special guest.
#16. Yup, it is safe and it works.
#17. This is sick, though!
#18. OMG I cannot stop laughing. LOL
#19. Again, if it works, it is not stupid.
#20. You just have to be witty.
#21. No need to hold it, brother.
#22. Here goes the tape again.
#23. They must certainly have a good reason for doing this.
#24. Is the heater working, Susan?
#25. Just imagine the possibilities.
#26. You know who.
#27. I.T. people really know their way around things.
#28. Yup.
#29. Want to know the best way to eat Pringles?
So, what do you think about this compilation? We bet you tried them once, twice, or even more in your life. Let us know what you think in the comments below!
Mother Gives Birth To 'Mermaid' Baby Leaving Doctors Astonished
The mother admitted that she never had any scans during her pregnancy.
India had its second-ever 'mermaid' baby born with both the legs fused together. Sadly, the baby died just four hours after birth.
Mushuka Bibi, a 23-year-old woman from Kolkata, India, gave birth to a real-life mermaid baby, leaving doctors astonished.
The doctors were not able to identify the sex of the baby because of fused legs and an underdeveloped pelvis.
The case is the world's fifth case of a condition called Mermaid syndrome or Sirenomelia, a genetic condition that affects only one in every 60,000 to 100,000 births.
During Bibi's pregnancy, she could not afford to have prenatal checkups and scans. Due to this, she has no idea that her baby had a genetic deformity. In fact, she only learned about the baby's condition when she gave birth.
A child specialist at the Chittaranjan Deva Sadan Hospital, Dr. Sudip Saha, said:
"I had never seen such a baby before. It is the first case of Sirenomelia in the state and second in the country. The baby had a normal formation in upper part of the body but below the waist, its legs were fused together. The lower part was not developed completely."
Mermaid syndrome or Sirenomelia is an extremely rare genetic condition wherein the baby is born with anomalies in the lower limbs and lower part of the spine.
The infants born with the condition may have partial or complete leg fusion.
However, it would be dangerous for the baby to have this condition since aside from the fusion of the legs, the baby may have abnormalities in the gastrointestinal system, lumbosacral area, and genitourinary tract.
The condition is potentially-fatal because there are accompanying conditions such as spina bifida, an imperforate anus and heart problems.
Dr. Saha added:
"The parents are a labor couple and had not sought proper medication during pregnancy due to lack of money. Lack of proper nutrition and improper blood circulation to the baby from the mother can create this kind of abnormality in the fetus. Unfortunately, such babies do not survive."
Watch how doctors treat baby born with "mermaid syndrome":
Like
on Facebook